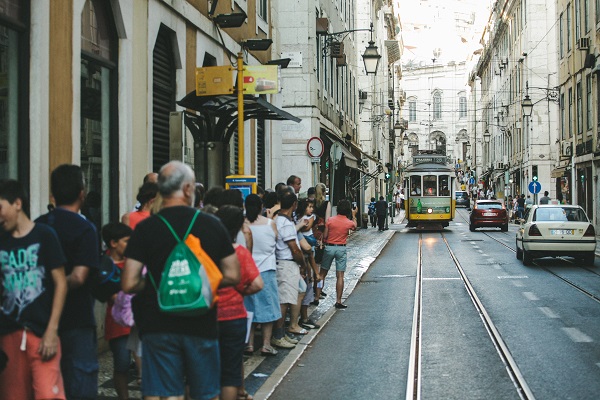 In 2016, the United Nations World Tourism Organization (UNWTO) documented a new record: 1.235 billion international trips were made that year, 3.9% more than 2015. Europe accounts for almost half of the trips, making the continent the most popular destination for tourists around the world. According to UNWTO, travelers spent about $447.3 billion in 2016.
The rapid growth of tourism is a cue for both beginning and enterprising investors to take action. Real estate is one of the easiest investment vehicles, and online services are making property lease accessible to anyone with an internet connection. Tranio analysts have looked at the short-term rental markets in the 20 most popular European cities among tourists to see where are the most profitable locations to buy property for tourist lease.
Demand
One of the ways to evaluate tourist demand is to check the Airbnb page of the city in question. The index of AirDNA, a service that uses data from Airbnb to provide analytics, shows the frequency of accommodation bookings at a particular location. The calculations are based on the number of listings, growth dynamics, and the annual apartment occupancy rate (Figure 1)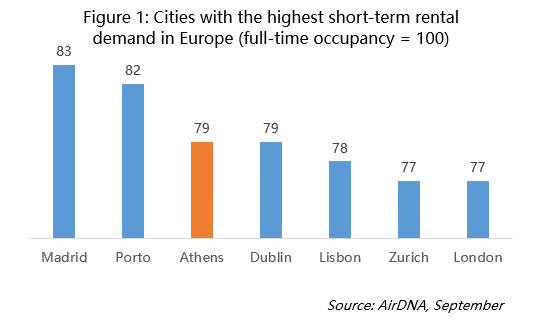 According to the data, demand is the highest in Madrid, Porto, Athens, Dublin and Lisbon among the 20 cities, while Frankfurt and Milan are the least popular. Athens is the leader in terms of supply growth speed at year-end 2016 (+112%).
Prices
The price per square metre is an important factor that, along with the rental rate, determines investment yields when buying commercial property. According to Numbeo, of the 20 cities considered, property is cheapest in Athens (€1,380/m²), Porto (€1,930 /m²) and Budapest (€2,150 /m²). The most expensive cities are Zurich (€12,080/m²), Geneva (€11,280/m²) and London (€16,200/m²) (Figure 2).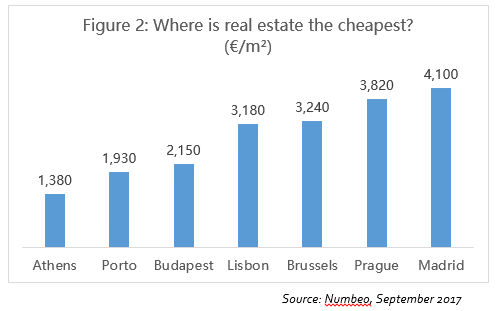 According to Numbeo, the most economical tourist rentals are found in Athens (€62/night), Budapest (€73) and Prague (€79). The most expensive cities are Barcelona (€183), Amsterdam (€178), London and Dublin (€171) (Figure 3).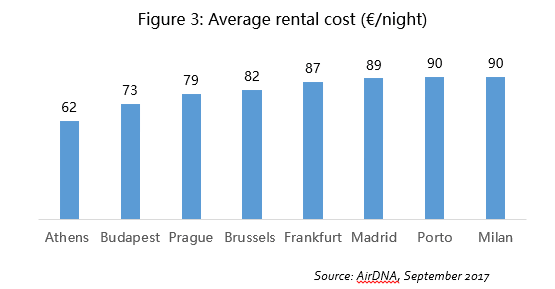 When considering the difference between prices per square metre and rental rates, the best locations to invest in property for tourist lease are Porto, Athens and Barcelona.
Restrictions
In certain countries, local authorities are trying to rein in the short-term rental market. Barcelona is a less favourable market in terms of leasing property compared to other popular tourist destinations as the city has stopped issuing rental licenses and many existing ones will not be extended. The Barcelona City Council has levied a €600,000 fine on Airbnb for featuring flats that do not have a tourist licence in its ads, and the owners of such properties will have to pay a €60,000 fine.
In Portugal and Greece, the situation is less complicated. To lease real estate on a daily basis in Porto and Lisbon, owners only need to register their properties and obtain a special registration number. Regulations prohibit online platforms from publishing listings that are not registered. In Athens, owners are free to lease up to two properties for short terms not longer than 90 days a year if their incomes do not exceed €12,000.