Phnom Penh's housing market woes
Phnom Penh's condominium prices continue to slide, amidst a severe supply glut, coupled with falling demand.  The COVID pandemic's impact on the tourism industry has been catastrophic.
The average price of high-end condominium units in Phnom Penh fell by 7.86% to US$2,802 per square metre (sq. m) during the year to Q2 2021, worse than the y-o-y declines of 2.53% in Q1 2021, 6.19% in Q4 2020, 5.64% in Q3, 6.55% in Q2 and 3.21% in Q1, according to CBRE Cambodia.  When adjusted for inflation, prices fell 10.32%.
On a quarterly basis, high-end condo prices plunged 9.23% (-10.26% inflation-adjusted) in Q2 2021.
But even before the pandemic, Phnom Penh's property market had been cooling mainly due to an oversupply of apartments. From only 178 condo units in 2009, the supply of condo units in the area reached about 18,000 units in 2019, according to CBRE Research. The World Bank has recommended that the Cambodian government should closely monitor the construction boom and develop policies to reduce speculative activity.
From 2011 to 2019, the Cambodian economy expanded by an average of 7.2% per year, fuelled by strong tourism, garments manufacturing, and agriculture.
However, Cambodia's economy shrank by 3.5% in 2020 after it was heavily impacted by the COVID-19 crisis. The economy is projected to remain weak this year, with the National Bank of Cambodia recently downgrading its 2021 economic forecast to 2.5%, sharply down from its initial estimate of a 4.1% growth, reflecting the pandemic's impact on the key economic sectors of Cambodia's trading partners and ongoing production chain disruptions. The EU's decision last year to remove the country's Everything But Arms (EBA) duty-free privileges on one-fifth of Cambodia's exports was another blow.
Tourist arrivals grind to a halt
During 2o2o, there were only 1.31 million international tourist arrivals in Cambodia, 80% down from the record high of 6.6 million tourists in 2019, according to figures from the Ministry of Tourism (MOT) - the first decline in tourist arrivals since 2003.
Likewise, tourism receipts amounted to just US$1 billion last year, sharply down from US$4.9 billion revenues in 2019.
China accounted for 25.2% of total tourist arrivals last year, followed by Thailand (16.1%), Vietnam (13.9%), United States (4.3%), Korea (4.3%), the United Kingdom (3.4%), France (3.3%), and Japan (3.2%).
Tourism still remains almost nonexistent with the total number of international tourist arrivals plummeting to just 112,544 people in the first seven months of 2021 – down 90.6% from 1.2 million during the same period last year and by 97.1% from 3.84 million two years ago.
As a result, almost half of tourism-related businesses in the country have ceased their operations, according to Asia Foundation's new survey report.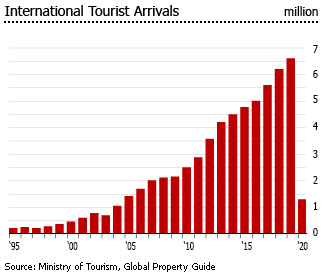 "Many small businesses closed permanently as they cannot survive the economic losses brought on by Covid-19 lockdowns and travel restrictions," said the report.
Construction activity falling
Amidst the COVID-19 crisis, completions dropped dramatically last year due to delayed projects. New construction projects, of which residential accounted for 46.1%, fell  32.1% y-o-y in value to US$7.8 billion in 2020, according to the National Bank of Cambodia's Financial Stability Review. Foreign direct investment (FDI) inflows to construction and real estate fell by 10.6%.
About 68% of high-rise condominium projects were suspended last year while the rest experienced delays, said Cambodia Valuers and Estate Agents Association president Chrek Soknim.
The disruptions in the construction sector continue this year. In Q2 2021, only one project – the Golden One located in BKK1 with 480 units – was completed in Q2 2021, bringing the total condo supply in Phnom Penh to 27,173 units. In fact the number of approved projects in H1 2021 fell by 27% from a year ago.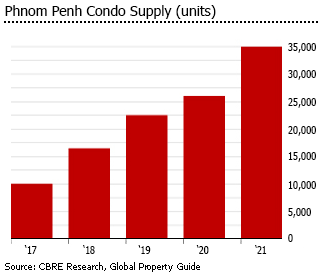 Recently, the forecast for new condo completions this year was reduced to 7,909 units, a significant drop from the earlier estimate of 10,825 completions.
"This reduction in forecast supply is an indicator of a significant shift in developer sentiment due to general market unpredictability, the impact of lockdown on construction progress, slowing sales rates, the impact of pressure on construction material supply chains and developer cash flow," said CBRE Research.
But construction activity is expected to resume to pre-pandemic levels next year.
Attractive rental yields, but rents are falling, and vacancy rates are high.
Cambodia has very attractive gross rental yields. Apartments can attain annual rental yields ranging from 6% to 8%, according to Independent Property Services (IPS) Cambodia. This is supported by Knight Frank, noting that rental yields can be anywhere between 5% and 8%, depending on the type of the property and location, with some districts such as BKK1 being more popular.
"The average rental yield in Phnom Penh is currently 6% to 7%, and slightly higher at 7.5% for higher-end properties," said Malay Nop of real estate firm IPS Cambodia. "It was 10% to 12% from 2014 to 2016, but this is still considered attractive to foreign investors."
Phnom Penh is home to about 150,000 expats, most of whom are employed as teachers, NGO workers, officers of multinational companies, or embassy staff. Nearly all live in rental properties.
However due to pandemic-related restrictions, rental demand has been falling since last year, particularly from foreigners and expats. This led to high vacancy rates, currently at about 30% to 50%, said CBRE Cambodia Managing Director Ann Sothida.
"As international travel remains restricted, both new short-term and long-term tenants remain few and far between," said CBRE Cambodia. "However, as is the case with all segments, the vaccine rollout domestically and regionally presents some cause for optimism into 2022, albeit with caveats and risk attached."
In Q2 2021, high-end condominium units in Phnom Penh saw the biggest q-o-q drop in rents, at more than 9%. On the other hand, the affordable segment registered the lowest decline of 4.9%.
As of Q2 2021:
One-bedroom condominiums have monthly rents ranging from US$ 500 to US$ 1,400 for high-end condos, and from US$ 300 to US$ 500 for mid-range condos.
Two-bedroom condos can be rented from US$ 1,000 to US$ 2,300 per month for high-end, and from US$ 800 to US$ 1,200 per month for mid-range.
Three-bedroom condos have monthly rents from US$ 2,000 to US$ 2,700 for high-end, and from US$ 1,200 to US$ 1,600 for mid-range.
Capital gains tax's implementation delayed
A new capital gains tax for individuals, set at a flat rate of 20%, was introduced into law in April 2020 through Prakas 346. It will apply to all properties and other capital investments such as leasing, stocks as well as foreign currency.
The law was intended to take effect from July 2020 but due to the pandemic, its implementation has been postponed twice – first to January 2021, and then to January 2022.
The new capital gains tax, when implemented, is expected to further weaken the already ailing property market.
Foreign homeownership
Under the Foreign Ownership Property Law of April 2010 foreigners can own apartments and condominium units, but not land, and therefore not the first floor of buildings. Also, foreign investors are allowed to own up to 70% of a condominium project.
In 2005, the Cambodian government amended its investment law to allow foreign ownership of buildings. However, the law was not then implemented and the idea floundered.
Land ownership is against the Constitution and is still out of the question. Land can however be held by foreigners on long (renewable) leases and through majority locally-owned companies incorporated in Cambodia. These structures are argued by lawyers in Cambodia to be safer than legal schemes in any other South East Asian country in which foreign land ownership is formally prohibited.
The majority of foreign homebuyers in Cambodia, especially in Phnom Penh, come from China, Hong Kong, Malaysia, and Singapore. Phnom Penh is home to almost half of expats residing in the country.
Mortgage market growing rapidly
Mortgages and housing loans were introduced to the real estate sector only in 2008. The size of the mortgage market rose from 1% of GDP in 2010 to about 15% of GDP in 2020. 
Total outstanding mortgages (owner-occupied housing only) stood at KHR 17.21 trillion (US$ 4.22 billion) in 2020, up by more than 25% from a year earlier, according to the National Bank of Cambodia (NBC)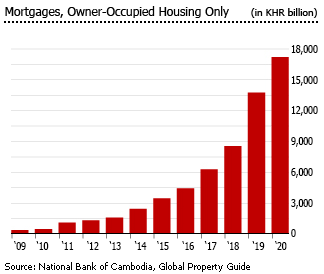 The rise is due to falling interest rates, as well as an increasing number of financial institutions offering loans. In June 2021, the weighted average lending rate on KHR-denominated term loans outstanding was 10.53%, down from 11.69% two years ago. For loans denominated in USD, the lending rate was down to 9.13% from 9.71% two years earlier, according to the NBC.
Housing market cycle
Cambodia's housing market enjoyed unprecedented price rises from 2004 to 2007, with property prices rising by about 25% to 40% annually. Land price increases were at first confined to Phnom Penh, Siem Reap and Sihanoukville, but the boom spread right across Cambodia. Other hot spots were the border areas with Vietnam and Thailand and, to a lesser extent, Laos.
Residential land prices in Phnom Penh soared to KHR6.25 million (US$1,533) per sq. m. in 2007, from KHR2.34 million (US$574) per sq. m. in 2006. The government is aggressively pro-development, and squatters and other eyesores are simply cleared away, by a government which is in league with wealthy developers.
In mid-2008, the bubble burst, because South Korea, one of the country's biggest investors, was badly hit by the global economic and financial crisis. Investments in real estate developments fell from US$3.19 billion in 2008, to US$1.99 billion in 2009, and finally to just US$840 million in 2010, according to the Ministry of Land Management, Urban Planning and Construction. By end-2010, land values in Phnom Penh, the capital, were about 40% to 50% down on their peak values in mid-2008.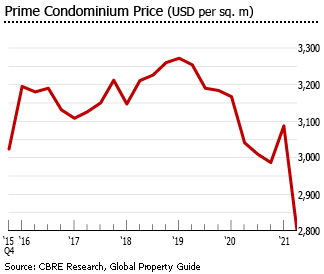 The market started to recover in 2011, buoyed by strong economic growth and by the new foreign ownership law. In Phnom Penh, the average condo sales price more than doubled from 2012 to 2019, from US$1,460 to US$3,184 per sq. m.
The housing market started to cool in 2019 due to the supply glut. Then COVID-19 aggravated the situation, causing condo sales prices to fall by 6.2% (-8.8% inflation-adjusted) last year.
Economy remains weak, more Cambodians fall back into poverty
Cambodia's economy shrank by 3.5% in 2020 according to the IMF – the country's worst performance in recent history.
The IMF has forecast that the Cambodian economy will return to growth this year, with GDP growth of 4.2%, while the World Bank projects a 4% expansion. However recently, the National Bank of Cambodia downgraded its 2021 economic forecast to 2.5%, down from its initial estimate of a 4.1% growth, reflecting the pandemic's impact.
"Our estimates are that Cambodia could grow at about four per cent, assuming that they're able to be successful in getting these new variants under control," said World Bank regional vice-president for East Asia and Pacific Victoria Kwakwa. "Now, on the downside, it could be as low as just one per cent, particularly if they're not able to get a good handle on the pandemic."
Cambodia saw strong, uninterrupted growth for most of the past two decades. From 2000 to 2003, the economy grew by an average of 8.3%, and then by an average of 11.1% from 2004 to 2007. After a slight pause during the global crisis, from 2011 to 2019, the economy expanded by an average of 7.2% per year, fuelled by strong tourism, garments manufacturing, and agriculture.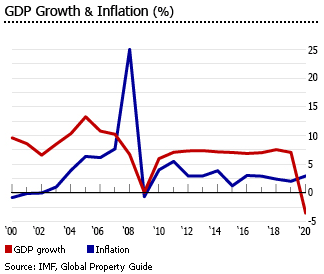 Cambodia was upgraded by the World Bank from low-income to lower middle-income economy in August 2016. Cambodia's GNI per capita stood at US$1,230 in 2017, and increased to US$1,530 in 2019, but declined slightly to US$1,490 last year due to the pandemic. The country's poverty rate has fallen from 47.8% in 2007 to 12.9% in 2018. However poverty has increased recently, with more than 710,000 households receiving cash transfers in January 2021 while only 560,000 households were eligible last year. This means that at least 150,000 households or 500,000 Cambodians are now considered as newly poor. The UNDP predicted that the poverty rate increased back to 17.6% last year.
Unemployment is expected to surge. According to the World Bank, the pandemic will put at risk about 1.76 million Cambodian jobs, particularly from tourism, construction and manufacturing sectors, which together account for more than 70% of growth and almost 40% of employment. The unemployment rate rose to 4.8% in 2020, according to UNDP, from just less than 1% in the past decade.
Inflation remains manageable at 2.7% in July 2021, down from 3% in the previous month. Inflation averaged 3.1% in the past decade.
Garments exports recovering, despite EU's trade preferences withdrawal
Cambodia's economic growth is concentrated in tourism and the textile sector, which is dependent on most favoured nation status agreements. The garments sector is the country's largest foreign exchange earner. It consists of about 1,100 factories and branches, employing around 800,000 workers. However in 2020, garments exports fell by 10.24% to US$7.42 billion, after the sector received a double blow from the pandemic and the EU's withdrawal of the country's preferential trade access due to serious and systematic concerns related to human rights.
In October 2018, the EU officially notified Cambodia that it had launched the procedure to withdraw Cambodia's Generalised Scheme of Preferences (GSP), an agreement that allow Cambodian exports a tariff-free entry in EU under the Everything But Arms (EBA) scheme. Then in February 2020, EU announced that it would officially suspend the country's duty-free access for 40 products, effective August 12, 2020. The new tariffs hit about one-fifth of Cambodia's exports to EU, equivalent to about US$1.2 billion.
Some events that led to the suspension of Cambodia's EBA scheme:
Sam Rainsy's resignation as president of the Cambodia National Rescue Party (CNRP), the main opposition party, in February 2017. Rainsy's deputy, human rights activist Kem Sokha, replaced him as the new leader of the CNRP.
In September 2017, Sokha was arrested on treason charges.
The Supreme Court dissolved the CNRP in November 2017.
Controls on media outlets and civil society organizations critical of the government have continued to tighten.
Cambodia is the second-biggest EBA scheme beneficiary next to Bangladesh, accounting for about 18% of EU's EBA imports, according to the European Commission. Around 40% of the country's garment exports go to the EU.
Because of this, some of the country's garment exports was diverted to the U.S., China and other countries. Cambodia has recently strengthened its bilateral trade agreements with several countries, including China and Russia.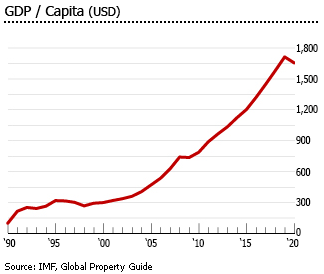 In addition, the newly established Regional Comprehensive Economic Partnership (RCEP) is expected to bolster Cambodia's exports to the region. RCEP, signed November 2020, is a free trade agreement between ten member states of the ASEAN (Brunei, Cambodia, Indonesia, Laos, Malaysia, Myanmar, the Philippines, Singapore, Thailand, and Vietnam) and its six FTA partners (Australia, China, India, Japan, New Zealand, and Korea). Cambodia is also forging an FTA with the Eurasian Economic Union (EAEU), comprising of five member states – Armenia, Belarus, Kazakhstan, Kyrgyzstan, and Russia.
"With trade pacts bilaterally and multilaterally, Cambodia is expected to receive more investment, which will boost both exports of finished products and imports of raw materials to feed the production chains," said Lim Heng of Cambodia Chamber of Commerce.
In the first eight months of 2021, the value of garments exports from Cambodia rose by 3.3% y-o-y to US$5.02 billion, according to the Ministry of Commerce. Apparel product exports accounted for 45% of the country's total exports of US$11.09 billion during the period.
Sources: