The Global Property Guide provides figures for effective income taxes, payable on gross rental earnings from residential property for nearly every country. These figures are normally based on calculations supplied by leading accountants.
The 'effective' rate is very different from the (usually higher) 'headline' rate. The 'headline rate' merely reports a series of tax bands. The 'effective rate' is an 'after deductions' figure, and is the tax actually payable on your gross earnings, expressed as a per cent of earnings.
See notes after the table for fuller explanation.
Taxes on Net Monthly Rent, Compared
Filter table by continent
* Click countries for in-depth coverage. Click headers to sort the data
Notes
We compute the 'effective rate' of tax on rental income at key bands (E/US$1,5000/month, E/US$6,000/month, or E/US$12,000/month). When we make cross-continent comparisons of tax burdens, we always assume gross rental earnings of E/US$1,500/month.
We assume:
The property is personally directly owned jointly by husband and wife
Both owners are foreigners and non-residents
They have no other local income
There is no mortgage, i.e., no loan is taken for the purchase
Deductions
In arriving at the pre-tax profit figure, we calculate, and deduct:
Depreciation / capital allowances – if available. We assume a typical value for the apartment, based on our valuation research, and depreciate on this basis
Deduct any other typical costs which a landlord pays, management charges, buildings insurance, realtor agency fees, etc. Either choose a standard percentage deduction (if available) or typical 'actually incurred' costs. If real estate tax is normally payable by the landlord, we deduct that.
The result is a 'worked example':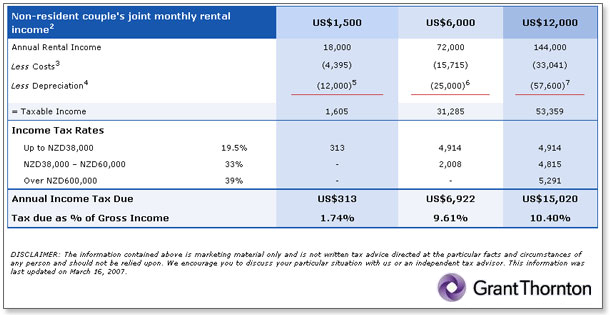 The 'effective' income tax rates shown are in almost all instances different from the 'headline' rates. These effective rates represent what taxes are really payable, after all allowances and deductions. We believe it is more useful, easier, and more realistic to show effective rental income tax rates, instead of concentrating on headline rates.
Rental Income taxes by Region
An example of our effective income tax comparison: Europe (based on an income of €/US$1,500/month)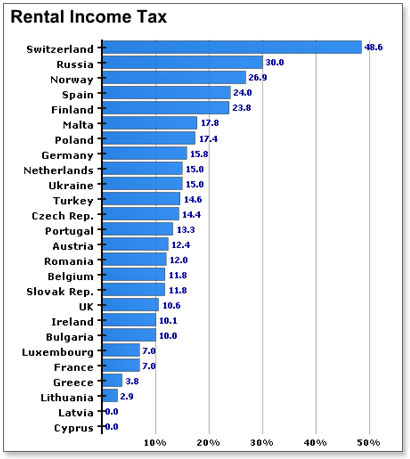 Corporate Route
Holding rented residential property through a company can, in some countries, reduce tax, or be the only legal way for foreigners to hold residential property. If so, we provide the relevant tax information.
Sources:
Rental income tax figures are, in every case, based on computations provided by accountants commissioned by us. Their logos appear alongside the data, on the country pages