Italy Real Estate Market Analysis 2022
Italy's housing market remains stable, supported by strong demand. However, the outlook is now bleak, amidst surging inflation, a slowing economy, and ongoing political uncertainty, coupled with the adverse impact of Russia's invasion of Ukraine.
During the year to Q2 2022, nationwide house prices rose by a minuscule 1.4% to an average of €1,827 (US$1,868) per square meter (sq. m.), according to real estate portal Idealista. When adjusted for inflation, house prices actually declined 6%.
In Rome, Italy's capital and largest city, homes prices stood at €3,008 (US$3,074) per sq. m., on average, in Q2 2022, up by just 0.9% from a year earlier but dropped 6.5% in inflation-adjusted terms.
Milan, Bolzano, and Venice have the most expensive housing in the country, with average house prices currently at €4,828 (US$4,935), €4,479 (US$4,580), and €4,394 (US$4,493) per sq. m., respectively.
Nationwide, the latest figures from the National Institute of Statistics (ISTAT) showed that the overall house price index rose by 4.65% during the year to Q1 2022, but fell by almost 1% when adjusted for inflation. Over the same period:
New house prices rose by 4.98% (-0.66% inflation-adjusted)
Existing house prices were up by 4.51% (-1.1% inflation-adjusted)
"The increase of HPI occurred in the context of a clear and persistent growth in sales volumes (it was +12.0% the annual rate of change registered for the residential sector in the first quarter of 2022 by the Observatory of Real Estate Market belonging to Tax Office, from +15.7% of the previous quarter)," said ISTAT. "Also the increase on a quarterly basis of the HPI was due to both the prices of new dwellings, which rose by 0.7%, and those of existing dwellings which increased by 1.9%."
Demand is rising strongly. In Q4 2021, residential property transactions increased 14.1% to 263,795 units as compared to a year earlier, according to ISTAT. All regions saw strong sales increases during the period – South (18.3%), Centre (14.6%), Northwest (13.7%), Islands (11.1%), small cities (15.1%), and large cities (12.9%). For the whole year of 2021, property sales transactions in Italy surged by more than 30% y-o-y to reach 982,260 units, following a 10% drop in 2020.
Italy's house price annual change
But there are now signs of a housing market slowdown, with house prices expected to fall during the remainder of the year. "The outlook has deteriorated both for the agents' own markets and for the national market," according to the Banca D'Italia's Q2 2022 Italian Housing Market Survey of 1,465 real estate agents. "Prices are now expected to decline in the current quarter, after having remained in positive territory for three quarters."
"These assessments factor in higher energy prices and the invasion of Ukraine, which are believed to contribute to a downward pressure on both the number of potential buyers and house sale prices," the report added.
The wider economy is projected to slow, too. Economic growth is expected to slow to 2.9% this year and 0.9% in 2023, based on estimates released by the European Commission (EC). During the onset of the Covid-19 pandemic, the eurozone's third-largest economy suffered a huge contraction of 9% in 2020. Then in 2021, the economy grew by 6.6%, amidst the easing of pandemic-related restrictions – but still inadequate to fully offset the prior year's sharp decline.
Italy's long house-price decline
From 2000 to H1 2008, house prices in Italy rose 85% (53% inflation-adjusted), according to Nomisma. However house prices started to fall in H2 2008, and unlike in Europe's more economically vibrant countries, house prices have not yet recovered.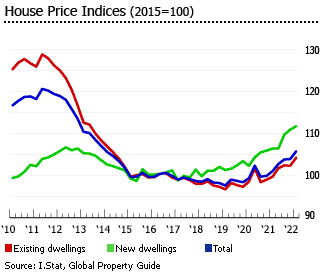 From H2 2008 to 2011, house prices fell 1.9% (-7.8% inflation-adjusted). The price drop worsened dramatically from 2011 to 2014, with the Euro crisis impacting Italy's sluggish economy, and the property tax Tassa sui Servizi Indivisibili (TASI) hindering any recovery. During this period, house prices fell by 13.5% (-16.3% inflation-adjusted), according to the ECB figures.
From 2015 to 2019, house prices fell by an annual average of 0.7% (-1.25% inflation-adjusted).
In the past two years, house price growth gained some momentum, despite the Covid-19 pandemic. House prices rose by 1.52% (1.75% inflation-adjusted) in 2020 and by another 4% (0.44% inflation-adjusted) in 2021.
Local house price variations
Milan, Italy's second most populous city, has recently overtaken Venice as the most expensive city in the country, with an average house price of €4,828 (US$4,941) per sq. m. in June 2022, up 5.7% from a year earlier, according to national listing portal Idealista. In Venice, known as the "City of Canals" and one of Italy's most picturesque cities, the average house price fell by 1.3% y-o-y to €4,419 (US$4,522) per sq. m. over the same period.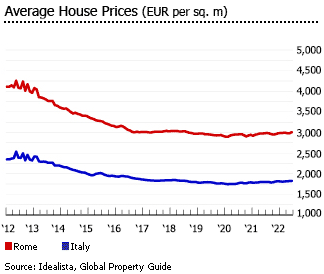 In Rome, Italy's capital and largest city, home prices stood at €3,008 (US$3,079) per sq. m., on average, in June 2022, up slightly by 0.9% from a year earlier.
In other major Italian cities:
In Turin, the average price of homes rose by 3.1% to €1,781 (US$1,823) per sq. m.
In Bologna, home prices increased 6.2% y-o-y to €3,227 (US$3,303).
In Florence, house prices rose slightly by 1.4% y-o-y to an average of €3,994 (US$4,088) per sq. m.
In Naples, Italy's third biggest city, home prices fell by 3.1% y-o-y to an average of €2,312 (US$2,367) per sq. m.
In Palermo, house prices increased by a minuscule 0.6% y-o-y to €1,239 (US$1,268) per sq. m.
House prices fell by 2.4% y-o-y to €1,153 (US$1,180) per sq. m. in Catania and by 1.7% to €1,358 (US$1,390) in Genoa.
Home sales rising again; demand shifting to the South, and larger homes
Real estate activity has been increasing sharply again. In Q4 2021, residential property transactions increased 14.1% to 263,795 units as compared to a year earlier, according to ISTAT. All regions saw strong sales increases during the period – South (18.3%), Centre (14.6%), Northwest (13.7%), Islands (11.1%), small cities (15.1%), and large cities (12.9%).
For the whole year of 2021, property sales transactions in Italy surged by more than 30% y-o-y to reach 982,260 units, following a 10% drop in 2020. The North accounted for more than half of the total sales, with 547,936 transactions.
Southern Italy is experiencing a strong increase in demand, mainly due to the rise of "smart working" and work-from-home setups, according to Idealista. Moreover, a recent report published by Gabetti, Professionecasa, and Grimaldi noted that demand is growing for the following type of properties:
Multifunctional homes, with larger dimensions and modular spaces adapted for remote working;
Properties with outdoor spaces, gardens, or terraces;
Condo units with services, such as gym, garage, and multifunctional rooms, and;
Bigger-sized second homes.
The report is supported by Idealista. "Two years ago, suddenly, everything changed. In the first months of the pandemic, many experts had predicted a catastrophic scenario for sales and prices, but this never happened, indeed, with the easing of the restrictions, demand woke up strongly favored by historically low prices, mortgages on conditions still very advantageous and new housing needs of Italians dictated by the health crisis," said Vincenzo de Tommaso, head of Idealista Study Center.
"It is precisely the characteristics of the housing demand that are changing profoundly, which today is transformed, in the name of greater comfort and convenience since remote work has become part of the daily life of many companies, changing the appearance of our homes."
Italian towns selling homes for €1 continue to rise
Since early-2016, a growing number of small, rural towns in Italy have been selling abandoned, dilapidated homes for €1 to international buyers, in an effort to repopulate the towns.
"In the last 40 years people, especially young people, left the countryside to find work in bigger cities, and those small villages like Mussomeli became abandoned all over Italy," said Italian real estate expert Stefan Neuhaus.
The Italian towns currently offering €1 home include Ollolai (Sardinia), Sambuca (Sicily), Cantiano (Le Marche), Mussomeli (Sicily), Zungoli (Campania), Gangi (Sicily), Bivona (Sicily), Cammarata (Sicily), Borgomezzavalle (Piedmont), Nulvi (Sardinia), Fabbriche di Vergemoli (Tuscany), Oyace (Aosta Valley), Troina (Sicily), Delia (Sicily), Taranto (Apulia), and Cinquefrondi (Calabria), among others.
Last year, more Italian towns started to offer houses for just over a dollar, including the Sicilian town of Castiglione di Sicilia, the Sardinian town of Bonnanaro, and the Latium town of Maenza. For instance in Castiglione di Sicilia, roughly 900 abandoned homes are currently offered for €1.
However, there is a catch. Prospective buyers must agree to repair and restore the property, which could cost a lot. In addition, buyers must comply with a number of conditions. First, buyers must provide an insurance deposit of between €1,000 and €5,000 depending on the town. Then, buyers need to submit their renovation plans to the town council, which must be completed within a set time frame, typically in a period of three years. The specific process and requirements vary by municipality.
Also, even if there are interested buyers, some sales transactions did not materialize because owners of abandoned homes were impossible to track down as they have already migrated to other places.
Because of these obstacles, the €1 scheme has been less effective than it was initially planned.
To address this, a number of Italian towns are now introducing other ways to lure new residents. The towns of Carrega Ligure in Piedmont, Latronico in Basilicata, Biccari in Puglia, and Troina in Sicily have launched websites to showcase cheap, renovated homes. They have also opened real estate agencies to support interested homebuyers in contacting old owners who have abandoned their properties.
"We attempted in 2014 to sell stone mountain cottages for one euro, but over the past decades the owners had all migrated beyond the Alps and we couldn't get hold of them. Also, the properties were divided among too many heirs which made things way too complicated," said Carrega Ligure mayor Luca Silvestri.
"So we thought the best way was to help locals willing to offload their old homes by giving them an online platform, handled by village authorities, where they can either sell or rent the properties. Supply meets demand," Silvestri added.
There are no restrictions on foreign ownership in Italy.
New tax measures boost demand for southern Italian homes
Last year, a new measure extended the benefit period for the 7% flat tax for pensioners who decide to retire to southern Italy from five years to nine years. The law, which has been effective since January 2019, requires the pensioner to transfer his tax residence to an Italian municipality with no more than 20,000 inhabitants located in one of the following regions: Sicily, Calabria, Sardinia, Campania, Basilicata, Abruzzo, Molise, or Puglia.
The new rule applies a substitute tax of 7% on pensions and all other foreign incomes. Other benefits include an exemption from payment of tax on the value of real estate located abroad (IVIE) and the tax on the value of financial assets held abroad (IVAFE).
Earlier, other tax measures were launched by the government:
Abolition in 2016 of the Tassa sui Servizi Indivisibili (TASI) and Imposta Municipale Propria (IMU), which are taxes on principal homes (except luxury homes and castles).
25% discount on the IMU tax for houses being lent on an "agreed rental" (canone concordato) contract for a minimum of 3 years plus two years of automatic renewal which complies with the local authorities' minimum and maximum rents.
Flat rate of 4 per thousand and a €200-worth standard deduction on IMU tax for luxury homes and castles.
Differentiation between mountain land and land on the flat, with the first getting IMU exemption.
Residential construction improving
During 2021, authorized new residential buildings rose by almost 22% to 59,839 units, in contrast to an 11.2% fall in 2020, according to ISTAT. It was the highest level recorded since 2012. Likewise, the floor area of new residential building permits increased by 20.1% y-o-y to 5.17 million square meters (sq. m.) last year.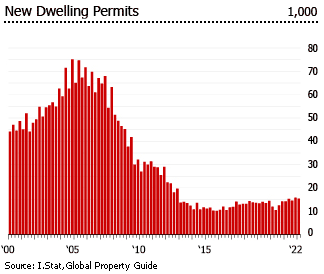 The recovery continued this year, with the number and floor area of permits issued rising by 8.4% and 8.8%, respectively, in Q1 2022 as compared to the same quarter last year.
Even before the pandemic, residential construction activity in Italy declined to an average of 49,900 dwelling permits annually in 2013-19, from 129,000 units annually in 2008-12 and 265,00 units annually in 2004-07.
Low rental yields make private letting unappealing
Private renting is unattractive for Italian landlords. There are low returns on rental properties because of rent controls and other restrictions.
Gross rental yields in the historical center of Rome, Milan, and Venice - the return earned on the purchase price of a rental property, before taxation, vacancy costs, and other costs - range from 2.9% to 5.5%, according to recent research conducted by the Global Property Guide in June 2022.
Typical rentals:
Rome: A 120 sq. m. apartment can be rented for €1,500 (US$1,528) to €2,700 (US$2,750) per month.
Milan: A 120 sq. m. apartment can be rented for about €2,100 (US$2,139) to €3,600 (US$3,666) per month.
Venice: A same-sized apartment can be rented for €2,000 (US$2,037) to €2,600 (US$2,648) per month.
Florence: Monthly rents for 120 sq. m. apartments range from €2,100 (US$2,139) to €2,500 (US$2,546).
Round-trip transaction costs can be high on residential property in Italy and the country's predatory taxation system makes things worse.
The standard rental contract allows free negotiation of the initial rent but commits the landlord to a four-year contract and gives the tenant the option of extending for another four years. Rents can only be increased annually by 75% of the cost of living index; i.e. if inflation is 2%, then you can only increase your rent by 1.5%.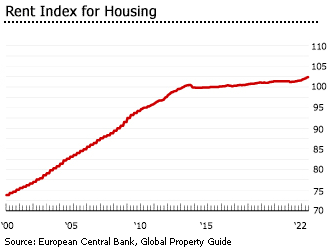 Because of these restrictions on rent increases, most landlords prefer to 'frontload' long rental contracts to take into account anticipated future rent increases, inflation, and capital value appreciation. Frontloading, in turn, artificially raises rents for new contracts.
Despite this, average rents have failed to keep up with inflation since the mid-1990s. While house prices rose by an average of 6.3% from 2000 to 2008, rents rose by an average of only 2.5% over the same period. However, in recent years, the gap has been narrowing because of the sluggish housing market, with house prices falling by a cumulative 1.2% (-2.3% inflation-adjusted) in the 2011-2021 period.
Housing loan interest rates remain low
The average interest rate for new housing loans in Italy is very appealing, falling to 1.61% in May 2022, from 1.64% a year earlier and 1.85% two years ago, according to the European Central Bank (ECB).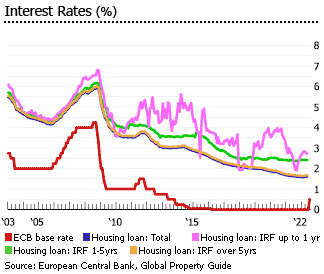 In May 2022, these were the housing loan rates in Italy:
Initial rate fixation (IRF) up to 1 year: 2.71%, down from 2.72% a year earlier and 3.82% two years ago
IRF of 1-5 years: 2.41%, at par from a year ago but slightly lower than the 2.5% interest rate seen in May 2020
IRF of over 5 years: 1.61%, down from 1.64% a year ago and 1.84% two years earlier
Italy's mortgage market is small but resilient
Italy's mortgage market is still small, with outstanding mortgages equivalent to less than 25% of GDP in 2021, less than half of EU 28's average of about 47% of GDP.
This is largely attributable to the length and cost of the loan recovery process, which makes Italian banks very cautious.
From the time a borrower defaults, legal proceedings usually take from five to seven years. Italian house buyers are also reluctant to use mortgage facilities, despite the tax benefits, according to the Royal Institution of Chartered Surveyors (RICS). The take-up of mortgages expanded sharply when interest rates on new house purchases fell to historical lows of 2.7% in 2010, but since then the demand for new loans for house purchases has slowed sharply, despite generally very low-interest rates.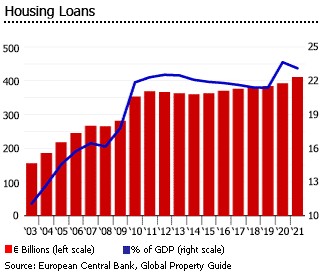 In June 2022, outstanding housing loans rose by 4.7% to €420.4 billion (US$428.1 billion) from a year earlier, up from an annual average growth of just 1.1% from 2012 to 2021, according to the ECB.
In March 2020, the country temporarily suspended mortgage payments across Italy as part of measures to soften the economic blow of the pandemic on households.
"Inflation challenges and supply shocks will drive interest rate rises and increased energy costs, which may affect mortgage performance in the next 12-24 months, especially for more vulnerable borrowers," said Fitch Ratings in its recent report Mortgage Market Index: Italy – June 2022.
"However, we do not expect substantial performance deterioration on housing mortgage loans as households tend to prioritize payments of secured debt and the labor market is proving resilient. Italian residential asset performance remained stable in 2021 compared with 2020 thanks to strong GDP growth year on year and the effect of government moratoriums," Fitch Ratings noted.
Why do more Italians now live in their own homes than in the 1980s?
Currently, more than 75% of the country's total households were owner-occupiers, an increase from 72.4% in 2020 and from 59% of total households in 1980, according to Eurostat figures.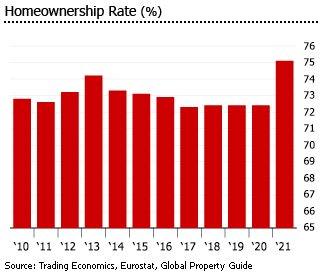 Sardinia and Sicily have the most owner-occupiers, at around 84.1%. The South and North-West regions have relatively lower rates of owner-occupiers at 78.7% and 77.7%, respectively.
Why the rapid increase in home ownership?
Living standards have risen, despite relatively slow economic growth.
There are tax breaks for ownership, mortgage relief, and low-value assessments when calculating imputed income tax and capital gains taxes.
The new housing supply is almost exclusively destined for homeownership.
The Fair Rent Act of 1978 established a common four-year lease, and continued rent controls, making being a landlord unattractive.
Italy's economy weakens, inflation accelerates
Italy has never fully recovered from the 2008-09 global crisis and the COVID-19 pandemic has added another blow to the country's still weak economy. Before the financial crisis, the Italian economy was growing sluggishly, with average GDP growth of 1.2% from 2001 to 2007. It has been a miserable decade since then. The economy contracted by 1% in 2008 and by another 5.3% in 2009. The country went back to 1.7% growth in 2010 and 0.7% in 2011, but contracted by 3% in 2012 and 1.8% in 2013, according to the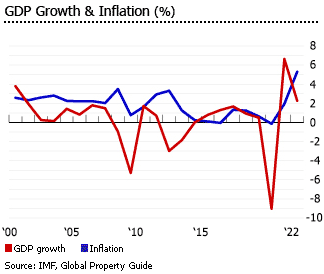 Italy's economy stabilized in 2014, then grew slightly by 0.8% in 2015, 1.3% in 2016, 1.7% in 2017, and 0.9% in 2018. Italy's economy grew by a minuscule 0.5% in 2019, amidst trade tensions and a weaker investment outlook.
The economy suffered a huge contraction of 9% in 2020, during the onset of the Covid-19 pandemic. Then the economy grew by 6.6% last year, amidst the easing of pandemic-related restrictions – but still inadequate to fully offset the prior year's sharp decline.
The eurozone's third-largest economy is projected to slow in the medium term, with a real GDP growth forecast of 2.9% this year and 0.9% in 2023, based on estimates released by the European Commission (EC).
"…the loss in households' real purchasing power, waning business and consumer sentiment, persistent supply bottlenecks, and rising funding costs overshadow the economic outlook. Thus, growth is expected to remain subdued over the forecast horizon," said the EC.
"The risks to the growth outlook are tilted to the downside, in particular in view of potential supply disruptions of natural gas, given Italy's still sizeable dependency on deliveries from Russia despite recent diversification efforts," the EC added.
Nationwide inflation climbed to 8% in June 2022, the highest level since 1986, primarily due to soaring energy and food prices, based on figures from ISTAT.
But the labor market is improving. Overall unemployment fell to 8.1% in June 2022, the lowest level since April 2020. Unemployment averaged 11% from 2012 to 2021.
In 2021, Italy's government recorded a budget deficit of €127.4 billion (US$130.3 billion), equivalent to about 7.2% of GDP, amidst a sharp increase in government spending aimed at stimulating economic activity weakened by the pandemic, as well as soaring energy prices. This was lower than the record shortfall of around 9.6% of GDP seen in 2020. The government aims for the deficit to fall to 5.6% of GDP this year.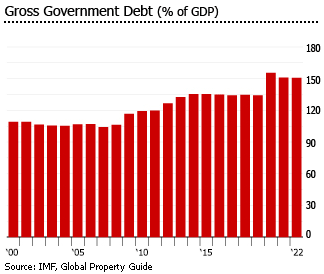 As expected, public debt increased sharply to 155.3% of GDP in 2020, from 134.1% of GDP in 2019 mainly due to the introduction of a pandemic-related public stimulus package. Public debt fell slightly to 150.8% of GDP in 2021.
The government aims to reduce public debt by about 10% of GDP by 2025. "But with geopolitical and financial risks compounding macroeconomic and fiscal uncertainty, achieving this will partly depend on whether further risks to growth materialize, and how far fiscal policy can be tightened in response," said Fitch Ratings.
Draghi's resignation sparks political turmoil
Mario Draghi, a former president of the European Central Bank and an ex-governor of the Bank of Italy, took over the premiership in February 2021 when a coalition of the radical 5-Star Movement and center-left Democratic Party fell out on how to spend the EU's €200 billion coronavirus recovery funds. He has the support of all major parties in parliament for his recovery plan.
Nicknamed "Super Mario", Draghi earned impeccable international credentials during his stint as ECB president and is widely credited with saving the euro currency after the eurozone debt crisis.
Draghi is also credited for reviving Covid-19 vaccination efforts and his contributions to economic recovery. But Draghi's government ended prematurely when internal politics made it harder and harder for him to govern. It started with the left-leaning and populist party Five Star Movement (M5S) shunning a vote on a package aimed at helping Italians deal with the surging cost of living.
Draghi handed in his resignation after the stalemate on the vote but was asked by President Sergio Mattarella to stay on in a caretaker capacity.
A snap election is due to be held on September 25, 2022, with a lot at stake as it will determine not only Italy's finances and fiscal strategy but also Europe's capacity in raising new funds together.
"If a right-wing coalition were to win in Italy's general election on 25 September, and subsequently abandon economic reforms, it could jeopardize not only Italy's access to EU fiscal support and the ECB's new anti-fragmentation tool, but more generally future EU integration and joint debt issuance," said George Buckley, an economist at Nomura.
Sources:
Italy - More data and information