Indonesia Residential Real Estate Market Analysis 2023
Indonesia's residential property market remains sluggish, with the composite-16 property price index rising only by 1.53% during the year to Q3 2022, according to Bank Indonesia. In fact, when adjusted for inflation, property prices declined by 3.48%.
Looking at the longer term, the property market is hardly moved, with priCES is up by a meager 1.47% in 2021, 1.43% in 2020, 1.77% in 2019, 2.95% in 2018, 3.5% in 2017, and 2.38% in 2016. In real terms, prices fell by a cumulative 1.68% from 2016 to 2021.
Indonesia's house price annual change
During the latest quarter, residential property prices rose by a minuscule 0.16% q-o-q (fell by 1.26% inflation-adjusted).
"Only a few projects have raised the asking price due to approaching completion date," said Colliers International in its Q3 2022 report. "Colliers forecasts prices to remain flat until the end 2022 given subdued demand."
When inflation is taken into consideration, only one of the eighteen major Indonesian cities recorded house price increases in Q3 2022 as compared to the same period last year.
RESIDENTIAL PROPERTY PRICES IN INDONESIA´S MAJOR CITIES, Q3 2022

Major Cities
Y-O-Y Change (%)
Q-O-Q Change (%)
Nominal
Real
Nominal
Real
Bandung
1.40
-3.61
0.02
-1.39
Bandar Lampung
1.23
-3.76
0.25
-1.17
Banjarmasin
0.80
-4.18
0.05
-1.37
Denpasar
0.22
-4.73
0.32
-1.09
Palembang
0.88
-4.10
-0.08
-1.49
Semarang
0.54
-4.42
0.10
-1.31
Yogyakarta
2.90
-2.18
0.36
-1.06
Padang
0.96
-4.03
0.20
-1.21
Medan
1.69
-3.33
-0.17
-1.58
Makassar
1.19
-3.80
0.14
-1.27
Manado
2.57
-2.50
0.11
-1.30
Surabaya
1.97
-3.07
0.40
-1.02
Pontianak
7.06
1.77
4.16
2.69
Batam
-0.30
-5.22
-0.86
-2.26
Balikpapan
1.65
-3.37
0.32
-1.10
Jabodebek-Banten
1.72
-3.31
0.04
-1.37
Pekanbaru
1.35
-3.66
0.03
-1.39
Samarinda
0.14
-4.80
0.91
-0.52
Composite in 18 Cities
1.53
-3.48
0.16
-1.26
Sources: Bank Indonesia, Global Property Guide
In Jakarta, prices of apartments rose by a minuscule 0.67% y-o-y to IDR 35.24 million (US$2,255) per sq. m. in Q3 2022, according to Colliers International.
While demand showed some improvements lately, it remains far below its pre-crisis levels. Residential property sales rose by 15.2% in Q2 2022 from a year earlier, in sharp contrast to a 10.1% y-o-y decline in the first quarter, according to Bank Indonesia.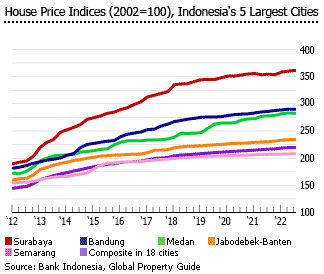 Residential construction activity remains weak, impaired by completion delays. In Q3 2022, there were 219,291 high-end apartment units in Jakarta, up by a meager 0.1% from the previous quarter and by 1.3% from a year earlier, according to Colliers.
Despite this, the wider economy remains strong. Indonesia's economy was estimated to have expanded by around 5.4% to 6% in Q3 2022 from a year earlier, according to President Joko Widodo, following y-o-y growth of 5.44% in Q2 and 5.01% in Q1. The country's strong growth was mainly attributed to strengthening consumption and rising exports amidst further loosening of Covid-19 curbs.
The Indonesian economy grew by 3.7% during 2021, fully offsetting its 2.1% contraction in 2020. The International Monetary Fund (IMF) expects the economy to grow by a robust 5.3% this year.
Jakarta's apartment prices are steady
Prices of apartments in Jakarta rose by 0.67% y-o-y to IDR 35.24 million (US$2,255) per sq. m. in Q3 2022, according to Colliers International.
In Jakarta CBD, the average price of strata title apartments rose slightly by 0.29% y-o-y to IDR 52.47 million (US$3,359) per sq. m. in Q3 2022.
In South Jakarta, the average price of strata title apartments rose by 0.71% y-o-y to IDR 39.67 million (US$2,538) per sq. m. in Q3 2022.
In the capital's non-prime areas, the average price of strata title apartments rose by 1.02% y-o-y to IDR 26.89 million (US$1,721) per sq. m. over the same period.
AVERAGE APARTMENT PRICES IN JAKARTA, Q3 2022

Area
Y-O-Y Change (%)
Q-O-Q Change (%)
Average price (IDR/sq.m)
Average price (USD/sq.m)
CBD
0.29
0.00
52,470,855
3,359
South Jakarta
0.71
0.32
39,668,964
2,538
Non-prime area
1.02
0.07
26,887,930
1,721
Average
0.67
0.13
35,240,366
2,255
Source: Colliers International
Demand shows signs of improvement
Residential property sales rose by 15.2% in Q2 2022 from a year earlier, in sharp contrast to a 10.1% y-o-y decline in the first quarter, according to Bank Indonesia. The huge improvement was driven by broad gains across all house types, with large houses registering the biggest increase in sales of 29.9% y-o-y in Q3 2022, followed by small houses (14.4%) and medium houses (12.3%).
Despite this, sales in the primary market remain suboptimal, according to a survey conducted by the central bank, mainly due to several factors, including higher prices of construction materials, licensing, and bureaucracy issues, high lending rates on housing loans, large downpayment requirements on housing loan applications, and tax concerns.
The average take-up rate for apartments in Jakarta stood at 87.4% in Q3 2022, up slightly from 87.2% in both the previous quarter and a year earlier, according to Colliers International.
Recovering tourism may boost the property market
Tourism is now noticeably improving, amidst the easing of pandemic-related travel restrictions. In September 2022, there were about 538,300 arrivals in the country, sharply up from just 5,000 a year ago, according to Statistics Indonesia. For the first nine months of 2022, Indonesia registered 2.27 million visitor arrivals compared with 86,245 in the same period last year.
Despite this, arrivals remain far below the pre-pandemic levels, with the country recording nearly 10 million foreign visitors in the same periods of 2018 and 2019.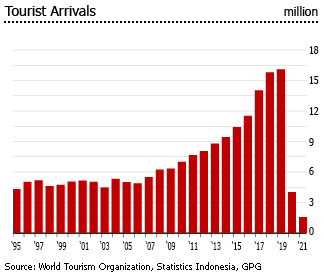 After reaching a peak of 16.1 million tourist arrivals in 2019, Indonesia's tourism almost ground to a halt in the past two years due to the Covid-19 pandemic. Arrivals plummeted by 75% y-o-y in 2020 to 4 million and dropped by another 61.2% in 2021 to just 1.56 million.
Bali, one of the world's top tourist destinations, saw its economy contracting by a huge 9.31% in 2020 and by another 2.47% in 2021, as hotels closed and occupancy rates plunged. An estimated 30,000 expatriates live in Bali.
In October 2022, the Indonesian government launched the "second home visa" program, in an effort to attract more foreign investors and boost tourism. The said program will allow foreigners to stay and work in the country for 5 to 10 years as long as they can show proof of financial assets worth at least IDR 2 billion (US$127,800).
Jakarta's residential construction activity remains weak
Jakarta's apartment market is still impaired by completion delays. In Q3 2022, there was only one project completed in the capital city, with 189 units, according to Colliers International. This middle-upper class project is Southgate Residence (Prime Tower), developed by Sinar Mas Land and situated in Jl. Tanjung Barat Raya, South Jakarta.
"One project has been completed this quarter, with 10 more project completions planned before the end of 2022. However, Colliers expects some adjustment due to delayed completions," said Colliers.
Accordingly, an additional 21,319 units are expected to be completed from 2022 to 2025, with about 28% scheduled for completion during the remainder of the year. However, due to construction delays, Colliers' survey revealed that around 37% of the total projected supply in 2022 will be shifted next year or in 2024.
The projected new supply in the next three years will be mostly located in South Jakarta and East Jakarta. There are only several small developments in the CBD because of high prices and limited available land, driving both developers and homebuyers to consider development projects outside the CBD.
There were 219,291 high-end apartment units in Jakarta in Q3 2022, up by 1.3% from a year earlier, according to Colliers. Of which, West Jakarta accounted for almost a fourth of the existing supply, followed by North Jakarta (19.5%), South Jakarta (19.3%), Central Jakarta (14.6%), CBD (12.8%), and East Jakarta (8.9%).
APARTMENT PROJECTS EXPECTED FOR COMPLETION IN Q4 2022

Apartment Name
Location
Region
Developer
No. of Units
Aerium Taman Permata Buana (South Tower)
Taman Permata Buana
West Jakarta
PT Itomas Kembangan Perdana (Sinarmas Land & ITOCHU Indonesia)
366
Le Parc
Jl. Thamrin
CBD
PT. Putragaya Wahana
100
The Residences at The St. Regis Jakarta
Jl. H.R Rasuna Said
CBD
Rajawali Property Group
164
Fatmawati City Center (2 towers)
Fatmawati
South Jakarta
Agung Sedayu
1,240
Sakura Graden City (Tower Catleya)
Jl. Bina Marga
East Jakarta
PT Trivo Group and Daiwa House
1,100
The Stature Jakarta
Jl. Kebon Sirih
Central Jakarta
Capitaland and Credo Group
96
57 Promenade
Jl. Kebon Melati
CBD
Intiland
496
Solterra Place (Tower Suites)
Pejaten
South Jakarta
Waskita Realty
521
Southgate Residence (3rd Tower – Altuera Tower)
Jl. Tj Barat Raya, Jagakarsa
South Jakarta
Sinar Mas Land
450
JKT Living Star
Jl. Lapangan Tembak
East Jakarta
PT Sindeli Propertindo
594
Source: Colliers International
Tapera public housing savings program finally took effect
Recently, the government enacted a law on public housing savings (Tabungan Perumahan Rakyat – Tapera) to create a new housing fund (BP Tapera) to help workers finance the purchase, construction, or renovation of their first home. All formal workers and individuals with monthly salaries at least equal to the minimum wage must contribute 3% of their pay (2.5% from employees and 0.5% from employers).
However, contribution will be voluntary for private sector companies for the first seven years, until 2028.
The new housing fund officially took effect on January 1, 2021.
Participants have the option to withdraw up to 30% of their fund balance for the purchase of a home or up to 10% for construction or improvements. In addition, those who have already made at least 12 consecutive monthly contributions will have the option to take out home loans from BP Tapera at interest rates of no greater than 5% per year. The government has recently allocated IDR 2.5 trillion (US$159.65 million) to fund said loan program.
The program is in line with the government's program to build one million houses annually.
Indonesia relaxes foreign ownership rules further
Last year, Government Regulation No. 18 of 2021 on the Right to Manage, Right over Land, Strata Titles, and Land Registration became effective, amending Government Regulation No. 103 of 2015. The new regulation finally allows foreigners and foreign legal entities to own apartments in Indonesia. Though, foreigners will only be able to own apartments in designated special economic zones, free trade zones, industrial estates, and other economic zones. Moreover, the property must be worth more than the minimum threshold, which differs depending on the province where it is located.
Accordingly, under the previous law, foreigners were only able to own land under the Right to Use land title and strata title right to use apartment units or SHPSRS ("sertifikat hak pakai atas satuan rumah susun"). GR 18/21 officially allows foreigners to own strata title rights of ownership of apartment units too.
"Ownership rights to apartment units are granted to Indonesian citizens; Indonesian legal entities; foreigners who have permits in accordance with the provisions of laws and regulations; foreign legal entities that have representatives in Indonesia; or representatives of foreign countries and international institutions that are or have representatives in Indonesia," reads the full article 67.
Earlier, in October 2020, the Omnibus Law on Job Creation was passed, which seeks to leverage foreign property investment as one of the pillars to stimulate economic growth after the pandemic.
"The potential of a foreigner being allowed to hold a (right-to-build) title in line with Indonesian citizens is a game changer. If it also allows for foreigners to mortgage in Indonesia it will open up a much larger market than in the past when it was all cash-driven," said Terje Nilsen, CEO of Seven Stones Indonesia. "This will encourage foreigners to choose Indonesia as a first or second home option. Especially now when more and more people work from home. And they can call Bali, and other places in Indonesia home."
Before GR 18/21, the last major liberalization came in December 2015, when GR 103/2015 on House Ownership of Foreigners Residing in Indonesia allowed foreigners to own landed houses in Indonesia for a period up to 80 years. Under the law, foreigners can purchase a landed house or an apartment under the so-called "right-of-use" (hak pakai) title for an initial period of 30 years. The foreigner can extend the ownership twice - by 20 years and then by another 30 years. However, if the foreigner (or his heir) leaves Indonesia to reside in another country, then he/she needs to release or transfer the ownership rights to another person who meets all requirements.
Interest rates rising, mortgage market remains small
Bank Indonesia raised its key rate by 50 basis points to 4.75% in October 2022, following a 50-basis point rate hike in September and a 25-basis point increase in August, in an effort to maintain price stability amidst overshooting inflation expectations. The central bank also raised the deposit facility (DF) and lending facility (LF) rates by 50 basis points to 4% and 5.5%, respectively.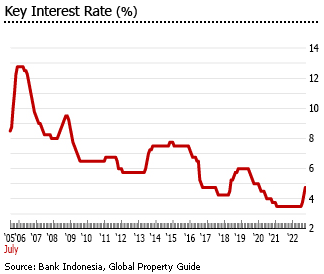 The central bank's move is expected to drive mortgage interest rates to increase in the coming months. Currently, mortgage interest rates range from 8% to 10%.
When buying residential properties, 74.97% of respondents used mortgage loans in Q2 2022. Another 16.61% made progressive payments, while 8.42% used hard cash, according to the central bank's Q2 2022 Residential Property Survey.
Despite this, the ratio of mortgage credits to GDP remains small, at around 3.4% in 2021, based on estimates from the Global Property Guide.
Indonesian developers find financing challenging. Memories of the Asian crisis are still alive. Banks tend to be extremely cautious in extending housing loans to the real estate industry, although Indonesian banks are strong and adequately capitalized. The increased uncertainty brought by the pandemic, Russia's invasion of Ukraine, and global supply chain disruptions have exacerbated the situation.
That's why as of Q2 2022:
64.82% of residential property development projects were financed internally
Only 21.29% were financed through bank loans
9.07% of projects were financed by consumer payments (pre-selling)
Rental yields are good, rents are steady
Gross rental yields on high-end properties in Jakarta range from 5.2% to 7.7%, according to Global Property Guide research. Yet due to strong demand for high-end apartments, prices have risen significantly in recent years, eventually resulting in lower rental yields than the 10% to 13% yields prevailing seven years ago.
Gross rental yields- the return earned on the purchase price of a rental property, before taxation, vacancy costs, and other costs - are an important consideration because a high rental yield indicates that the property market is reasonably priced.
In Bali, lower rental yields can be earned, at around 4%.
However, during the third quarter of 2022, rents for apartments in Jakarta remained more or less steady, at monthly averages of IDR402,324 (US$25.70) per sq. m. in CBD and IDR368,826 (US$23.60) per sq. m. in South Jakarta, according to Colliers International.
Despite increased leasing demand, the overall occupancy rate in Jakarta fell by 1.5% q-o-q to 59.8% in Q3 2022, due to the opening of new projects.
"The overall leasing activity of serviced apartments in Jakarta has shown signs of recovery since 2Q 2022, evidenced by an increase in leasing inquiries and an increase in the occupancy rate of several serviced apartment projects. This has been primarily attributed to an easing of border entry policies and a loosening of post-entry Covid prevention and quarantine measures," said Colliers. "However, additions to supply from the opening of new projects has resulted in a drop in overall occupancy by 1.5% QOQ to 59.8%."
Property investment in Indonesia remains unattractive, due to high tax rates
Despite the high rental yields, property investment is still relatively unattractive for foreigners, because of complex legalities and high tax rates on non-resident owners.
The tax levied on the average annual income on a rental apartment/property in Indonesia is 20% which is the third highest in Asia, only after Bangladesh (25%) and Malaysia (22.4%).
A 10% Value-added tax (VAT) is levied on gross rental income.
Capital gains realized by individuals from the sale of real property in Indonesia are taxed at a flat rate of 5%. The tax base is the transfer value of the property, without any deductions.
Sales of luxury houses, apartments, townhouses, and condominium units with a selling price above IDR 30 billion (US$ 1.92 million) are subject to 20% sales tax.
Property tax is levied at 0.5% on the assessed value of the property. The assessment value of taxable property is determined as a percentage of the deemed fair market value of the property.
The total cost of buying and then re-selling a residential property (including registration costs, real estate agent fees, legal fees, sales, and transfer taxes), is one of the highest in the region (see Indonesian round-trip property purchase costs, compared to the region).
However, changes in the law are in process which should make things much easier.
Indonesia's economy remains strong
Indonesia's economy was estimated to have expanded by around 5.4% to 6% in Q3 2022 from a year earlier, according to President Joko Widodo, following y-o-y growth of 5.44% in Q2 and 5.01% in Q1. The country's strong growth was mainly attributed to strengthening consumption and rising exports amidst further loosening of Covid-19 curbs.
The Indonesian economy grew by 3.7% during 2021, fully offsetting its 2.1% contraction in 2020. To boost economic activity during the pandemic, the government allocated a Covid-19 recovery budget amounting to IDR 692.5 trillion (US$44.19 billion) and IDR 619 trillion (US$39.51 billion) in 2020 and 2021, respectively.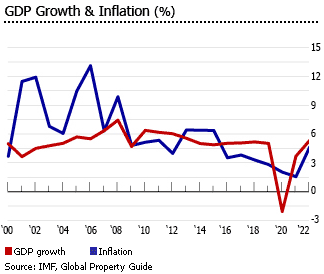 Before the Covid-19 pandemic, the country enjoyed two decades of uninterrupted economic growth. Indonesia's resilience can be attributed to its very domestically-driven economy. It tends to be insulated from global economic trends. In fact, in recent years, Indonesia has enjoyed robust growth despite the global crisis. From 2000 to 2019, the economy grew by an average of 5.3% per year, based on figures released by the International Monetary Fund (IMF).
The IMF expects the Indonesian economy to grow by a robust 5.3% this year while the Asian Development Bank (ADB) is slightly more optimistic, projecting an economic expansion of 5.4%.
"The Indonesian economy is coping well with threats to growth," said ADB Country Director for Indonesia Jiro Tominaga. "Consumer spending is robust, and commodity exports have boomed. However, high commodity prices have also spurred inflation. For 2023, the risks are on the downside due to slower global growth, global financial volatility, tighter macroeconomic policy in Indonesia, and continuing shocks from the Russian invasion of Ukraine."
In September 2022, overall inflation accelerated to 5.95%, up from 4.69% in the previous month and just 1.6% a year ago, according to Bank Indonesia. This is now well above the central bank's target range of 2% to 4% and the highest level since October 2015.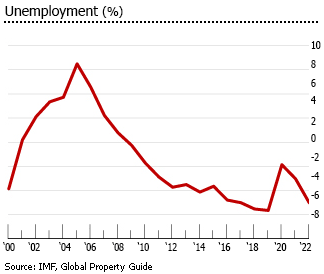 From an average of 9.5% from 2001 to 2008, inflation dropped to an annual average of 4.7% from 2009 to 2019 and further to 2% in 2020 and 1.6% in 2021.
Unemployment is expected to fall to 5.5% this year, based on IMF estimates, from 6.5% in 2021 and 7.1% in 2020. Currently, there are about 8.4 million unemployed people in Indonesia.
Rupiah weakening, public finances gradually improving
The Indonesia rupiah depreciated by 11.2% since January 2020 to reach an average monthly exchange rate of IDR 15,429 = USD 1 in October 2022. Aside from the relative strength of the US dollar, Bank Indonesia noted that the continued depreciation of the domestic currency is "spurred by increasing global financial market uncertainty given more aggressive monetary policy tightening in several countries in response to an uptick of inflationary pressures and concerns stoked by global economic moderation."
This follows a cumulative 4.4% depreciation in the value of the rupiah against the US dollar from 2016 to 2019.
The rupiah is expected to weaken further against the U.S. dollar during the remainder of the year as foreign investors flock to the US financial market as the Fed continues to raise its key interest rates to rein in heightened inflationary pressures.
Indonesia is expected to record a fiscal deficit amounting to IDR 732.2 trillion (US$46.81 billion), equivalent to about 3.92% of GDP. This is smaller than the previous estimate of 4.5% of GDP and the deficits of 4.65% of GDP in 2021 and 6.5% of GDP in 2020, due to strong revenue forecasts, according to Finance Minister Sri Mulyani Indrawati.
As such, the government would cut its debt issuance to IDR 757.6 trillion (US$48.43 billion) this year, from the initial target of IDR 943.7 trillion (US$60.32 billion).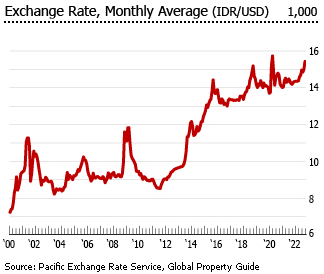 "Our debt issuance has experienced an extraordinarily steep decline. This is an indicator of the health of our state budget, which is extraordinarily good," said Indrawati.
The country's gross government debt will be around 40.9% of GDP this year, according to the IMF, slightly down from 41.2% in 2021 but still higher than the shortfall of 39.8% in 2020 and 30.6% in 2019 before the pandemic.
Jokowi: reform poster-boy no more
Joko Widodo ("Jokowi"), the Democratic Party nominee, became president of Indonesia on 20 October 2014. A man of the people, a campaigner for clean government, and a highly successful and popular former mayor of Jakarta, Jokowi was a symbol of the demand for reform. However, he is no longer the poster boy for reform. In fact, after eight years in office, corruption remains rampant.
Jokowi is popular for his ambitious infrastructure program, which includes 222 projects involving the construction and building of roads, railways, bridges, power stations, oil refining plants, seaports, airports, dams, and more. Of these, over 20 have been completed and 127 are under construction.
Jokowi previously introduced a "Healthy Jakarta card" for health insurance, inaugurated the construction of the Jakarta MRT, and re-started the construction of the green line of the Jakarta Monorail. He also initiated programs aimed towards transparency, such as online taxes, e-budgeting, e-purchasing, and a cash management system.
The government has implemented some land reform, which involves the distribution of land certificates to the poor and offering lower taxes and financial services to buoy small businesses.
Jokowi won a second term in office during the April 2019 elections, beating former lieutenant-general and longtime rival Prabowo Subianto.
However, worrying trends toward corruption and authoritarianism have emerged. Bizarrely, he appointed Prabowo as his defense minister, despite the horrendous reputation of the former lieutenant-General, who was dishonorably discharged from the army for human rights abuses after the Asian crisis and has installed a large number of former regime members of Indonesia's late dictator Suharto's regime in his cabinet. There is also a growing tolerance of corrupt links between government and large conglomerates, reminiscent of the Suharto era, while amendments pushed through the Indonesian legislature in September 2019 have crippled Indonesia's once potent anti-corruption agency. Finally, increasingly authoritarian attitudes to criticism and public protest have tarnished Jokowi's reputation.
In recent months, student demonstrations broke out in several cities to protest against attempts to extend Jokowi's rule beyond the constitutionally mandated two terms. But the president has categorically denied such accusations and informed the public that the 2024 general elections will push through.
"This needs to be explained so that there are no rumors circulating among people that the government is trying to postpone the election or speculation about the extension of the president's tenure or a related third term," said Jokowi. The president added that the election will be held on February 14, 2024.
Sources:
Indonesia - More data and information