Costa Rica's thriving housing market
Costa Rica's housing market remains strong, mainly buoyed by the country's booming tourism. Costa Rica has attracted an increasing number of tourists every year since 2010.
"They come here to vacation, fall in love and want to buy," said Rodolfo Herrera, a real estate lawyer based in San Isidro, San José.
An extra benefit for investors is that San Jose houses yield surprisingly good rental returns, at 8.6%, with apartments yielding 7.5%, according to Global Property Guide research.
In San Jose, the country´s capital, the average listing price of houses rose by 3.7% y-o-y to US$1,110 per square meter (sq. m.) in July 2019, according to encuentra24.com. Likewise, condominium prices increased 1.8% to an average of US$1,724 per sq. m..
Almost all other provinces in Costa Rica also registered rising residential property prices during the year to July 2019.
In Guanacaste, house prices fell by 2.8% y-o-y to an average of US$1,158 per sq. m. in July 2019. But condo prices surged by 40.8% to an average of US$1,181 per sq. m.
In Alajuela, house prices rose by 5.5% to US$997 per sq. m. in July 2019 from a year earlier. Condominium prices increased 5.1% to an average of US$1,051 per sq. m.
In Cartago, house prices were almost unchanged at US$947 per sq. m. during the year to July 2019. Condo prices rose strongly by 15.9% y-o-y to US$1,149 per sq. m.
In Heredia, house prices increased slightly by 1% y-o-y to US$1,038 per sq. m.. Condo prices soared 16.7% to an average of US$1,516 per sq. m.
In Puntarenas, house prices rose by 1.7% y-o-y to US$1,162 per sq. m.. Condo prices fell 13.7% y-o-y to US$1,299 per sq. m.
In Limon, house prices rose by 5.8% y-o-y to an average of US$622 per sq. m.
Property transactions have risen by double-digit figures since 2013, according to local real estate experts. This is not surprising given booming tourism. In 2018, the total number of tourist arrivals rose by 1.9% y-o-y to a record 3,016,667 people, according to the Costa Rican Tourism Board. Then during the first half of 2019, visitor arrivals increased further by 3.9% y-o-y to about 1.73 million people, thanks to the continued increase of tourists from North America.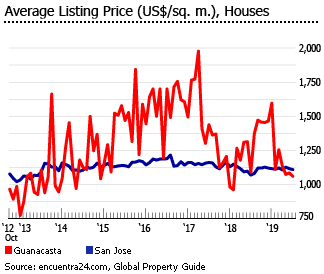 The economy expanded by a modest 2.7% in 2018, after annual growth rates of 3.4% in 2017, 4.2% in 2016, 3.6% in 2015, 3.5% in 2014 and 2.3% in 2013, according to the International Monetary Fund (IMF). The economy is projected to grow by 2.9% this year and by 2.8% in 2020.
There are no restrictions on foreign buyers in Costa Rica.
Foreign investors buoy the housing market
US buyers are driving up property demand in Costa Rica. Costa Rica is the most visited country in Central America, capturing more than a quarter market share. Americans account for more than 40% of all visitor arrivals in the country every year. It is estimated that about 100,000 American citizens live in Costa Rica and more than 1 million visit the country every year. There are also an increasing number of buyers from Canada, France, Germany, and Belgium.
"Higher median prices in the USA are now driving buyer interest in higher priced and luxury real estate properties, particularly for ocean view, beachfront, and near beach properties," said Chris Simmons, the founder of Re/Max Ocean Surf.
"Buyers from hot markets in the USA like California and Florida see Costa Rica as offering great value in comparison to similar beach real estate in the United States. We still have luxury condos for under $200 per square foot, pricing that is rare in the USA," Simmons added.
Foreign investors are attracted because foreigners are entitled to the same ownership rights as Costa Rican citizens, and there are no property taxes and no residency restrictions.
"Costa Rica has proven attractive to investors for its relatively open investment and trade policies, as well as for being the most politically stable country in Latin America," said Robert F. Davey of Century 21 Marina Trading Post.
The most expensive and fastest-selling properties in Costa Rica are in the Central Valley, the greater metropolitan area (including San José, Alajuela, Heredia and Escazú) where most businesses are, and the Pacific coast. The least expensive properties can be found in new developments in the Costa Rica´s southern region, such as the Osa Peninsula.
Locations experiencing dramatic increase in demand include Tamarindo, Playa Langosta, Playa Grande, Drake Bay, Santa Teresa and Mal Pais, Montezuma, Puerto Viejo, and Nosara and Playa Guiones.
Waterfront properties in these areas are priced from just US$100,000.
In Santa Ana, a 3-bedroom single family home currently costs about US$212,000.
In Ojochal, a similar property might cost around US$265,000.
In Tamarindo, 3-bedroom houses might be priced at US$375,ooo.
Gated communities and condominiums are particularly popular among expats and foreign homebuyers. "In the last three years, 80% of sales in Costa Rica were at $200,000 and upward," said Michael Klein of San Ramon Properties.
Sales activity started to rise in 2013, when property sales transactions increased 14% from a year earlier. Property demand has been robust since then.
Most foreign homebuyers pay in cash, since mortgages are not easy to obtain and mortgage interest rates are relatively higher than in their home countries.
Visitor arrivals are increasing
Tourism has become the primary source of income in Costa Rica, before banana and coffee exports.
In 2018:
By air: arrivals increased 5.7% y-o-y to 2,314,888
By land: arrivals fell by 8.9% y-o-y to 692,884
By sea: arrivals fell by 13.8% y-o-y to 8,895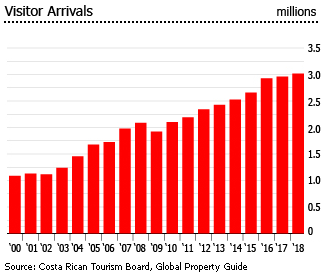 During the first half of 2019, total visitors increased 3.9% to about 1.73 million people, mainly driven by the continued increase in the arrival of tourists from North America.
Rental yields are good
Gross rental yields on residential property in Costa Rica remain generally healthy, at around 5.6% to 8.6%, based on Global Property Guide research. These are quite good returns, even when costs such as taxes and other costs are subtracted from the gross figures.
San Jose houses generate on average 8.6% returns - surprisingly good!
Apartments and houses in San Jose Province, in San Jose city, Escazu and Santa Ana generate around 7.5% returns. There only appear to be minor differences in rates of return between houses and apartments.
Much the same applies in Heredia province, and in Alajuela. These returns are slightly below what one would have expected 5 or 10 years ago, but not much less.
The Global Property Guide research concentrates on the market´s higher end. Rental returns are likely to be higher on smaller properties in less desirable areas.
Costa Rica's rental market is covered by Law 7527 (General Law on Urban and Suburban Renting), passed in 1995. According to the law, rents quoted in colon cannot be increased by more than 15% unless inflation is beyond 15% - which it never has been since the law passed - while rents quoted in US dollars or any other currency cannot be increased at all.
What is most unusual about this law is that, in practice, it favours quoting rents in US dollars, since the colon generally depreciates, making foreign-currency denominated rents rise faster than rents quoted in colons.
Guanacaste's real estate market
In Guanacaste, house prices fell by 2.8% y-o-y to an average of US$1,158 per sq. m. in July 2019, according to encuentra24.com. On the other hand, condo prices surged by 40.8% to an average of US$1,181 per sq. m. over the same period.
By city:
In Liberia, the average house price rose slightly by 1.7% y-o-y to US$946 per sq. m. in July 2019.
In Santa Cruz, the average house price dropped 3.9% y-o-y to US$1,358 per sq. m. in July 2019.
In Nicoya, the average house price plummeted by 12.5% to US$1,427 per sq. m. in May 2019 from a year earlier.
In Tilaran, the average house price fell by 6.3% y-o-y to US$1,298 per sq. m. in April 2019.
For years Guanacaste was a wild woolly territory, hard to get to, the domain of backpackers and surfers who appreciated its climate and stunning beaches.
Guanacaste then took off. The real estate boom in Guanacaste began after the opening of the Daniel Oduber international airport in 2002 (which is located in Liberia) and the opening of the Four Seasons resort, part of the 2,300-acre (9.3 sq. km.) US$400 million Península Papagayo project developed by the Costa Rican developer Alan Kelso, indisputably the most luxurious development on the coast. Since then, several luxurious hotels have been built in the area.
Another catalyst was the start of direct flights from Atlanta, Miami and Houston in 2005. Planes fly into the small airport at Liberia, the capital of Guanacaste.
Some of the most luxurious and high-priced properties are available here, though there is a wide range of condominiums in Guanacaste on a price range from $100,000 to $750,000, depending on location.
Guanacaste also boasts several world-class golf courses, including the Hacienda Pinilla Golf Resort at the southern part of Tamarindo, and the Garra de Leon course at The Paradisus Playa Conchal Resort. The Four Seasons Resort, the Royal Pacific Golf and Country Club in Playa Grande, the Tamarindo Diria Beach and Golf Resort in Tamarindo and the Costa Palmera Beach Estate in Playa Grande also offer popular golf getaways in the province of Guanacaste.
Tamarindo, the biggest coastal town with the most developed tourist infrastructure in Guanacaste, saw strong house price increases in recent years but started to decline by end-2016 because of a supply glut.
Central Valley house prices mixed
The majority of cities in the Central Valley saw rising house prices during the year to July 2019, according to encuentra24.com.
Pérez Zeledón registered the biggest rise of 29.4% y-o-y to an average house price of US$677 per sq. m. in July 2019, followed by Mora (26.8%), Goicoechea (7.9%), Santa Ana (6.7%), Aserrí (6.5%), Tibás (5.4%) and Escazú (4.2%). Minimal house price rises were registered in Moravia (2.7%), Desamparados (2.2%), and Puriscal (1.6%).
On the other hand, San José Capital suffered the biggest y-o-y house price decline of 13.1% in July 2019, followed by Alajuelita (-8.9%), Vázquez de Coronado (-8.4%), Curridabat (-2.8%), and Montes de Oca (-0.1%).
Santa Ana, located just 15 minutes away from San Jose´s city centre, has some of the region´s most expensive housing, with an average price of US$1,372 per sq. m. in July 2019. It hosts the country´s largest MultiPlaza mall, a modern CIMA Hospital and Medical tower, as well as several luxury hotels such as the Marriott Courtyard and the Intercontinental. Other expensive cities include Mora (US$1,393 per sq. m.), Escazú (US$1,258 per sq. m.), Curridabat (US$1,065 per sq. m.) and Montes de Oca (US$1,021 per sq. m.).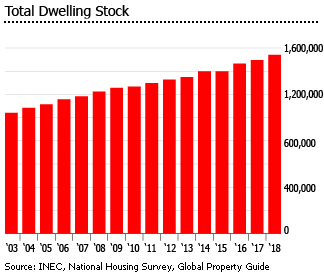 San Jose is admittedly rather ugly, but it is the country´s economic and cultural centre. Its population has fallen to 60,000 people, from around 70,000 people 20 years ago.
To attract people back, San Jose´s local authorities have pushed projects to develop Paseo Colón, a downtown revamp, building parks, improving water and drainage systems, and improving traffic management. In addition a US$1.3 million "Chinatown" project, covering 8,300 sq. m., was completed in 2012.
Half-hour away from the capital are the mountains of Heredia to the north, Alajuela to the northwest and Cartago to the east, which offer small-town charm. The warm climate on the hills of Escazú, west of San José, is another favourite with North American expatriates.
The recent construction boom has made houses more affordable. Central Valley has the highest number of developments underway, especially in places such as San José, Alajuela and Heredia, according to The Association of Engineers and Architects. Buyers can have a decent house for as low as US$50,000 up to US$250,000 in Tico neighborhoods. Low-end condominiums sell at a minimum amount of US$150,000 in Ezcazú and Santa Ana.
Costa Rica´s last frontier is the Osa peninsula area, which is very rural, not easily accessible, with a small airport and terrible roads. It is also much more tropical, an area known for its heat and mosquitoes and snakes.
The Central Valley has a temperate climate suitable for year-round living, and has easy access to San Jose, the country´s capital.
Planned residential construction falling
In San Jose, developers are now reducing their residential building activity, until the excess supply of recent years is absorbed.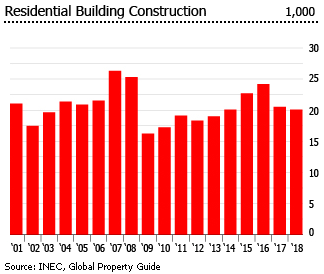 The number of residential building permits fell by 13.1% y-o-y to 3,859 units in 2018, according to the Instituto Nacional de Estadística y Censos de Costa Rica (INEC).
The area of residential building permits fell by 20.6% to almost 515,000 square meters (sq. m.) over the same period.
The value of residential building permits fell by 15% to almost CRC140 billion (US$244.24 million).
Nationwide, the decline is more modest, with building permits falling only 2.1% during 2018.
Interest rates are falling gradually
The BCCR reduced its benchmark rate by 50 basis points to 4% in July 2019, after cutting it four times in the past five months from 5.25% in March 2019.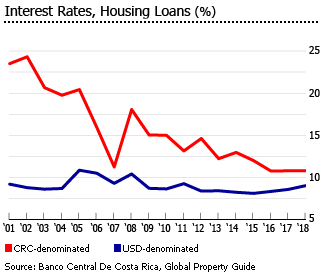 As a result, mortgage rates are falling.
The average interest rate on CRC-denominated housing loans in private commercial banks was 10.28% in May 2019, down from 10.8% in 2018, according to the Banco Central de Costa Rica (BCCR).
The average interest rate on U.S. dollar-denominated housing loans fell to 8.07% in May 2019, from 9.02% in 2018.
Mortgage market expanding rapidly
The size of the Costa Rican mortgage market expanded to 13.4% of GDP in 2018, up from only 3.7% of GDP in 2000. From 2001 to 2008, the amount of housing loans outstanding grew by an average of 36% per year. However after the global crisis mortgage growth somewhat slowed to about 9% annually from 2009 to 2018.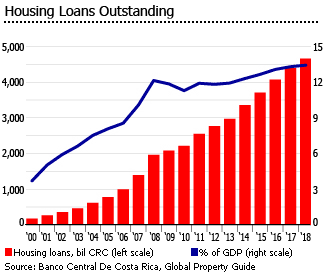 In Q1 2019:
CRC-denominated housing loans outstanding rose by 6.6% y-o-y to CRC 2.41 trillion (US$4.21 billion)
Foreign currency-denominated housing loans outstanding increased 4.1% y-o-y to CRC 2.23 trillion (US$3.88 billion)
Solidarity tax helps owners
Rental property owners welcomed a new "solidarity tax" in October 2009, which changed the tax rules for homeowners and tenants.
Under the "solidarity tax" taxpayers can choose between two taxing options:
Pay 15% tax on rental income (income from rent only), with the taxpayer entitled to 15% deductible expenses without documentation;
Pay taxes the traditional way, with all deductible expenses subtracted and corresponding rates applied. Under the old rules, the taxpayer was allowed to subtract deductible expenses (e.g. depreciation), but must pay income tax at up to 30%. Smaller and medium companies pay income taxes ranging from 10% to 20%, and individuals who receive rental income pay 10% to 25% tax.
The solidarity tax, also known as the luxury home tax, applies only to owners of houses whose price exceeds the taxable threshold currently set at about CRC131 million (US$228,600). Owners of houses with lower appraisal value are exempt from paying it.
There is also a solidarity tax to support social housing, which is not standard for all properties but for those which have a residential building and exceed the taxable threshold defined by the authorities annually.
For the current fiscal year 2019, the tax brackets in effect are:
COSTA RICA'S LUXURY HOME TAX TABLE, 2019

Property Appraised Value
Rate
Up to
CRC 329 million
0.25%
On excess of CRC 329 million
and up to CRC 659 million
0.30%
On excess of CRC 659 million
and up to CRC 988 million
0.35%
On excess of CRC 988 million
and up to CRC 1.318 billion
0.40%
On excess of CRC 1.318 billion
and up to CRC 1.646 billion
0.45%
On excess of CRC 1.646 billion
and up to CRC 1.978 billion
0.50%
On excess of CRC 1.978 billion
0.55%
Modest economic growth; high unemployment
Costa Rica's economy expanded by a modest 2.7% in 2018, the slowest growth in five years, according to the International Monetary Fund (IMF).
"The slowdown reflects multiple shocks that affected the Costa Rican economy, including a three-month strike by state workers against fiscal adjustment efforts and the effects of the Nicaraguan crisis," said the IMF.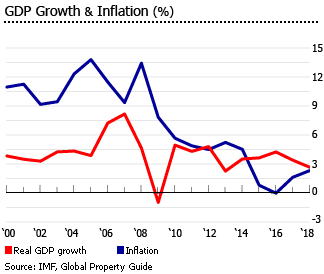 Costa Rica had robust economic growth from 2003 to 2007, with annual average real growth of 5.6%. However, the economic growth slowed to 4.7% in 2008 and contracted by 1% in 2009, due to the global crisis. But the country bounced back quickly, with GDP growth rates of 5% in 2010, 4.3% in 2011 and 4.8% in 2012.
The economy is projected to grow by a modest 2.9% this year and by 2.8% in 2020, based on IMF estimates.
During the second quarter of 2019, unemployment stood at 11.9%, up from 8.7% in the same period last year, according to INEC.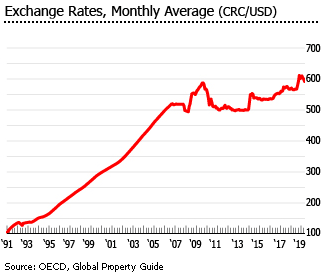 Inflation picked up to 2.89% in July 2019, the highest level since March 2015 but still within the inflation target of 3% set by the central bank.
In January 2015, the BCCR adopted a managed float exchange rate regime, with a range of 500 to 800 colones per USD1, and vowed to intervene only when the currency shows excessive fluctuations.
Costa Rica has a worrying budget deficit
Despite uninterrupted growth and manageable inflation, Costa Rica´s fiscal deficit stood at 6% of GDP in 2018, according to the Banco Central de Costa Rica. The deficit is expected to fall to 5.8% of GDP this year and to 5.1% of GDP in 2020.
Despite this, the government gross debt widened to a record high of 53.5% of GDP in 2018, up from 48.6% in 2017, 44.9% in 2016, 40.9% in 2015, 38.4% in 2014 and 35.8% in 2013.
In 2015, Standard & Poor's, Moody's, and Fitch Ratings, all cut Costa Rica's credit rating to junk status. In December 2018-January 2019 all three downgraded the country's credit rating further. Standard & Poor's downgraded Costa Rica´s long-term foreign and local currency ratings to B+, with negative outlook. Moody's downgraded long-term issuer ratings to B1, with negative outlook. Fitch Ratings lowered the sovereign long-term foreign currency issuer default rating to B+, with negative outlook.
"A high debt burden, poor debt management, a rising share of government debt denominated in foreign currency, and a persistently high level of dollarization in the financial sector highlight Costa Rica´s external vulnerabilities," said S&P.
In an effort to strengthen the country's finances, the government enacted the Law on Strengthening Public Finances in December 2018.
Effective in July 1, 2019, the law focuses on four pillars:
Replacing the current sales tax law with a value added tax (VAT)
Amendments to the current income tax law and the inclusion of specific treatment for capital income and capital gains
Reforms to the Law of Salaries of the Public Administration
A fiscal rule to limit public spending
"With the approval of the reform, Costa Rica has avoided a crisis and takes a step that brings stability and confidence," said Costa Rican President Carlos Alvarado Quesada.
Beautiful, unspoiled Caribbean beaches
Costa Rica's Caribbean beaches, especially those near the Panamanian border, are some of the most beautiful and unspoiled in the country and they are seeing enormous price increases.
Some of Costa Rica's stunning beaches include:
Playa Conchal
Playa Conchal, in the Province of Guanacaste, boasts stunning white sand beaches, perfect for swimming and snorkeling. Visitors will love the deep sea fishing, and can hike in nearby nature reserves or national parks. Visitors can stay at the luxurious Westin Playa Conchal Resort.
Manuel Antonio
Manuel Antonio, on Costa Rica´s central pacific coast, is one of country's most beautiful beaches with sparkling white sand, calm water, rich wildlife, and lush rainforest landscape. Visitors can enjoy a wide range of activities such as swimming, surfing, and hiking the Manuel Antonio National Park, among others.
Playa Flamingo
Playa Flamingo is a mile-long, crescent shaped beach north of Playa Conchal. Mangroves are abundant in the area, and Salinas Point offers a perfect view of both the Potrero and Brasilito Bays. Popular activities include scuba diving, sailing, and sportfishing. Playa Flamingo has exclusive beachfront private properties and expensive villas. The vibe is upscale and relaxed.
Tamarindo
Tamarindo is the country's surf and party destination. It is in Nicoya Peninsula on the northern pacific coast of Costa Rica. It hosts international surf competitions, and sport fishing, scuba diving, snorkeling, swimming, and horseback riding.
Punta Uva
Punta Uva, a small town south of Puerto Viejo, offers quiet, clean and beautiful beaches. In addition, visitors can also enjoy its beautiful butterfly garden full of various species of exotic butterflies. There are also indigenous community reserves, home to the tribes of Bri-Bri, Cabecar, and KeköLdi, and the Yorkin.
Sources:
Costa Rica - More data and information