South Africa Real Estate Market Analysis 2022
South Africa's housing market remains fragile, amidst a weak economy, surging inflation, as well as rising interest rates. The price index for medium-sized apartments rose by a modest 3.4% in Q2 2022 from a year earlier, following a 4.5% increase a year ago., according to the First National Bank (FNB). However, when adjusted for inflation, prices actually declined by 3.74% y-o-y in Q2.
South Africa's house price annual change
On a quarterly basis, apartment prices rose by a meager 0.8% (and declined by 1.6% inflation-adjusted) during the latest quarter.
South Africa's housing market has been sluggish over the past several years, mainly due to high unemployment, weak household finances, and an underdeveloped mortgage market. From 2007 to 2021, house prices rose by about 69% but when adjusted for inflation, real prices actually fell 19%.
With inflation surging again, the gap between nominal and real prices has been rapidly widening recently.
Demand remains subdued, with nationwide residential market activity weakening in Q2 2022 compared to the previous quarter, amidst rising interest rates and a weaker economic outlook, according to FNB's Q2 2022 Property Barometer.
"As expected, the FNB Estate Agents Survey showed signs of a softening market. Market activity weakened in 2Q22, and this is corroborated by the lengthening time properties remain on the market for sale," said the FNB. "The survey shows souring sentiment in the KwaZulu-Natal (KZN) region, following the devastating floods. This, combined with the impact of riots in July last year, should have a lingering effect on the KZN property market."
"Activity softened across all the price segments that we track, with the affordable market faring relatively better in 2Q22," the FNB added.
South Africa's economy contracted by 6.4% in 2020, following minuscule growth of 0.1% in 2019. It was the steepest decline in over a century. The coronavirus outbreak has deepened the country's debt crisis, aggravated food insecurity, and weakened already fragile health systems. The economy bounced back in 2021, registering a growth of 4.9% - but still not enough to offset the huge contraction in the prior year.
Currently, the SA economy continues to suffer, with real GDP shrinking by 0.7% in Q2 2022 from the previous quarter, mainly due to the devastating floods in KwaZulu-Natal, coupled with intense power rationing, according to Stats SA. On an annual basis, the economy grew by a minuscule 0.2% in Q2 2022, a sharp slowdown from y-o-y increases of 2.7% in Q1 2022, 1.7% in Q4 2021, 2.9% in Q3 2021, and 19.1% in Q2 2021.
The International Monetary Fund (IMF) expects the SA economy to post a modest expansion of 2.3% this year.
South Africa is Africa's second-biggest economy. With a population of 60.1 million and a GDP per capita of US$6,950 in 2021, it has formidable manufacturing and financial sectors. It is the world's largest exporter of gold and platinum. Tourism is also a key source of foreign exchange.
Recalling the boom years
During South Africa's housing boom (from 2000 to 2006), house prices rose by an average of 20% annually. These price rises peaked in October 2004 with 35.7% annual growth (32.5% in real terms), according to ABSA.
The boom was driven by 4 main factors:
The emergence of a financially stable black middle class, which had a tremendous impact on housing demand, encouraged by individual tax reliefs, in the context of a growing economy.
South Africans who had parked money offshore during the Apartheid era were allowed (and required) to bring it back by September 2004. Much of this money went into property.
Better stability and security helped. During Apartheid and its sequel, property prices had badly lagged the economy, as the security situation went from bad to worse.
Lastly, the Financial Sector Charter in 2003 boosted mortgage loan growth. Financial institutions committed to providing ZAR 42 billion (US$3.1 billion) of housing finance to the low-income market. Then in 2006, the CGT exemption on primary residences was raised from ZAR 1 million (US$ 72,934) to ZAR 1.5 million (US$ 109,402). Transfer duties on properties were lowered too. For example, no transfer duty is payable on properties valued at ZAR500,000 (US$ 36,467) or less.
However the boom ground to a halt following the global financial crisis. From 2008 to 2009 house prices fell by 3.2% (-16.5% in real terms). Aside from the global crisis and rising interest rates, the decline in prices was prompted by the implementation of the National Credit Act in mid-2007, which aimed to protect borrowers from over-indebtedness, by limiting the amount of funds that can be borrowed and requiring every lender to assess borrowers' credit-worthiness. It requires lenders to disclose every term in the contract and gives the borrowers the right to request their credit report, and to challenge the report if there are inaccuracies. The act has tended to reduce the supply of mortgage loans.
The housing market rose a little in 2010, encouraged by South Africa hosting the 19th FIFA World Cup, and from 2011 to 2019, house prices have risen by almost 51%. But after the ravages of inflation are deducted, that works out at a meager 0.4% growth in real terms.
House prices rose by a total of 8% in the past two years, amidst the pandemic. Yet when adjusted for inflation, prices actually declined by 1.1% over the same period.
HOUSE PRICES, ANNUAL CHANGE (%)

Year
Nominal
Inflation-adjusted
2010
3.10
-0.23
2011
4.36
-1.84
2012
5.77
-0.04
2013
7.72
2.35
2014
6.20
0.82
2015
6.32
1.08
2016
4.75
-2.16
2017
3.85
-0.62
2018
4.12
-0.27
2019
3.10
-0.90
2020
4.10
0.99
2021
3.70
-2.06
Sources: FNB, Global Property Guide
Residential construction activity surging
During 2021, the total number of residential completions rose by almost 35% y-o-y to 32,597 units, following a 46.7% decline in 2020, according to Statistics South Africa (Stats SA). Likewise, approvals also increased 35.1% to 52,126 units last year, fully offsetting the 24.6% fall in 2020.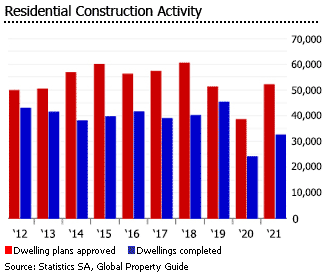 The strong recovery in residential construction continued this year. For residential completions, in the first half of 2022:
For houses measuring less than 80 sq. m, completions soared 46.4% y-o-y to 4,711 units in H1 2022.
For houses measuring 80 sq. m and above, completions increased by a third to 4,728 in H1 2022 from the same period last year.
For flats and townhouses, completions fell by 15.3% y-o-y to 6,776 over the same period.
For residential building approvals:
For houses measuring less than 80 sq. m, approvals rose by 45.5% y-o-y to 6,335 units in H1 2022.
For houses measuring 80 sq. m and above, approvals were up by 8.1% y-o-y to 7,984 units.
For flats and townhouses, approvals rose by a modest 5.8% y-o-y to 13,763 units in H1 2022.
Market activity is still weak
Residential market activity in South Africa weakened in Q2 2022 from the previous quarter, amidst rising interest rates, coupled with a weaker economic outlook.
"Market activity weakened from a rating of 6.8 (out of 10) in 1Q22, to 6.1 in 2Q22. This is the lowest rating in the post-pandemic period, but still above the long-term average (since 2004) of 5.9," said the FNB in its Q2 2022 Property Barometer.
The average time properties spent on the market for sale was 9 weeks and 4 days in Q2 2022, up from the previous quarter's 8 weeks but still below the long-term average of around 13 weeks, based on figures from the FNB. Though, there are huge variations across regions, with Western Cape (8 weeks and 1 day) and Eastern Cape (9 weeks and 4 days) registering the shortest time on the market. In contrast, KwaZulu-Natal and Gauteng had the longest time on the market, at about 10 weeks.
Foreign home buying remains muted
Given South Africa's economic stagnation, aggravated by the Covid-19 pandemic, it is maybe not surprising that home-buying by foreigners has declined in recent years, even though property in South Africa is now dramatically less expensive for foreign buyers than a decade ago.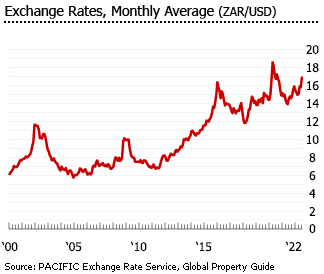 Even taking into account the recent appreciation of the rand on the back of higher metals prices, the value of the local currency remains almost 60% lower against the US dollar from July 2011 to July 2022, falling from US$ 1 = ZAR 6.79 to US$ 1 = ZAR 16.87. Yet foreign homebuyers represent only 3.74% of total home buying in South Africa, significantly down from its peak of 6.5% in 2008.
"Inbound demand (i.e. from foreigners buying property in South Africa as well as from South African expats buying property locally) remains comparatively subdued," said the FNB during the onset of the Covid-19 pandemic.
FNB attributed this to:
Weak investor sentiment towards South Africa, due to the country's multi-year economic stagnation
Uncertainty about the country's future economic policy
Negative news, such as credit rating downgrades to "junk status"
Pandemic-related lockdowns and travel restrictions
Most foreign owners are based in Europe, mostly in the United Kingdom, as well as Germany, Italy, Holland, and France. There are also buyers from African countries such as Mozambique, Zimbabwe, Angola, Cameroon, and Nigeria. An increasing number of buyers from China and Dubai are also eyeing properties in the KwaZulu-Natal and the Durban area, according to Craig Hutchison, chief executive of Engel &Völkers Southern Africa.
Foreigners can own immovable property in South Africa without restriction. However, all foreign funds remitted to the country must be declared and documented. The property must also be endorsed 'non-resident', as a condition for repatriation of funds.
Non-resident investors have to pay Capital Gains Tax when they later sell their properties. The purchaser of the property is required to deduct a prescribed percentage from the proceeds of the sale and remit it directly to the South African Revenue Service before paying the balance to the seller.
Rising interest rates
In July 2022, the South African Reserve Bank (SARB), the country's central bank, raised its benchmark repo rate by 75 basis points to 5.5%, in an effort to rein in inflationary pressures. It was the fifth straight rate hike in nine months, bringing the biggest increase in borrowing costs in almost two decades.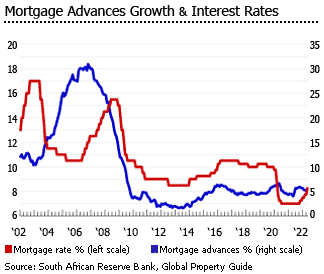 "The revised repurchase rate path remains supportive of credit demand in the near term while raising rates to levels consistent with the current view of inflation risks," said the central bank. "The aim of the policy is to stabilize inflation expectations more firmly around the mid-point of the target band and to increase the confidence of hitting the inflation target in 2024."
In line with this, prime and variable mortgage rates are now rising. In May 2022, the predominant rate on new mortgage loans stood at 8.25%, up from 7% in the previous year and 7.25% two years ago.
The mortgage market improving gradually
Housing loans continue to rise, amid an increased willingness of banks to provide loans to prospective borrowers. In Q1 2022, total mortgage advances rose by 5.5% to about ZAR 1.67 trillion (US$ 96.73 billion), slightly up from its annual average growth of 4.2% in 2011-21.
"Loan-to-price ratios, a proxy for loan-to-value, have continued to rise, suggesting willingness by lenders to finance a bigger proportion of the purchase price," said the FNB. "....the surge in LTPs predates the pandemic – it began in 2017 – and is largely attributed to intense competition among lenders in a thin volume market."
This is supported by other local market experts.
"Property ownership is now more accessible...Potentially renters may be able to buy a home at a lower monthly cost than their current rental payment," said Rhys Dyer, chief executive of home loan comparison service firm, Ooba.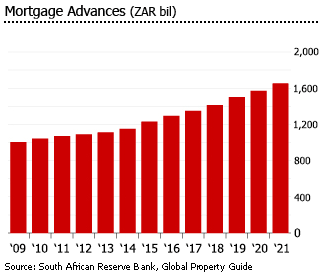 The size of the mortgage market stood at about 27% of GDP in 2021, almost unchanged in the past five years but still down from an average of 34% of GDP in 2009-2011.
Household finances are troublingly weak, aggravated by high unemployment
Many households in South Africa are under financial strain, because of slow economic growth and low employment levels. The net savings rate stood at only 0.3% of disposable income in Q1 2022. However, the ratio of household debt to disposable income decreased to 64.5% in Q1 2022 from 65.1% in the previous quarter and more than 77% in the previous year, as the rise in disposable income exceeded that of household debt, according to SARB's June 2022 Quarterly Bulletin.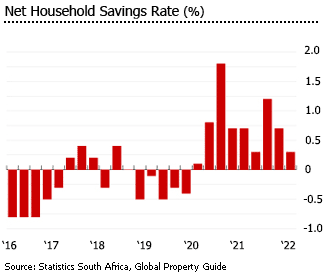 Households' debt-service cost to disposable income stood at 7.3% in Q1 2022, down from 8.5% in 2020 and 9.4% in 2019, reflecting the substantial decline in interest rates in recent years. But it is expected to rise during the remainder of the year as rising interest rates will substantially increase households' borrowing costs.
The very high unemployment rate has been exacerbated by the health crisis. In Q2 2022, the official unemployment rate was 33.9%, slightly down from 34.5% in the previous quarter but remains higher than the 29.1% before the pandemic, according to Stats SA. In fact, when the expanded definition is used, the jobless rate stood at 44.1% during the latest quarter.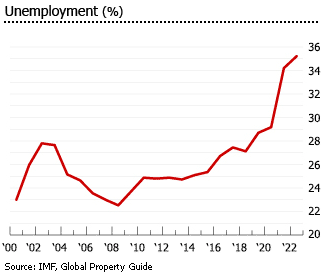 The total number of unemployed people totaled 7.994 million in Q2 2022, up from 7.862 million in the previous quarter.
Rental yields are good
Despite all this, from one perspective property owners should be happy. In Johannesburg, gross rental yields for apartments, i.e., the gross rental return on a property if fully rented out, are good, ranging from 6.5% to 9.3%, according to research conducted by Global Property Guide.
The most desirable neighborhoods in Johannesburg are in the north of the city, including suburbs like Dunkeld, Hyde Park, Houghton, Illovo, Inanda, Melrose, Parkhurst, Parktown, Parkview, Sandhurst, Saxonwold, and Westcliff. Nelson Mandela has a house in Houghton.
In Cape Town, gross rental yields on apartments are slightly lower, ranging from 5% to 8.3%.
Cape Town is the most popular tourist destination in Africa. Its amazing beaches and weather are ideal for retirees and foreign property buyers. Atlantic Seaboard properties are among the most sought-after because of the beaches and cliffs - upscale neighborhoods like Bakoven, Bantry Bay, Camps, Clifton, Fresnaye, Green Point, and Mouille Point. Some houses nestled on cliffs have sweeping views of the Atlantic Ocean. City Bowl, which includes the central business district of Cape Town, is another upscale residential suburb. It is one of the most stable residential markets in Cape Town, because of its prime central location and vibrant cosmopolitan lifestyle.
A typical Johannesburg apartment rents for around US$ 9 to US$12 per sq. m. per month, while the same property in Cape Town is offered for a monthly rent of about US$ 15 to US$ 17 per sq. m.
SA economy remains weak, inflation rising sharply
In the second quarter of 2022, the South African economy shrank by 0.7% from the previous quarter, following quarterly growth of 1.8% in Q1 2022 and 1.5% in Q4 2021, according to Stats SA. Accordingly, the devastating floods in KwaZulu-Natal, coupled with intense power rationing, contributed to the decline, adversely impacting the already weak economy that has not yet fully recovered from the Covid-19 pandemic.
On an annual basis, the economy grew by a minuscule 0.2% in Q2 2022, a sharp slowdown from y-o-y increases of 2.7% in Q1 2022, 1.7% in Q4 2021, 2.9% in Q3 2021, and 19.1% in Q2 2021.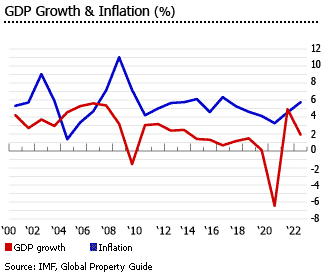 The International Monetary Fund (IMF) expects the SA economy to post a modest expansion of 2.3% this year, a slowdown from the previous year's 4.9% growth. This is supported by Fitch Ratings, which also projects a 2.3% growth for South Africa.
"Growth is still supported by post-pandemic normalization and high prices for South Africa's key commodities, but these factors will fade gradually and as the international environment becomes more challenging," said Fitch Ratings. "Electricity shortages weigh heavily on growth and this could worsen further before new supply, mostly in the form of independent power producer (IPP) projects, comes online."
In July 2022, the annual headline inflation jumped to 7.8%, up from the previous month's 7.4% and the highest level in 13 years, according to figures from Stats SA, amidst a surge in fuel and commodity prices. This is now far above the central bank's target inflation range of 3% to 6%.
South Africa's public finances show signs of improvement. In 2021, the budget deficit fell to 5.7% of GDP, down from 10% in 2020 and 6.9% in 2019 but still higher than the annual average shortfall of 4.4% in 2012-18. The country's public finances worsened after President Cyril Ramaphosa introduced during the onset of the Covid-19 pandemic a fiscal stimulus package worth ZAR 500 billion (US$29 billion), or a tenth of the economy - the largest ever spending plan in the country's history.
South Africa's debt burden was equivalent to 69.9% of GDP in 2021, slightly down from 70.7% of GDP in 2020 but still the second highest in the country's recent history.
All three major credit rating agencies affirmed South Africa's sovereign credit rating but upgraded their outlook for the country:
In April 2022, Moody's affirmed South Africa's sovereign credit rating of Ba2 (equivalent to "junk status) but changed its outlook from negative to stable, amidst an "improved fiscal outlook that raises the likelihood of the government´s debt burden stabilizing over the medium term."
Then in May 2022, Standard & Poor's also affirmed the country's long-term sovereign rating at 'BB-' but revises its outlook from stable to positive.
In July 2022, Fitch Ratings affirmed the country's long-term foreign-currency issuer default rating at 'BB-' with a stable outlook.
"South Africa's 'BB-' IDRs are constrained by high and rising government debt, low trend growth, and high inequality that will complicate fiscal consolidation efforts," said Fitch Ratings. "The ratings are supported by a favorable debt structure with long maturities and denominated mostly in local currency as well a credible monetary policy framework."
Ramaphosa faces corruption scandal
Cyril Ramaphosa was elected president by parliament in February 2018 after his predecessor, Jacob Zuma, resigned over corruption allegations.
Ramaphosa was Nelson Mandela's choice for future president. He is a trade union leader, MP, long-time ANC stalwart, and successful businessman, with a fortune of US$675 million (Forbes estimate).
His business career has not been without controversy, with several accusations of bribery and corruption, but nothing on the scale of the accusations against Zuma. He was also implicated in the August 2012 Marikana massacre, when 34 striking miners were shot dead. Previously he was Deputy President under Zuma.
Ramaphosa passed his first test when the African National Congress (ANC) won the May 2019 parliamentary elections, although its 57.5% share of the vote was its lowest margin of victory since apartheid was overturned 25 years ago.
However, many were dismayed by Ramaphosa's overly cautious handling of the country's struggling economy, the seemingly slow implementation of reforms, as well as his failure to rein in corruption. Public frustration grew in December 2019 when the beleaguered power utility, Eskom, left South Africans facing the worst blackouts in the country's history.
Ramaphosa's government has also come under fire for its handling of the health crisis and for delays in acquiring and rolling out vaccines.
But the biggest test to Ramaphosa's government is the Phala Phala controversy, which surrounds an alleged cover-up of a robbery that took place at his Phala Phala private farm, back in February 2020. The robbery and the alleged cover-up were first brought to light in June 2022 by Arthur Fraser, South Africa's former head of the State Security Agency.
Embroiled in this latest scandal, Ramaphosa might face a possible impeachment trial and his career is now in jeopardy as the ruling ANC prepares to hold national elections in December.
Sources:
South Africa - More data and information