Foreign demand fuelling housing market boom in Mauritius
Mauritius (population 1.3 million) is a small island nation in the Indian Ocean, east of Madagascar and mainland Africa.  It has a thriving property market, several years after the government decided to open up the island to wealthy foreign homebuyers.
"Residential real estate has never been so booming in Mauritius as at present," says LexpressProperty.com.
Foreigners have been attracted to the island because of its beautiful scenery and pristine beaches. Moreover, Mauritius offers great tax benefits to foreigners, a good educational system, a low crime rate and a well-developed healthcare system.  There are currently about 15,000 to 25,000 expatriates living in Mauritius, according to Gervel.
It has one of the strongest economies and one of the most stable democracies in Africa, and one of the highest standards of living in Africa, with a GDP per capita of US$11,228 in 2018, according to the International Monetary Fund (IMF).
Residential property prices soared by about 133% in 2018 as compared to 2010 levels, amidst continued strong demand from both local and foreign homebuyers.
Next to the French, the second largest number of foreign investors in Mauritius are now South Africans. In 2018, South Africans accounted for 25% of property sales to foreigners, up from just 14% in 2015.
"Mauritius is fast becoming a second home for South Africans and with the recent changes in the Mauritian government's property investment legislation, it is now a lot easier to invest in residential and commercial property on the island and there is an increased amount of developments available for SA buyers to invest in, both residential and commercial," said Theo Pietersen of Seeff Mauritius.
About 280 South African millionaires – those with investable assets of more than US$1 million – have moved to Mauritius since 2007, according to market research firm New World Wealth.
In 2015 the government created the Property Development Scheme (PDS), allowing foreigners to buy villas, with a uniform transfer duty of 5%, thus merging two earlier incentive schemes. Similar to the earlier schemes, known by their acronyms as RES and IRS schemes, a foreign investor is eligible for a permanent residence permit upon buying a property worth at least US$500,000.
Other foreign investment schemes introduced in recent years include the Integrated Hotel Scheme (IHS) in 2012; the Smart City Scheme (SCS) in 2015; and the Ground Plus Two (G+2) scheme in 2016.
In 2018, the median price of a residence in Mauritius stood at MUR 6.5 million (US$177,375), according to LexpressProperty.com. However the median price of properties under the incentive schemes catering to foreigners was MUR 2o million (US$545,800).
Properties worth less than MUR 26 million (US$709,500) represent about 70% to 75% of total demand, while properties with a price tag over MUR 37 million (US$1 million) account for the remaining 20% to 25%, according to Mikael Le Luron of ENL Property.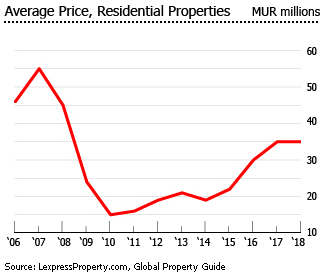 The country's strong economic fundamentals are a plus. The economy grew by 3.8% in 2018, at par with the annual average growth of 3.7% from 2009 to 2017, according to the Bank of Mauritius. Economic growth is projected at 3.7% this year and 3.8% in 2020, based on IMF estimates.
Construction boom continues
Since Mauritius opened up to foreign homebuyers, 85 residential projects have been approved under the RES, about 12 residential projects under the IRS and 52 projects under the PDS scheme, according to Mauritius Sotheby's International Realty.
New developments in Mauritius open to foreign buyers include:
In the heart of Grand Baie in the sought-after northern region of Mauritius, the Le Parc de Mont Choisy Golf and Beach Estate comprises around 250 residential units. Properties are currently priced from US$880,000.
Pointe d'Esny Le Village, on the southeast coast near Blue Bay, has 550 residential units and a 120-unit apartment hotel. Prices range from MUR 6 million (US$163,732) to MUR 28 million (US$764,080).
Rockview, situated near Grand Baie, has six villas priced at an average of MUR 13 million (US$354,752).
Nautilya, located in Pointe aux Canonniers and close to the world-class Choisy Golf Estate, offers eight apartments and two penthouses. This seaside development offers three-bedroom units for about MUR 6,135,000 (US$ 167,415).
Ki Resort Apartments is a residential resort development located in Pereybere in the north in Grand Baie. Two- and three-bedroom apartments are offered for a price between MUR 4.5 million (US$122,799) and MUR 7.6 million (US$207,393).
Akasha Villas, located in Black River on the west coast in Tamarin, offers sea and mountain views to homeowners.  The price of free-standing river villas start at around MUR 11.35 million (US$309,725).
Asmara Beachfront Residences is another resort-style development located in Black River offering apartments priced from US$660,000.
The most desirable residential areas in Mauritius include Flic en Flac, Quatre Bornes, Grand Baie, Tamarin and Pereybère.
"With so much going for it, Mauritius is truly the new property hot spot on the continent," said Theo Pietersen of Seeff Mauritius.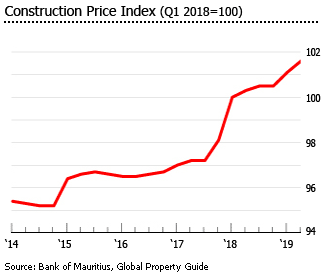 The construction sector grew by 9.5% in 2018, following growth of 7.5% in 2017, according to the Economic Development Board (EDB).
Foreign investment schemes buoy the housing market
Foreign homebuyers have been increasing in Mauritius since it relaxed its foreign homeownership rules in 2002.
In 2002, the government introduced the Integrated Resort Scheme (IRS), the first of its kind, to encourage foreign direct investment into the local market. It allows foreigners to purchase a freehold property within an integrated residential development, at a minimum investment of US$500,000 for a maximum surface area of 1.32 acres. The foreign buyer will automatically obtain a residence permit and a tax resident status – 15% income and corporate tax, no capital gains tax, and minimal inheritance tax.
Then in 2007, the Real Estate Scheme (RES) was launched as an alternative to IRS properties. RES projects are built on a smaller area of land, thus property prices are lower compared to IRS properties. In addition, RES is a more flexible option as it has no required amount of investment. However if the purchase price is less than US$500,000, the foreign buyer cannot obtain a permanent residence permit and will be allowed to live in Mauritius for a maximum of 6 months per year. But if the investment exceeds US$500,000, foreign buyers will have the same privileges as that of an IRS investor.
Then the Integrated Hotel Scheme (IHS) was launched in 2012 to allow foreign investors to own a room, suite or villa in hotel complexes. The hotel complex should be developed on either freehold or leasehold land of more than one hectare. The buyer of a unit enters into a lease agreement by which the property is leased back to the seller. Though the buyer can occupy the unit for a maximum of 45 days in a year. The HIS does not give a permanent residence permit to the buyer.
In 2015, the government merged the IRS and the RES into a single Property Development Scheme (PDS). Both small and large lots are now subject to the same constraints, with a uniform transfer duty of 5% instead of US$70,000 on registration of a deed under IRS and US$25,000 under RES. As in the earlier schemes, a foreign investor is eligible for a permanent residence permit on buying a property worth at least US$500,000.
The Smart City Scheme (SCS) launched in 2015 aims to establish new, intelligent urban ecosystems across the island. The SCS also offers foreign investors a Mauritian residence permit upon the acquisition of a residential property of at least US$500,000. Smart cities will be a mix of residential, commercial and leisure amenities, offering villas, apartments, duplexes, and townhouses, and at the same time offices, industrial parks, etc. to prospective buyers. Buyers will also enjoy a whole range of amenities, including universities, health facilities, hotels and restaurants, tourist attractions, shopping malls, and cultural hub, among others. In addition, both local and foreign investors will be exempted from paying income tax and value added tax on buildings.
Moka Smart City, developed by ENL Group, is among the first smart cities in Mauritius. Other approved smart city projects include Mon Tresor, Cap Tamarin, Uniciti and Jin Fei.
In December 2016, the Non-Citizens (Property Restriction) Act was amended to allow foreigners to buy apartments in condominium developments of at least two levels above the ground (G+2), provided that the selling price of the apartment is not less than MUR 6 million (US$ 163,732). The Ground Plus Two (G+2) scheme offers no limitation on the number of units being bought and with the right to rent them out. However it does not give the buyer a right to permanent resident status.
REAL ESTATE INVESTMENT SCHEMES FOR FOREIGNERS

Scheme Type
Inception
Land/Property Requirements
Transfer Duties
Residency Obtainable
Min. Investment for Residency
Integrated Resort Scheme (IRS)
2002
Land area exceeds 10 ha
US$70K or 5% of transaction value, whichever is higher
Yes
US$500K
Real Estate Scheme (RES)
2007
Land area at least 4,000 sq. m. but not more than 10 ha
US$25K or 5% of transaction value, whichever is higher
Yes
US$500K
Integrated Hotel Scheme (IHS)
2012
Land area exceeds 1 ha
5% of property value
No
N/A
Property Development Scheme (PDS)
2015
Land area of at least 0.422 ha (1 arpent)
5% of transaction value
Yes
US$500K
Smart City Scheme (SCS)
2015
Land area of at least 21.105 ha (50 arpents)
5% of transaction value
Yes
US$500K
Ground Plus Two (G+2)
2016
At least 6 units; ground floor plus 2 additional stories at least
5% of transaction value
No
N/A
Sources: ReMax24 Mauritius, Global Property Guide
Foreign property transactions
From 2005 to 2018, there were about 2,737 real estate transactions under IRS, RES and PDS schemes with a total value of MUR 73.7 billion (US$ 2.01 billion), according to LexpressProperty.com.
IRS: a total of 1,186 completed sales from 2005 to 2018
RES: about 1,323 completed sales from 2009 to 2018
PDS: a total of 228 completed sales from 2016 to 2018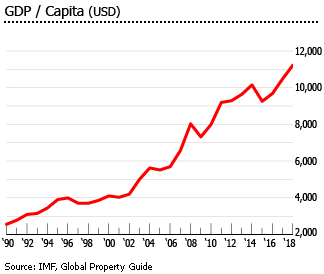 South Africans are snapping up Mauritian homes
Next to the French, the second largest number of foreign investors in Mauritius are now South Africans.  Luxury residential properties located in the west coast are popular among South Africans while the northern part of the island is a favorite destination for French investors.
South African buyers tend to invest around MUR 8.5 million (US$ 231,952) to MUR 20 million (US$ 545,772) for a Mauritius property, according to Pietersen.
Other foreign buyers come from Great Britain, Reunion Island, Madagascar, Australia, Canada, Belgium, Switzerland and China.
Real estate accounts for about a third of Mauritius´ total FDI, boosted by  tourist arrivals up 4.3% y-o-y in 2018 to 1,399,408 people, with gross tourist earnings rising 6.3% to MUR 64.04 billion (US$ 1.75 billion).
Luxury rental market growing
The island's strong tourism has encouraged the growth of a luxury rental market.  Houses and apartments for rent are located predominantly in the North and West.
Luxury rentals range from MUR 130,000 (US$3,548) to MUR 325,000 (US$8,869) per month, much higher than the median rental of MUR 40,000 (US$1,092) per month. Waterfront villas and rental properties near tourist areas are more expensive.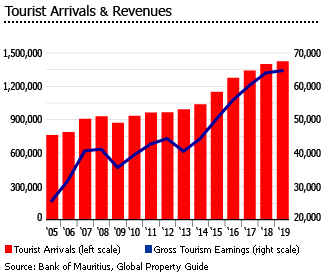 Gross rental yields for prime developments range from 3.5% to 4%, according to Pam Golding.
Low interest rates, growing mortgage market
Most banks offer mortgages to foreign homebuyers in Mauritius Rupee or many other currencies. The interest rate ranges from 3% to 5% for euro-denominated housing loans; 5% to 7% for USD-denominated loans; and 4.8% to 5.75% for MUR-denominated loans. For EUR and USD, the interest rate typically used is the London Interbank Offered Rate (LIBOR), and for MUR, it is the Prime Lending Rate (PLR), which is linked to the central bank's repo rate.
Buoyed by low interest rates, the total amount of housing loans outstanding surged 15% to MUR 70.77 billion (US$ 1.93 billion) in September 2019 from a year earlier, or about 14% of GDP. In August 2019, the Bank of Mauritius, the country's central bank, slashed the key repo rate to a record low of 3.35%.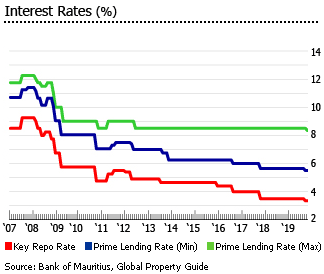 The maximum loan-to-value (LTV) ratio for foreigners is about 70% of the appraised value of the property, with a term period of 15 years.
Stable and progressive economy
The economy expanded by 3.8% in 2018, following annual average growth of 3.7% from 2009 to 2017, according to the Bank of Mauritius. Growth of 3.7% this year and 3.8% in 2020 is forecast by the IMF.
In 2018, unemployment fell to 6.9%, down from 7.1% in 2017, 7.3% in 2016 and 7.9% in 2015.
The budget deficit is manageable at 3.2% of GDP in 2018, unchanged from the prior year, according to the Bank of Mauritius.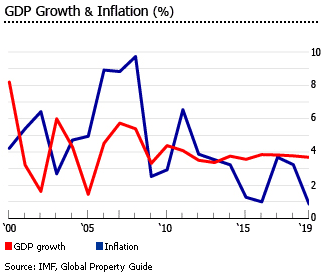 Underlying inflationary pressures remained at low levels in October 2019, with core consumer prices rising by 1.8%. Inflation averaged 3.5% over the past two years.
During the recently concluded general elections held last November 7, 2019, Prime Minister Pravind Jugnauth's centre-right Morisian Alliance won a comfortable majority with 42 of 70 parliamentary seats, and formed a government alone. Jugnauth succeeded his father, Anerood Jugnauth, as prime minister in January 2017 without going through a popular vote.
Sources: