St Petersburg leads Russia's house price surge
Fueled by very low interest rates, Russia's housing market continues to strengthen. The Central Bank's proactive interest rate policy to counter the economic repercussions caused by the COVID-19 pandemic is pushing up the housing market.
The nationwide price index for resale apartments rose strongly by 8.08% during the year to Q2 2020, following y-o-y rises of 7.12% in Q1 2020, 6.56% in Q4 2019, 8.09% in Q3 and 6.91% in Q2, according to the Federal State Statistics Service (Rosstat).
When adjusted for inflation, the price index for resale apartments increased 4.82% during the year. Quarter-on-quarter, resale prices rose by 1.37% in Q2 2020 (-0.2% inflation-adjusted).
In St. Petersburg, resale apartment prices surged by 16.19% y-o-y to Q2 2020, an improvement from the previous year's 14.6% growth and its best showing since Q2 2009. Inflation-adjusted prices rose by 12.69%.
In Moscow, the price index for resale apartments rose by a modest 2.39% during the year to Q2 2020, a slight slowdown from the prior year's 3.16% growth. Inflation-adjusted apartment prices fell slightly by 0.7% y-o-y.
House prices plunged nationwide by 12.7% (-47% inflation-adjusted) from 2010 to 2017. Then in 2018, the housing market started to pick up.
Residential investment in Russia totaled RUB 55 billion (EUR 595 million) in 2019, up by a whopping 70% from RUB 33 billion (EUR 357 million) in 2018, according to CBRE.
Surprisingly, strong demand has continued this year despite the pandemic. In the second quarter of 2020, real estate investment in the residential segment soared 35% y-o-y to RUB 31 billion (EUR 335 million), according to CBRE.
"Purchasing was led by developers including PIK, Sberbank investment, Sminex, INTECO, Akvilon and some others, all of which acquired residential development sites in Moscow," noted CBRE. "Similar activity by Setl Group, Legenda Group, RBI Group and LSR Group and some others was observed in Saint Petersburg."
Moscow remains Russia's dominant market, accounting for around 88% of real estate investment volume in both H1 2020 and Q2 2020. In St. Petersburg, 0n the other hand, activity has weakened, accounting for just 12% of sales volume in H1 2020 as compared to 33% in H1 2019.
The share of foreign real estate investment has continued to decline, falling to a meagre 1% in Q2 2020, from 6% in the previous quarter.
Both locals and foreigners can own landed properties, according to the Land Code of 2001. The legislation was extended to Moscow in January 2006.
Russia's GDP shrank by 3.8% year-on-year in Q3 2020 as the country took a hit from COVID-19 as well as a fall in oil prices, but this was an improvement from a contraction of 8% in Q2 2020. The Economy Ministry of Russia recently upgraded its 2020 economic forecast to a contraction of 3.9%, from a 5% fall. The International Monetary Fund (IMF) expects the Russian economy to contract by 4.1% this year.
Local house price variations
The average price of a second-hand apartment in Moscow was RUB 186,636 per sq. m. in September 2020 (USD 2,486 or EUR 2,098), up by 5.7% from a year earlier, according to analytics centre irn.ru.
Cheaper mortgages as well as a weaker ruble have had a positive effect on the capital's secondary real estate market, said irn.ru.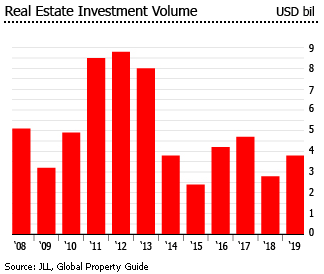 Ostozhenka, one of Moscow's most prestigious and beautiful neighborhoods, has the most expensive housing, priced on average RUB 430,472 (EUR 4,655) per sq. m. in September 2020. Yakimanka follows with an average price of RUB 396,130 (EUR 4,284) per sq. m., then Arbat, at RUB 381,189 (EUR 4,122) per sq. m.
Other expensive areas include the centre of Moscow, Khamovniki, Tverskoy, Presnensky, Zamoskvorechye, Meshchansky, Donskoy, and Krasnoselsky.
Residential construction up
The number of apartments built in Russia in 2019 rose by 4.1% to 1,120,333 units, following declines of 5.6% in 2018, 2.4% in 2017 and 2.3% in 2016, according to Rosstat.
In Moscow, 80,317 apartments were built in 2019, up sharply by 37.2% from a year earlier.
In St. Petersburg, 72,752 apartments were built last year, down 6.9%.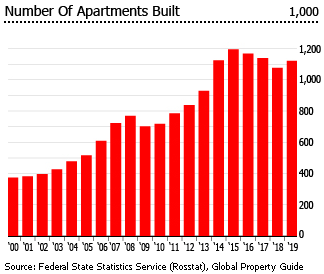 How oil prices impact Russia's housing market
Russia experienced a massive housing boom from 2000 to 2007 as oil prices surged, with secondary housing market prices skyrocketing by 436%, while primary market prices rose 362%.
The country fell deep into recession in 2009, after global energy prices fell. Apartment prices suffered a sharp dip in the second quarter of 2009 which lasted over two years. The market began to recover in 2012, with existing home prices rising by 16.9% y-o-y during the year to Q4 2012 (9.7% inflation-adjusted).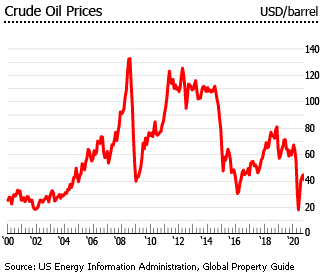 However another global oil price decline, plus economic sanctions imposed by the US and the EU, pushed Russia into economic recession from 2015 to 2016. During this period, house prices fell 11% y-o-y from 2015 to 2017 (-22% inflation-adjusted).
The housing market started to recover again in early 2018, amid improving economic conditions. House prices have risen by 11.8% (4% inflation-adjusted) in the past two years, following an average increase in crude oil prices of almost 5%.
However the Brent spot price plunged again to US$40.91 per barrel in September 2020, down by almost 35% from a year earlier, amidst the COVID-19 pandemic. In April it reached a 21-year low of just US$18.38 per barrel.
Central bank key rate has fallen an amazing amount
The Central Bank of Russia (CBR) key interest rate is now at an all-time low of 4.25%, following five consecutive rate cuts this year.  More cuts are still possible.  
The central bank started tightening its monetary policy in late 2014, raising its key rate to a peak of 17% in December 2014 to mitigate inflation pressures brought by a weaker currency. However it then cut the key rate from 17% in December 2014 to 7.25% in March 2018, then after a hiccup up to 7.75% cut the rate five times last year to 6.25% in December 2019, then five times this year to 4.25%.
"If the situation develops in line with the baseline forecast, the Bank of Russia will consider the necessity of further key rate reduction at its upcoming meetings," said the central bank.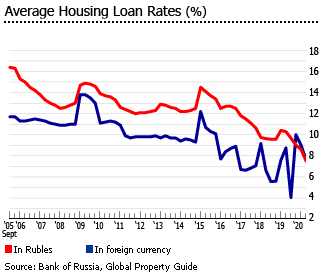 Inflation was 3.7% in August, slightly up from the previous month's 3.6% but still below the central bank's 4% target.
"Inflation is developing in line with the Bank of Russia's forecast and is expected to lie within the range of 3.9-4.2% at the end of 2020," noted the central bank.
Inflation stood at 4.5% last year, from 2.9% in 2018, 3.7% in 2017, 7% in 2016 and 15.5% in 2015.
Low interest rates fuel mortgage lending growth
Low interest rates are behind the growth of mortgage lending, with total housing debt outstanding strongly up by 16.5% to RUB 8.34 trillion (EUR 90.54 billion) in September 2020 from the same period last year, based on figures from the Central Bank of the Russian Federation.
In August 2020, the average interest rate for ruble-denominated mortgage loans was 7.17%, down from 9.92% in August 2019, 11.41% in August 2017, and 13.95% in August 2015.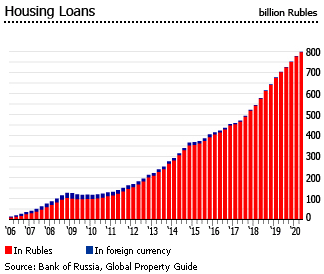 The government's introduction of a new subsidized mortgage program in April 2020, which allowed borrowers to get a housing loan at just a 6.5% interest rate for a newly built apartment, is further boosting mortgage lending.
"The program is very effective in stimulating demand and has demonstrated itself as a very successful anti-crisis tool," said central bank governor Elvira Nabiullina. "But looking to the future, we must think about the consequences. Right now, we don't see signs of overheating, but we need to be very cognizant."
Governor Nabiullina has recently given her support for the extension of the government's mortgage subsidies which are set to expire at least the middle of next year. The program is expected to provide affordable funding for at least 600,000 new apartments and to account for about one-fifth of the country's outstanding mortgage stock when it expires.
The mortgage portfolio quality of banks has improved as foreign currency loans have fallen. In Q3 2020, the amount of overdue housing loans stood at only 1% of the total loans extended, slightly down from 1.1% a year earlier, despite the rapid growth in the volume of housing loans issued. Foreign currency debt accounted for only less than 1% of the total mortgage debt in Q3 2020, sharply down from almost 30% in early-2007.
Rental yields poor in Moscow, good for very small apartments in St. Petersburg
Gross rental yields in Moscow's upper-end areas are quite low, ranging from 3.1% to 4% in 2019, mainly due to very high prices, based on Global Property Guide research. An apartment in an elite neighborhood in Moscow costs on average EUR 8,000 to EUR 12,000 per sq. m. This means that a million euros can only buy a small apartment. A 75 sq. m apartment costs, on average, EUR 750,000.
Monthly rents in Moscow's elite areas range from EUR 20 per sq. m. to EUR 30 per sq. m., or around EUR 3,000 per month for a 120 sq. m. apartment.
In St. Petersburg, rental yields are higher, ranging from 3.3% to 5.8% with smaller apartments offering higher yields. Prices of apartments in the city currently stand at EUR 2,000 to EUR 2,500 per sq. m. Monthly rents in St. Petersburg's elite areas are lower than in Moscow, ranging from EUR 18 to EUR 20 per sq. m.
Round trip transaction costs can be very high for foreigners buying residential property in Russia.
New property laws have caused anxiety
From January 1, 2014 the cadastral value of real estate has been used in calculating tax, replacing the inventory value approach. One problem is that the cadastral values of many land plots have exceeded their market values, given that the mass valuation criteria used for revaluation in 2012 did not take into account land characteristics.
A tax rate of 0.1% has been imposed on real estate properties with cadastral value around RUB 300 million (EUR 3.3 million) or less since January 1, 2015, while residential properties with cadastral value higher than RUB 300 million have tax rates ranging from 0.5% to 1%, according to Knight Frank.
A new federal law came into effect on January 1, 2017 brought changes to the system of state cadastral valuation. The new law sets a transition period between January 1, 2017 and January 1, 2020, wherein state cadastral valuation may be performed under both the "old" and the "new" rules.
Some of the changes in the new legislation:
Only employees from a state-financed institution will be allowed to conduct state cadastral valuations. In the past, appraisals were performed by independent appraisers chosen through a state procurement system.
The Rosreestr (the Federal Service for State Registration, the Cadastre and Cartography) is now tasked to supervise state cadastral valuations.
State cadastral valuations should be conducted not more than once every three years (not more than once in two years for Moscow, Saint-Petersburg and Sevastopol), but not less than once in every five years.
An unscheduled state cadastral valuation may be performed under special circumstances. For example, if the real market index of a certain area fell by at least 30% from the previous state cadastral valuation, then an unscheduled valuation is held.
Real estate owners can now submit a declaration of the features of relevant real estate items. Such declaration includes information required to calculate the cadastral value.
Regarding disputes concerning a computed cadastral value, applications can now be filed either to the commission or to the court. In the past, addressing the dispute to the commission first is mandatory.
Russia's economic crisis and recovery
The Russian economy has had a rough time in recent years. Following an annual average growth of 4.5% in 2010-12, economic growth slowed to 1.8% in 2013 and to 0.7% in 2014. The country's GDP contracted by 2% in 2015 and grew by a minuscule 0.2% in 2016, according to the IMF.
A brief snapshot of key events:
First, a catastrophic collapse in the price of oil, of which Russia is a major producer
Then, Russia's intervention in Ukraine, which caused the country to be placed under an economic embargo
The ruble then collapsed. The ruble devalued to an all-time low (US$ 1 = RUB 85.91) on January 21, 2016
Rapidly rising inflation followed; inflation went up to 15.5% in 2015
The central bank raised the key interest rate in six rapid steps to 17% in December 2014
Russia sovereign debt was then downgraded to "junk status" (BB+) by Standard & Poor's (S&P) in January 2015, a move followed a month later by Moody's
Low incomes combined with skyrocketing prices have pushed millions of Russians into poverty since 2014. Russia's economic downturn prompted ordinary Russians to protest against the economic crisis. In 2015, real wages in Russia fell by 9.5%, to an average of just over RUB 30,300 (EUR 426) per month, according to official data.
Russia's poverty rate reached a peak of 16% of the population in 2016, up from 11.2% in 2014. Almost 20 million Russians were living on less than 9,691 rubles (EUR 136) per month or roughly 13.5% of the population.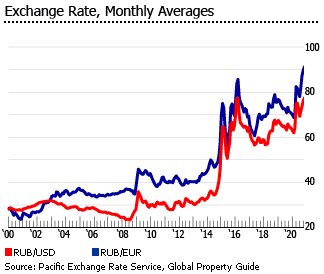 The economy started to improve in 2017, with GDP growth of 1.8%. This was mainly due to a rebound in oil prices, following the agreement between the Organization of Petroleum Exporting Countries (OPEC) and other non-OPEC members to cut oil production. Almost 70% of Russia's GDP is directly or indirectly dependent on oil.
In 2018, the Russian economy expanded by 2.5% from a year earlier – the highest growth in six years. However last year, economic growth slowed again to just 1.3%.
Russian's economy remains weak; unemployment rising
Due to better-than-expected results, the Economy Ministry of Russia has recently upgraded its 2020 economic forecast for the country to a contraction of 3.9%, from its previous estimate of a 5% fall. The International Monetary Fund (IMF), on the other hand, expects the Russian economy to contract by 4.1% this year.
"The more moderate hit to Russia's economy is likely due to a shorter and 'softer' lockdown, and the lower share of consumer services in Russia's consumption," said Evghenia Sleptsova of Oxford Economics. Accordingly, economic activity is now back at around 95% of pre-pandemic levels.
In September 2020, Russia's unemployment rate stood at 6.3%, sharply up from 4.5% in the previous year, mainly due pandemic-related layoffs. The overall jobless rate fell to 4.6% last year, from an average of 5.3% in 2012-18 and 7.7% in 2000-11, based on IMF figures.
Yet even before the pandemic, economic growth was weak, mainly due to sanctions imposed by the US, EU and other countries since 2014, including travel bans and asset freeze for top government officials, and financial assistance bans to Russian oil and gas companies.
Recently the US broadened the sanctions against entities involved in the construction of Nord Stream 2, in a renewed attempt to prevent the Russia-led gas pipeline project from completing. It follows the December 2019 US sanctions on the said project, which caused Western vessel and technology providers to pull out. Likewise in October 2020, the EU agreed to impose targeted sanctions against Russian officials allegedly involved in the poisoning of Russian opposition leader Alexei Navalny.
Constitutional changes to allow Putin to hold on to power
A referendum to reform the constitution was held from June 25 to July 1, 2020 to allow Vladimir Putin to run for two more six-year presidential terms – potentially extending his rule until 2036.
Other proposed changes include a ban on same-sex marriage, ensuring patriotic education in schools, explicitly mentioning faith in God, and placing the constitution above international law.
Based on official results, nearly 78% of votes were in favor of the reform and only 21.3% were against it. Turnout was 65%. However there were allegations of irregularities, including voter coercion, multiple voting, and police violence.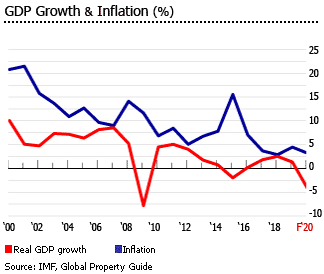 Putin was inaugurated for fourth term as president in May 2018 after garnering 77% of the vote while his nearest competitor, Pavel Grudinin of the Communist Party only got 12%. Putin's most serious competitor and the main opposition leader Alexei Navalny was barred from the race due to an earlier criminal conviction for corruption.
Sources: