Tax on property income in Dominica
INDIVIDUAL TAXATION
Nonresidents are taxed on their Dominican-sourced income. The income of a husband and wife are assessed separately.
INCOME TAX
Income earned by nonresidents is taxed at progressive rates.
INCOME TAX

TAXABLE INCOME, XCD (US$)
TAX RATE
Up to 30,000 (US$11,100)
0%
30,000 - 50,000 (US$18,501)
15%
50,000 - 80,000 (US$29,602)
25% on band over US$7,407
Over 80,000 (US$29,602)
35% on all income over US$29,602
Source: Global Property Guide
RENTAL INCOME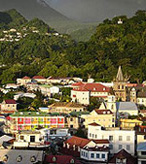 Rental income from residential properties is taxed at progressive income tax rates. Municipal taxes, maintenance costs, and accountancy fees incurred in the preparation of an income tax return are deductible.
CAPITAL GAINS
There is no capital gains tax in Dominica.
Stamp Duty on Property Transfers
Sales of properties are liable for stamp duties levied at 6.5% of the sales price or the market value of the property - 2.5% is payable by the seller and 4% is payable by the buyer.
PROPERTY TAX
MUNICIPAL TAX
There are no real property taxes in Dominica but there are municipal taxes levied on properties located in the cities of Roseau and Canefield. The tax rate is 1.25% levied on the assessed value of the property.
CORPORATE TAXATION
INCOME TAX
Income and capital gains earned by companies are taxed at a flat rate of 25%. Income-generating expenses are deductible when calculating taxable income.
Dominica - More data and information