Dominica's property market to expand after Tropical Storm Erika
Despite Tropical Storm Erika, which hit in August 2015 causing intense flooding, 30 deaths, and US$480 million of damage, Dominica has remained attractive for foreign buyers. Sales transactions have remained steady. Most property sales were in the moderate price range of around US$200,000 to US$600,000, according to Safe Haven Real Estate.
North Americans remain the top real estate investors, though there is increased interest from the U.K. and from Dominicans living overseas.
Dominica's capital city, Roseau, remains one of the most popular locations for foreign investors, especially in the Castle Comfort and Wall House areas.
There are no official records of house prices in Dominica. However, based on some property listings, two to three-bedroom houses can be bought for an average price of US$500,000, depending on the location, area, quality of construction materials and other factors.
In early-2016:
In Glasgow, Roseau, a three-bedroom oceanfront residence was listed for XC$650,000 (US$240,740).
In Fortune, St. George, a two-storey house was priced at XC$750,000 (US$277,780).
In Dublanc, a village in St. Peter parish on Dominica's west coast, a four-bedroom home was priced at XC$895,000 (US$331,480).
In Eggleston, St. George, a three-bedroom luxury home has a selling price of XC$1.6 million (US$592,600).
Despite the lack of direct international flights from the U.S., Canada or Europe, some foreign investors are enticed by Dominica's natural beauty and now by the introduction of the Citizenship by Investment Program (CIP), which is the most affordable in the world.
Dominica's CIP allows foreign investors to acquire citizenship by purchasing approved real estate valued at a minimum of US$200,000. The property must be held for at least 3 years and may only be resold if owned for 5 years. Dual citizenship is allowed and there is no requirement to reside in Dominica before or after citizenship is granted.
Much rebuilding and construction is currently taking place, after more than 370 private houses were destroyed by the storm.
The economy contracted by 4.3% in 2015, after expanding by 3.9% in 2014 and 0.6% in 2013, and contractions of 1.3% in 2012 and 0.06% in 2011, according to the International Monetary Fund (IMF). The economy is expected to expand by 4.9% this year and by another 3.5% in 2017.
Tourists love Dominica's rustic beauty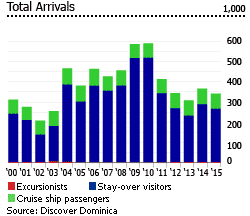 Today, Dominica is well known for the picture-perfect island in Pirates of the Caribbean 2 and 3. Publicity from these blockbuster movies has brought the island's beauty to people's attention. Dominica's tourism industry has blossomed, despite the lack of direct flights. Restaurants and hotels are full, and locals look forward to seeing and hearing about the big "Pirates" celebrities like Johnny Depp, Keira Knightley, and Orlando Bloom.
Most tourists come from other Caribbean states, the United States, the United Kingdom, and Canada.
In 2015, due to tropical strom Erika, tourist arrivals dropped 5.3% to 358,820 persons from the previous year, after more than an 18% surge in 2014. In Q1 2016, total visitor arrivals increased 3.3% to 184,724 persons from the same period last year. Stay-over visitors rose by 5% from a year ago, at 24,933 persons, while cruise ship passengers increased 3% to 153,093 persons.
Caribbean's cheapest citizenship by investment program
Dominica offers the least expensive of all the Caribbean citizenship programs. Dominica offers several citizenship options:
A non-refundable "investment" (which is actually a donation) of US$100,000 for a single applicant;
A non-refundable investment of US$175,000 for the applicant and his spouse;
A non-refundable investment of US$175,000 for the applicant and his two children below 18 years old;
A non-refundable investment of US$200,000 for the applicant, his spouse, and their two children below 18 years old. An addition US$50,000 is paid for every additional child below the age of 18 years;
For the real estate investment option, a minimum investment of US$200,000 is required for each main applicant. Two or more applicants can purchase one piece of real estate, provided that each main applicant invests at least US$200,000. However, the real estate investment projects must be government approved.
Because of the small difference in size between the donations and the real estate investment option, most foreign investors choose the latter. In July 2016, work started on the first government-approved real estate project under Dominica's citizenship by investment program, the Cabrits Resort Kempinski. The luxury hotel will be situated at Douglas Bay, in the northwest, and should be finished by end-2018.
The government has also approved a Hilton project, and is in the process of approving projects at Bois Cotlette Estate and Silver Beach Hotel.
Real estate tax cuts introduced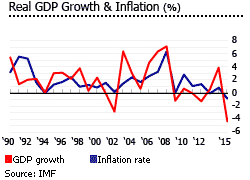 In July 2015, the government cut real estate taxes, and introduced VAT concessions:
Stamp duty was reduced from 4% to 2.5%.
The vendors' fee of 2.5% was abolished.
The judicial fee was reduced from 2.5% to 1%.
An exemption from withholding tax on the rental income of villa owners will be introduced for a period of up to 10 years, for properties that are held for at least three years.
A residential levy of XCD2,000 (US$741) per year will be introduced for the owners of villas in approved developments - those that meet the requirements outlined in the Hotels Aid Act, with a minimum investment of XCD3 million (US$1.1 million).
The Alien Landholding Licence Act will also be amended so that, in place of the license fee of 10% of the market value, a flat fee of XCD5,000 (US$1,852) will be applied, in addition to an application fee of XCD1,000 (US$370.37).
Moreover, the government is also planning to introduce a new legislation allowing for timeshares, condominiums and fractional ownership arrangements to further buoy the real estate market.
Quiet real estate market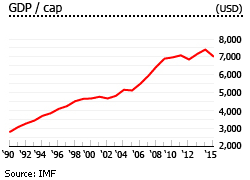 Dominica is not like its neighboring islands. It boasts not of boundless pristine beaches but of thick rainforests and potentially active volcanoes, numerous hot springs, rivers, and waterfalls. Dominica is the most mountainous of the Caribbean nations.
The island is still very low-key, and not rich. GDP per capita stood at about US$7,030 in 2015, according to the IMF. The growth rate is low.
The established quality residential areas are Canefield, Morne Daniel, Castle Comfort, and Belfast (north of Roseau). The average price of two to three-bedroom houses stand at US$500,000. Moreover, houses are also available for rent from US$370 and up, depending on location.
Of the total housing stock, about 72% is privately owned while more than 19% is rented in the private market, according to the Central Statistics Office.
Dominica uses the East Caribbean Dollar, pegged to the US Dollar at USD1 = XCD2.7.
Small and underdeveloped mortgage market
Dominica's mortgage market remains small and underdeveloped, with only a few commercial banks offering mortgage loans to both locals and foreigners. Most real estate transactions are done cash.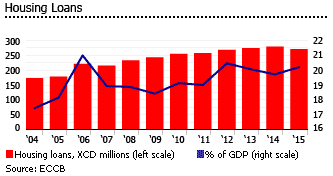 In 2015, the mortgage market was only about 20.2% of GDP.
In March 2016, the prime lending rate dropped slightly to 8.25%, down from a lending interest rate of 8.5% during the entire past 13 years, according to the ECCB.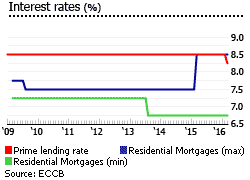 Interest rates for residential mortgages in Dominica now range from 6.75% to 8.5%.
Dominica's Housing Revolution continues
In 2000, the country was in short of about 10,000 housing units and about 5,000 units were in need of repairs, according to Minister for Housing, Reginald Austrie. in 2005 Prime Minister Skerrit introduced a 'Housing Revolution' to solve the housing shortage.
The much-needed program was long delayed due to Dominica's poverty. But over the past five years, the government has spent more than XCD20 million in repairs and renovated about 4,000 homes under the programme. The Government of Venezuela granted 22 million dollars, and a soft loan of 7.3 million dollars at 2% per annum will follow. The Chinese Government is granting 3 million dollars.
Some of the residential developments commenced under the program include:
The Bath Estate Housing Project, commenced in 2014 and comprised of two and three bedroom apartments - 36 units in Elmshall and 24 units in Bath Estate
In Kalinago Territory, 28 housing units were completed in 2015.
In Mahaut Constituency, a number of low cost houses are also being constructed for residents.
In Hillsborough Gardens, St. Joseph, an additional 49 lots were listed on top of the 30 new homes recently constructed.
In Cotton Hill, the government also allocated 100 lots to the people of Lagoon, Portsmouth
In Lily Valley, Trafalgar, the government allocated another 15 lots.
In Cochrane, there are 20 lots available for building housing units
In Colihaut, the government assigned 45 lots and an additional 53 lots are planned to be developed and offered to the people at affordable prices.
In the Good Hope, San Sauveur, ten two-bedroom houses are constructed to provide shelter to the families affected by the 2013 landslide.
"The Government intends to continue to work with our citizens to facilitate wherever and however possible, to ensure that every Dominican has an acceptable housing standard," said PM Roosevelt Skerrit.