Malta's residential property market is now growing again, driven by strong demand, improving residential construction sector and positive economic outlook.

During the year to Q3 2022, the nationwide property price index rose by 5.2% (1.8% inflation-adjusted), following year-on-year increases of both 1.7% in Q1 and Q2 2022, and 6.9% in Q4 2021, according to the Central Bank of Malta. On a quarterly basis, property prices increased 1.6% (unchanged when adjusted for inflation) in Q3 2022.

Here are the changes in real estate prices by property type during the year to Q3 2022:

Apartment prices rose by 5.2% y-o-y, on average. When adjusted for inflation, prices were up by 1.8%.
Terraced house prices rose by 7.1% (3.6% inflation-adjusted).
Maisonette prices increased slightly by 0.9% y-o-y but actually fell by 2.3% when adjusted for inflation.
"Other houses", consisting of townhouses, houses of character, and villas, experienced an average price fall of 3.5% (-6.6% inflation-adjusted).

Before the Covid-19 pandemic, property prices in Malta have been rising annually, registering a cumulative growth of 75% (62% inflation-adjusted) from 2012 to 2019.

Demand is still strong. During 2021, the number of property transactions in Malta surged by 30.1% y-o-y to 14,368 units, according to the National Statistics Office of Malta (NSO). Likewise, the total transactions value also increased 51.5% to €3.16 billion over the same period. Then in the first three quarters of 2022, both the number and value of transactions rose further by 0.4% and 2.6%, respectively.

This can be partly attributed to the government's temporary COVID-19 measures providing for a reduced tax and duty rate of 5% and 1.5%, respectively, on the first €400,000 (US$483,308) of property transferred inter vivos. These temporary measure came into force in June 2020 and has been extended several times from the end of July 2021 to September 2022.

Residential construction activity is also showing signs of improvement. In the first three quarters of 2022, the total number of approved new dwellings in Malta rose by 23.7% y-o-y to 7,459 units, after falling in the past two years due to pandemic-related restrictions.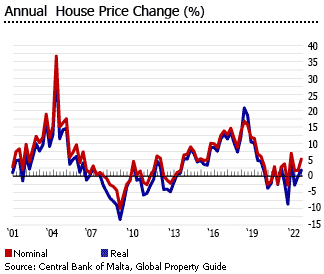 Overall, the Maltese economy is healthy. During 2021, Malta's economy grew strongly by 10.3%, offsetting the 8.3% contraction seen in 2020 due to the Covid-19 pandemic. The economic recovery continues this year, registering real annual GDP growth rates of 8.3% in Q1, 9.4% in Q2 and 5.2% in Q3, buoyed by strong domestic consumption and exports.

As a result, the European Commission expects the Maltese economy to grow by a robust 5.7% this year while the International Monetary Fund (IMF) released a more optimistic projection of a 6.2% growth.