Sri Lanka's amazing house price boom, amidst surging tourism
Lalaine C. Delmendo | April 17, 2019

Sri Lankan housing market is experiencing an extraordinary boom, amidst a surging tourism sector, coupled with weak residential construction activity.

House prices surged 17% nationwide during 2018 (16.3% inflation-adjusted) to an average of LKR 34.03 million (US$ 194,670), according to LankaPropertyWeb.

Quarter-on-quarter, house prices increased 4.9% (4% inflation-adjusted) in Q4 2018.

Average house prices soared 50% y-o-y in Colombo, Sri Lanka's capital city, (45.6% inflation-adjusted) to LKR 165.74 million (US$ 948,124) in 2018.

During the latest quarter, Colombo house prices rose by 15.1% (14.9% inflation-adjusted).

Almost all provinces saw rising house prices, with Sabaragamuwa registering the biggest annual increase of about 40% during 2018, followed by Central (27.5%), North West (27.1%), Western excluding Colombo (17%), and Southern province (0.3%).

Land prices are also rising. In Sri Lanka, the average price of a residential lot was up 15.3% y-o-y in 2018, to LKR 1.36 million (US$7,780) per perch (1 perch is equal to 16.5 feet). Likewise, land prices in Colombo also increased 5.5% y-o-y to LKR 11.56 million (US$66,130) over the same period.

Sri Lanka's booming tourism sector is fuelling property demand. In 2018, Sri Lanka saw a record 2.3 million tourist arrivals, up 10.3% from a year earlier, according to the CBSL. India, China, Britain and Germany were the leading markets last year while Australia registered a significant growth.

Then in the first two months of 2019, tourist arrivals increased again by 4.6% to 496,272 people from the same period last year.

Despite strong demand, residential construction remains weak. In the first half of 2018, the total number of housing approvals in Greater Colombo fell by 11.1% to 5,130 units from a year earlier, according to the Central Bank of Sri Lanka (CBSL). Housing approvals fell by 4.7% in 2016 and by another 6.9% in 2017.

From a US$-based investor's perspective, the Sri Lankan residential market's gains were partially offset by the 15% depreciation of the Sri Lankan rupee against the US dollar from LKR 153.2 = US$1 in December 2017, to LKR 180.215 = US$1 in December 2018.

In 2018, Sri Lanka's economy grew by 3.2%, slightly down from the prior year's 3.3% growth and the slowest expansion since 20o1, according to the Department of Census and Statistics. The economy is projected to grow by 3.6% this year and by another 3.8% in 2020, according to the Asian Development Bank (ADB).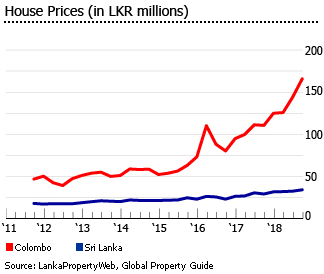 Foreigners can freely buy properties as long as they are willing to pay the Land Tax for foreigners at 100% of the property value. An alternative is to lease the land for 99 years, bringing the tax down to 7%. Almost all property transactions are done in cash, in rupees. Most locals do not accept cash cheques or money transfers.