Sri Lanka's amazing house price boom, amidst surging tourism
Sri Lankan housing market is experiencing an extraordinary boom, amidst a surging tourism sector, coupled with weak residential construction activity.
House prices surged 17% nationwide during 2018 (16.3% inflation-adjusted) to an average of LKR 34.03 million (US$ 194,670), according to LankaPropertyWeb.
Quarter-on-quarter, house prices increased 4.9% (4% inflation-adjusted) in Q4 2018.
Average house prices soared 50% y-o-y in Colombo, Sri Lanka's capital city, (45.6% inflation-adjusted) to LKR 165.74 million (US$ 948,124) in 2018.
During the latest quarter, Colombo house prices rose by 15.1% (14.9% inflation-adjusted).
Almost all provinces saw rising house prices, with Sabaragamuwa registering the biggest annual increase of about 40% during 2018, followed by Central (27.5%), North West (27.1%), Western excluding Colombo (17%), and Southern province (0.3%).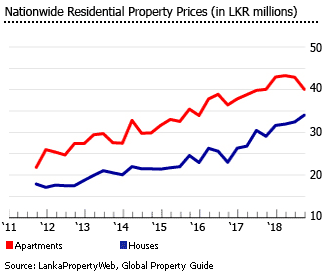 Land prices are also rising. In Sri Lanka, the average price of a residential lot was up 15.3% y-o-y in 2018, to LKR 1.36 million (US$7,780) per perch (1 perch is equal to 16.5 feet). Likewise, land prices in Colombo also increased 5.5% y-o-y to LKR 11.56 million (US$66,130) over the same period.
Sri Lanka's booming tourism sector is fuelling property demand. In 2018, Sri Lanka saw a record 2.3 million tourist arrivals, up 10.3% from a year earlier, according to the CBSL. India, China, Britain and Germany were the leading markets last year while Australia registered a significant growth.
Then in the first two months of 2019, tourist arrivals increased again by 4.6% to 496,272 people from the same period last year.
Despite strong demand, residential construction remains weak. In the first half of 2018, the total number of housing approvals in Greater Colombo fell by 11.1% to 5,130 units from a year earlier, according to the Central Bank of Sri Lanka (CBSL). Housing approvals fell by 4.7% in 2016 and by another 6.9% in 2017.
From a US$-based investor´s perspective, the Sri Lankan residential market's gains were partially offset by the 15% depreciation of the Sri Lankan rupee against the US dollar from LKR 153.2 = US$1 in December 2017, to LKR 180.215 = US$1 in December 2018.
In 2018, Sri Lanka's economy grew by 3.2%, slightly down from the prior year's 3.3% growth and the slowest expansion since 20o1, according to the Department of Census and Statistics. The economy is projected to grow by 3.6% this year and by another 3.8% in 2020, according to the Asian Development Bank (ADB).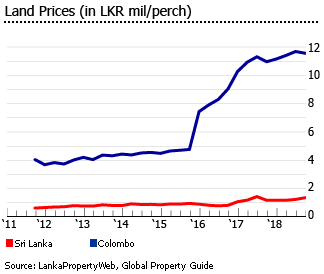 Foreigners can freely buy properties as long as they are willing to pay the Land Tax for foreigners at 100% of the property value. An alternative is to lease the land for 99 years, bringing the tax down to 7%. Almost all property transactions are done in cash, in rupees. Most locals do not accept cash cheques or money transfers.
The outlook is still strongly positive
Sri Lanka's property market, still at its early stage of development, is expected to remain strong in coming years, according to local real estate experts.
"The economic growth of Sri Lanka is being led by large real estate developments in Colombo from multiple investors…that are all poised to reposition the importance of Colombo, and indeed Sri Lanka, as a key regional business and financial hub," said Arun Pathak of WelcomHotels Lanka (Private) Limited. "This makes prime real estate a great buy as the market is at the beginning of its growth curve."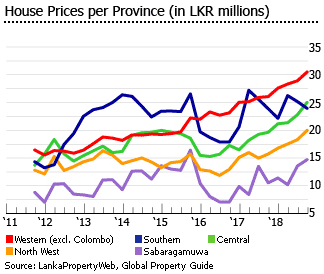 "Regionally Sri Lanka remains attractive as an emerging market, when considering the ROI on real estate," said Shiluka Goonewardene of KPMG Sri Lanka. "The positive outlook for the global economy is an encouraging sign that the rewards will continue for some time to come," Goonewardene added.
House prices have risen so much that rental yields are low
Rents continue to rise. In 2018, the average monthly rent for houses in Colombo rose by 6% to LKR 354,000 (US$2,025) from a year earlier, according to Lanka Property Web. Apartment rents increased 14.6% y-o-y to an average of LKR 274,000 (US$1,567) per month.
Although rents are increasing, house prices have been rising much faster, resulting in low rental yields.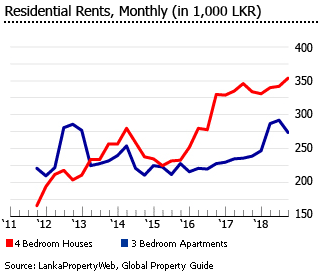 Rental yields on residential properties in Colombo stood at around 2% to 3%, as reported by Echelon. Gross rental yields tend to be higher for luxury residential property. "Rental returns for luxury apartments in the Central Business District fall in the range of 4-5%," said Gagan Singh, CEO of Jones Lang LaSalle Sri Lanka, in the same Echelon interview.
Although gross rental yields on long-term lets are not attractive, "You will have no trouble making a good return on a serviced apartment in a good location, with a sea view," says Roshan Madawela, CEO and research director of the London-based Research Intelligence Unit (RIU), which specializes in Sri Lankan real estate research. "Rents of USD100-200 per night are common."
Sri Lanka has a small rental market - only 5.4% of total housing stock is rented. It is dominated by high-end luxury apartments.
Interest rates are high, and the mortgage market is small
Sri Lanka has a very small mortgage market, equivalent to around 3.6% of GDP in 2018. This is not surprising given very high interest rates and limited loan offerings. Bank of Ceylon, Sri Lanka's largest bank, offers mortgage loans with interest rates ranging from 12.5% to 14.5% in November 2018, up from 9.5% to 12.5% three years ago.
In November 2018, the Central Bank of Sri Lanka (CBSL) raised the standing deposit facility rate (repo rate) by 75 basis points to 8% and the standing lending facility rate (reverse repo rate) by 25 basis points to 9%.
INTEREST RATES OF COMMERCIAL BANKS, RESIDENTIAL HOUSING (NOVEMBER 2018)

Bank
Interest rate
Amana Bank Ltd.
13.0% - 15.0%
Bank of Ceylon
12.5% - 14.5%
Cargills Bank Ltd.
15.0% - 16.0%
Commercial Bank of Ceylon PLC
9.3% - 16.0%
DFCC Bank PLC
13.5% - 15.5%
Hatton National Bank PLC
13.0% - 15.0%
Indian Bank
14.4%
National Development Bank PLC
12.0% - 16.0%
Nations Trust Bank PLC
14.8%
Pan Asia Banking Corporation PLC
13.5% - 17.0%
People's Bank
14.5% - 16.5%
Public Bank Berhad
11.2% - 16.5%
Sampath Bank PLC
14.0% - 16.0%
Seylan Bank PLC
13.4% - 15.8%
Standard Chartered Bank
14.2%
HSBC Ltd
11.0% - 18.0%
Union Bank of Colombo PLC
10.0% - 18.0%
Source: Central Bank of Sri Lanka
Despite this, total outstanding housing loans (including purchasing, construction and repairs) rose by 14.8% y-o-y to LKR 523.29 billion (US$2.99 billion) in Q3 2018, according to the CBSL.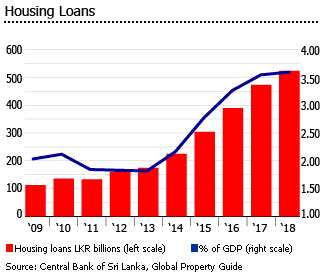 Mortgage loan maturities range from 15 to 25 years. The average commercial bank loan is LKR1 million (US$5,720); state-owned company loans are on average smaller. Private commercial banks, which control about 75% of the market, offer adjustable-rate mortgage loans. State-owned banks offer only fixed-rate mortgage loans.
Construction is held back by a fragmented industry and high costs
Housing approvals in Greater Colombo fell by 4.7% in 2014 to 12,725 units and by another 6.9% in 2015 to 11,843 units, according to the Central Bank of Sri Lanka (CBSL). The decline continued in 2018, with housing approvals plunging by 11.1% to just 5,130 units during the first half of 2018.
By property size (in H1 2018):
Less than 1,000 sq. ft. – 325 approvals, down 19.2% from a year earlier
1,000 to 2,000 sq. ft. – 1,669 approvals, down 8.2% from a year earlier
Greater than 2,000 sq. ft. – 3,383 approvals, down 4.7% from a year ago
Construction is somewhat held back by industry fragmentation, and also by high costs. The only pure property play on the Colombo stock exchange is Overseas Realty. Other companies with development arms include Access, Ceylon Cold Stores, Hayleys, Richard Pieris & Company, John Keells Holdings.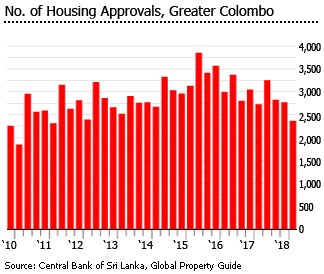 At the high-end of the condominium market Sri Lankan expatriates and returnees lead demand, snapping up apartments in high-rise projects, often even before they are built. Most are bought for investment purposes like renting, not to actually live in them, according to TKS Securities.
At the lower end of the market, there is sustained interest from migrant workers.
There is a severe shortage of low-end housing, caused by internal migration from rural to urban areas. Housing construction is currently at around 12,500 units per annum ― only a small part of the housing requirement of 100,000 units per annum, according to a KPMG Sri Lanka report.
For mid-range apartments in locations like Colombo 6, there appears to be some overcapacity as people who originally bought apartments return to their original homes in the north and east.
Another constraint is the slower increase in personal incomes. A decent home in a Colombo suburb costs at least LKR 25 million (USD 143,000), which is unaffordable for most middle-class people mainly because of high construction costs and inadequate incomes.
From negative during the 30 years of conflict, Sri Lanka's urbanization rate has been around 0.3% during the past five years. The Sri Lankan government predicts that urbanization will rise further to 3% to 4% from now on, brought by rapid developments and economic opportunities in the urban areas.
Around 76% of Sri Lanka´s housing stock is owner-occupied.
Traffic is getting worse. So are infrastructure bottlenecks
The problematic transport network in Colombo is one of the reasons for the skyrocketing land values in the city's central areas, according to Oxford Business Group. Inadequate public transport and worsening traffic congestion make commutes from more peripheral areas a challenge, leading businesses and residents to crowd around the city centre.
"We can see that the traffic situation is moving in the direction of Bangkok," says RIU´s Madawela. This is despite the fact that in recent years, Sri Lanka has been investing in infrastructure projects to support the country´s economic progress.
Some key completed infrastructure projects include:
Colombo-Katunayake Expressway
Colombo Port expansion project
Bandaranaike International Airport expansion project
Outer Circular Highway
Beira Lake restoration project
Other projects such as the Fort Railway Station modernization, Marine Drive expansion, the York Street facelift, and a network of elevated roads.
Recently, the government has also unveiled the development of a new metropolis inside the capital. The 665-acre Port City development, which could double the size of the country's capital, is scheduled for completion in 2041 and could cost about US$15 billion. According to China Harbour Engineering Company, the site's developer, the project is on track to complete its reclamation and the first phase of infrastructure by 2020.
Booming tourism sector
Tourist arrivals have gone up steadily since the civil war ended in 2009. Tourist arrivals were up 46% in 2010, then up 31% in 2011. Tourist arrivals showed slower growth in recent years, but still managed double-digit growth annually: 18% in 2012, 27% in 2013, 20% in 2014, 18% in 2015, 14% in 2016. To help boost tourism, the government has legalized gambling despite religious protests.
In 2018, Sri Lanka saw a record 2.3 million tourist arrivals, up 10.3% from a year earlier, according to the CBSL. India, China, Britain and Germany were the leading markets last year while Australia registered significant growth.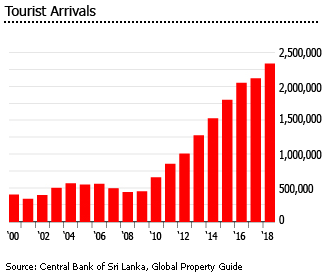 In the first two months of 2019, tourist arrivals rose by 4.6% to 496,272 people from the same period last year.
The Sri Lankan government hopes to attract about 3 million tourists this year, and has organized massive promotional campaigns in major markets, such as India, China, Europe and Australia.
Sri Lanka has been named by Lonely Planet as top travel destination in 2019.
The emergence of the IT-BPO industry
Sri Lanka is one of the world´s top emerging IT-BPO destinations. It is among AT Kearney´s Top 50 Global Outsourcing destinations, and Global Services Magazine´s Top 20 Emerging Cities. This is one reason for increased demand for residential properties in Greater Colombo.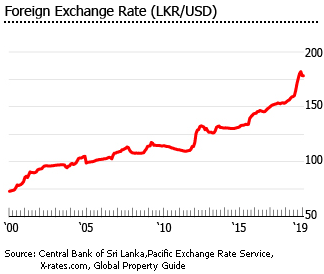 IT exports revenues have risen four-fold from US$ 244 million in 2007, to about US$926 million in 2017. The industry is expected to generate about US$ 5 billion worth of revenues, and 1,000 startups by 2022, according to SLASSCOM Chairman Madu Ratnayake. Well-known customers include Google, Microsoft, J.P. Morgan & Co., Emirates, Infor and Qatar Airways.
The economic has been slowing
In 2018, Sri Lanka's economy grew by 3.2%, slightly down from the prior year's 3.3% growth and the slowest expansion since 20o1, according to Sri Lanka's Department of Census and Statistics.
During 2018:
Agriculture, which contributes 7.9% share to GDP, grew by 4.8% from a year earlier
Industry, which contributes 27% to GDP, grew slightly by 0.9% y-o-y
Services, which contributes 56.8% to GDP, expanded by 4.7% y-o-y
 "While the economy is projected to recover over the next two years, for Sri Lanka to sustain and accelerate growth, fiscal and structural reforms remain essential," said Asian Development Bank (ADB) senior economist Utsav Kumar.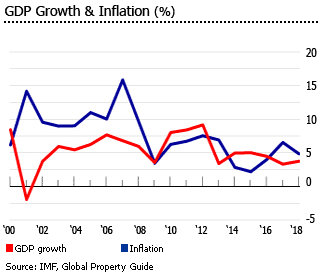 The economy is projected to grow by 3.6% this year and by another 3.8% in 2020, according to.  Sri Lanka´s budget deficit was 5.3% of GDP in 2018. The government aims to reduce the deficit to about 4.4% of GDP in 2019 and to 3.5% of GDP in 2020, in line with its International Monetary Fund (IMF) programme targets.
"Sri Lanka's ambitious fiscal consolidation targets – when the country has not had a fiscal deficit below 5% since at least 1990 – will rely on effective tax collection and administration and increases in some taxes," said Moody's.
The government was able to increase its revenues to 14% of GDP in 2018 from just 11.6% in 2014 mainly by raising the value-added tax rate in October 2016 and by implementing the Inland Revenue Act (IRA) in April 2018. Government revenues are projected to increase further to 15.8% of GDP this year and to 16.8% in 2020.
In February 2019, inflation slowed to 1.2%, sharply down from 5.4% a year earlier, according to the CBSL.
Unemployment rose to 4.6% in Q4 2018, according to the Department of Census and Statistics.
How Sri Lanka got here: a historical retrospective
The civil war in Sri Lanka lasted 30 years and resulted in at least 100,000 deaths. Fourteen years ago there was hope that it would end soon with the 2001 ceasefire agreement with the Liberation Tigers of Tamil Eelam (LTTE). Confidence in the economy revived, and there was strong demand for luxury apartments from expatriates who had left during the intense fighting. Developers experienced lucrative profit margins. Local investors followed, as these properties earned high yields.
However in November 2005, the conflict resumed when Mahinda Rajapaksa was first elected president. A strong supporter of a unitary state, Rajapaksa swore to defeat the Tamil Tigers. In 2006, the ceasefire totally collapsed, with bombings and attacks on government officials.
After intense fighting the LTTE´s main stronghold was captured and its leaders killed, with talk of a massacre by government forces. In May 2009, Rajapaksa officially declared the end of the insurgency. A UN report in 2011 said that tens of thousands of civilians had been killed in the final phase of the war, most as a result of government shelling. It also said that hospitals, UN centres and ships belonging to the international aid group the Red Cross were deliberately targeted by the army.
Since then, peace has held, call centres have opened, and tourism has boomed. In January 2010, Rajapaksa was re-elected for a second and supposedly final six-year term as president. His closest challenger was Gen. Sarath Fonseka, the Armed Forces Chief (who ran a campaign criticizing the Rajapaksa´s authoritarianism). Fonseka was defeated, court martialled, imprisoned, and stripped of all military ranks (he was later released). In September 2010 Parliament changed the constitution to allow Rajapaksa to stand for an unlimited number of terms. Human rights abuses multiplied, with journalists who investigated Rajapaksa´s family being "disappeared".
Rajapaksa´s increasing authoritarianism was finally his undoing. Besides human rights abuses and political kidnappings, the government was accused of running a corrupt family dynasty of four brothers. Press freedom disappeared. Though economic growth was rapid under his centre-left government, with many key roads built using loans from China including Sri Lanka´s first expressway, many such projects, often named after Rajapaksa himself, were seen as white elephants, such as the Mattala Rajapaksa international airport (which only serves one budget airline carrier). Economic growth by-passed the rural Sinhala, who felt increasingly alienated by the Rajapaksa government.
Rajapaksa called an election two years earlier than necessary. To everyone´s surprise, he was challenged by his Minister of Health, Sirisena, who defected from the SLFP and ran against him in an opposition alliance.
Branded a "traitor", Sirisena is a clean living teetotaler and practising Buddhist with a reputation for honesty and hard work, from the ancient medieval capital Polonnaruwa in North Central Province, with a degree in agriculture. He has never been seen in a suit, and had the political advantage of being general secretary of the SLFP. He cannily reckoned that by putting together the votes of the disenchanted rural Sinhala, Muslims, Tamils, and urban intelligentsia, he stood a chance in the extremely dangerous game of challenging Rajapaksa.
After his unexpected victory, the SLFP split into two factions, Rajapaksa´s faction becoming the core of the opposition. Sirisena immediately appointed as prime minister the United National Party (UNP) leader Ranil Wickremesinghe, a veteran UNP politician who is economically of the centre-right, and socially of a liberal disposition.
In the subsequent August general elections, the UNP won 106 seats, and Sirisena´s coalition (the United People´s Freedom Alliance, which includes both SLFP factions) won 95 seats. The SLFP agreed to form a national government with the UNP for two years, with Wickremesinghe continuing to head the government as prime minister.
Sirisena vowed to introduce sweeping reforms of the presidency and accountability over atrocities committed during the long civil war. But differences with his erstwhile ally Wickremesinghe led the president to replace him briefly with Rajapaksa and suspend parliament in October 2018. However in December 2018, the Constitutional Court ruled that the dissolution of parliament was illegal. Wickremesinghe resumed his post after Rajapaksa failed to form a government that commands a parliamentary majority.