Foreign demand fuelling housing market boom in Mauritius
Lalaine C. Delmendo | December 01, 2019

Mauritius (population 1.3 million) is a small island nation in the Indian Ocean, east of Madagascar and mainland Africa.  It has a thriving property market, several years after the government decided to open up the island to wealthy foreign homebuyers.

"Residential real estate has never been so booming in Mauritius as at present," says LexpressProperty.com.

Foreigners have been attracted to the island because of its beautiful scenery and pristine beaches. Moreover, Mauritius offers great tax benefits to foreigners, a good educational system, a low crime rate and a well-developed healthcare system.  There are currently about 15,000 to 25,000 expatriates living in Mauritius, according to Gervel.

It has one of the strongest economies and one of the most stable democracies in Africa, and one of the highest standards of living in Africa, with a GDP per capita of US$11,228 in 2018, according to the International Monetary Fund (IMF).

Residential property prices soared by about 133% in 2018 as compared to 2010 levels, amidst continued strong demand from both local and foreign homebuyers.

Next to the French, the second largest number of foreign investors in Mauritius are now South Africans. In 2018, South Africans accounted for 25% of property sales to foreigners, up from just 14% in 2015.

"Mauritius is fast becoming a second home for South Africans and with the recent changes in the Mauritian government's property investment legislation, it is now a lot easier to invest in residential and commercial property on the island and there is an increased amount of developments available for SA buyers to invest in, both residential and commercial," said Theo Pietersen of Seeff Mauritius.

About 280 South African millionaires – those with investable assets of more than US$1 million – have moved to Mauritius since 2007, according to market research firm New World Wealth.

In 2015 the government created the Property Development Scheme (PDS), allowing foreigners to buy villas, with a uniform transfer duty of 5%, thus merging two earlier incentive schemes. Similar to the earlier schemes, known by their acronyms as RES and IRS schemes, a foreign investor is eligible for a permanent residence permit upon buying a property worth at least US$500,000.

Other foreign investment schemes introduced in recent years include the Integrated Hotel Scheme (IHS) in 2012; the Smart City Scheme (SCS) in 2015; and the Ground Plus Two (G+2) scheme in 2016.

In 2018, the median price of a residence in Mauritius stood at MUR 6.5 million (US$177,375), according to LexpressProperty.com. However the median price of properties under the incentive schemes catering to foreigners was MUR 2o million (US$545,800).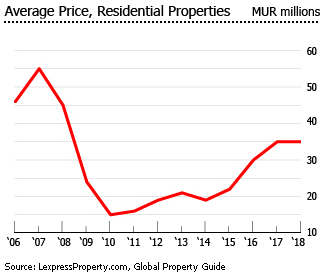 Properties worth less than MUR 26 million (US$709,500) represent about 70% to 75% of total demand, while properties with a price tag over MUR 37 million (US$1 million) account for the remaining 20% to 25%, according to Mikael Le Luron of ENL Property.

The country's strong economic fundamentals are a plus. The economy grew by 3.8% in 2018, at par with the annual average growth of 3.7% from 2009 to 2017, according to the Bank of Mauritius. Economic growth is projected at 3.7% this year and 3.8% in 2020, based on IMF estimates.