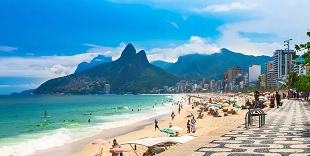 I have worked and invested in UK property since 2006. Like any sector, ups and downs naturally occur – but I'm extremely grateful to be part of it all.  In the UK it can be easy to forget that we have one of the most transparent and well-protected industries in the world – a fact highlighted to me after spending a few years in South America's largest real estate market.
Why Brazil?
I began my journey on returning from a holiday in Brazil.  The UK market was in the doldrums and it was difficult to see how the Bank of England and the government could navigate their way through the sub-prime mess.   I started to look at other opportunities.   It was apparent that Brazil – alongside its "BRIC" counterparts (Russia, India and China) – was witnessing counter-cyclical trends relative to the developed world.
From 2000 to 2012 Brazil had one of the fastest-growing major economies, a growing middle-class, sizeable oil reserve discoveries, and a range of rising industries including agribusiness, mining, utilities, telecommunications and others. 
Yet it was the housing industry that sparked my interest the most.
My experiences…
Proceeding to delve into the market, I studied business Portuguese and built contacts with as many people I could – initially in Rio de Janeiro and then São Paulo.  The Brazilian Embassy in London also held networking events, excellent opportunities to learn more.
I also enrolled on a series of online courses and accessed recorded seminars from the likes of PINI Web, SECOVI and Sinduscon.  My goal was to get a better understanding of how the cogs in the wheel worked.
Low-income housing particularly caught my attention.  Like much of Latin America, wealth divides in Brazil are extremely acute.  It's true that there are palpable signs of improvement, but housing for a significant proportion of the population is in favelas (informal urban settlements).  
Whilst many people I talked to were developing properties for the affluent, the thought of doing so seemed counter-intuitive given the scale of the problem.  The launch of the government-subsidised housing initiative Minha Casa, Minha Vida (My House, My Life) and infrastructure drive also dovetailed nicely into the business ideas I was contemplating.
Fez tá Pronto ("Done and ready")
It was about a year into my research that I was connected to a developer based in Macaé (in the North East of Rio de Janeiro state), Manoel Pinto, who introduced me to his patented building system entitled: Fez tá Pronto (broadly translated as "done as ready").  Fez tá Pronto combines the use of gypsum plaster blocks with traditional structural elements to deliver decent-sized houses and apartments faster and cost-effectively – without compromising on quality standards.  Gypsum is a non-combustible material that's also 100% recyclable.  One of the Fez tá Pronto projects was approved by Caixa Econômica Federal, lead administrators of the Minha Casa, Minha Vida programme. Pinto asked if I could help translate the business plans and source external investment for more scaleable projects. 
I linked up with the University of St Gallen, Switzerland's the impact investing and social finance department, which offered to help get the project in front of the right eyes.  We pitched to social venture capital funds and institutions like the Overseas Private Investment Corporation (OPIC) and the Inter- American Development Bank (IDB).  Our plans were supported by the entrepreneurial organisation 'Endeavour', whcih further assisted us finding contacts.
For a while, everything seemed to be moving in the right direction…
Where it went wrong…
Many investors we approached were receptive at first.  However once people engaged in detailed due diligence concerns were raised.  We persevered for a while, as we didn't feel they were examining our business plans in enough detail (other than providing feedback that it 'wasn't for them').  A suitable investor, we thought, who shared our vision, would come along sooner or later.
It was a one-to-one meeting with an experienced developer in São Paulo which taught me the hardest lesson.  Speaking bluntly (yet sincerely) over the course of an afternoon, he gave me a crash course in the realities of the market and why he thought we were barking up the wrong tree.
First, although the profitability of the projects was demonstrable through auditable figures of completed developments in the early 2000s, there were a series of unanswered practical questions. 
It was bought to my attention that Caixa Econômica Federal had approved one of the projects without realising one of the key building materials was gypsum.  So to roll out the technology into the market without full technical approval would be highly risky.  I approached a handful of engineering institutions with a view to undertaking the necessary approvals – but the costs turned out to be prohibitively expensive.
The São Paulo developer also questioned how receptive buyers would be to homes made of gypsum.  Such units might be considered, albeit unjustly, inferior. This would bring our gross development valuation estimations into doubt – even though our aggregated cost base was lower.
He then proceeded to give some first-hand insights into the Minha Casa, Minha Vida programme itself.  
Launched in 2009 as part of then-president Lula's social welfare agenda, Minha Casa, Minha Vida seemed well-aligned with Brazil's strong economic growth. The Brazilian government claims that some R$ 425 billion (£80.86 billion) has been invested in the programme – building over 3.9 million units across the country.  The government works directly with private construction companies who build homes that are passed back to Caixa Econômica Federal under lease-to-own agreements.  
But it didn't take long for the cracks to appear…
Similar to low-income housing initiatives in many parts of the developing world, builders catering to this demographic profile are invariably forced to build in peripheral, isolated areas.  Land is simply too expensive to create viable projects in more urbanised locations.  
Even though families contribute as little as 5% of their monthly income, these projects are widely deemed unsuccessful, with poorly built units and substandard infrastructure, high crime rates, utilities accessed without authorisation and many other irregularities, earning the sobriquet Minha Casa, Meu Pesadelo (My House, My Nightmare). Many families began to feel short-changed and returned to their original informal settlements.  
Estimates vary, but some figures suggest that up to 180,000 units have been halted or abandoned entirely.
Where Next?
There was a period where I was hugely optimistic.  Yet, as a 'gringo' and remote participant in the market, I found it difficult to fully immerse myself into the business of being a property developer.  The cultural and practical barriers to gaining traction were simply beyond my reach.
It also became clear that the risks for foreigners are just too high. Over the years, I came across a number of investors duped out of significant sums of money in new-build developments and land banking schemes, particularly in the north east of Brazil.  With a lack of legitimate protection when things go wrong (which they often do), not to mention the tax issues when repatriating any capital gains, many so-called real estate investment 'opportunities' lack any substance.
Investment and business visa requirements are also hugely bureaucratic and very difficult to understand without an experienced English-speaking lawyer (who will charge extortionate fees).
It has been interesting to see how some prominent developers have been rolling out modular building technologies and how blockchain is being introduced to clean up the hugely messy land registration system.
For me, however, there are just too many pitfalls…  
-- 
My own focus is currently on jointly running a quick home buying company, Property Solvers (and it's associated seller's blog) as well as regularly updating The Property Investor's Blog.