House prices were down by 1.48% during the year to Q1 2022
Nationwide house prices fell by 1.48% in Q1 2022 from a year earlier, down from the previous year's slight growth of 0.37% It was the worst showing since Q1 2017. On a quarterly basis, house prices dropped 2.4% in Q1 2022.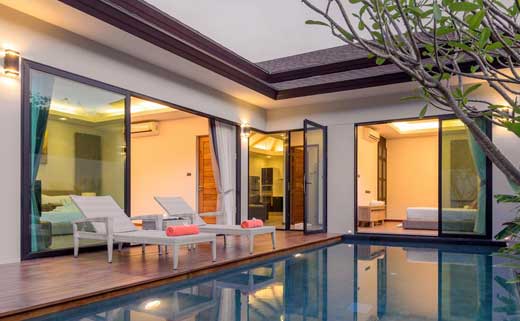 Demand growth slowing; construction activity falling
Property credit outstanding rose by a modest 3.3% y-o-y as of Q1 2022 to THB 3.4 trillion (US$ 99.15 billion), following annual rises of 3.4% in 2021, 5.7% in 2020 and 5.2% in 2019, according to the Bank of Thailand (BoT).
Residential construction activity has been hampered by the pandemic. Nationwide condominium registrations fell sharply by 16.1% to 9,045 units in Q1 2022 from a year earlier, following annual declines of 41.8% in 2021 and 8.1% in 2020, according to BoT. But in Bangkok Metropolis, condo registrations rose by a modest 3.4% y-o-y in Q1 2022, after falling by a huge 56.4% during 2021.
Rents, rental yields: yields are good in Bangkok at 8.05%
Bangkok apartment costs are moderate, at around $3,638 per sq. m.
Thailand.: city centre apartment, buying price, monthly rent (120 sq. m)
Buying price
Rate per month
Yield
Bangkok
$ 436,560
$ 1,837
8.05%
Recent news. Thailand's economy expanded by 2.2% in Q1 2022 from a year earlier, up from the previous quarter's 1.8% growth, primarily buoyed by increased private consumption and robust exports, according to the National Economic and Social Development Council. Southeast Asia's second largest economy grew by just 1.5% during 2021 – among the lowest in the region.
With tourism still well below pre-pandemic levels, coupled with higher prices and the adverse impact of Russia's invasion of Ukraine, economic recovery this year is likely to be modest, with the Bank of Thailand projecting real GDP growth of 3.2%.
In March 2022, the Bank of Thailand left its benchmark rate unchanged at a record low of 0.5%, following three consecutive rate cuts during the onset of the pandemic, in an effort to stimulate economic activity.