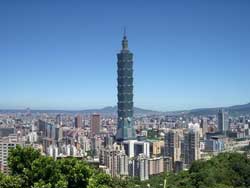 Trend: house prices down slightly by 0.15% y-o-y in Q3 2018
Nationwide house prices fell slightly by 0.15% during the year to Q3 2018, after y-o-y changes of -0.27% in Q2 2018, 0.24% in Q1 2018, 0.55% in Q4 2017, and 0.25% in Q3 2017. Quarter-on-quarter, house prices declined 1% in Q3 2018. House prices have fallen over the past two years, after dramatic government measures to curb speculative house purchases.
Analysis: Demand now falling, but supply continues to surge
After three years of slump, property transactions in Taiwan rose by 8% to 266,086 units in 2017 from a year earlier, according to the Ministry of Interior. However in September 2018, property sales in the country's six major cities (Taipei, New Taipei, Taoyuan, Taichung, Tainan and Kaohsiung) were down slightly by 0.8% from a year earlier.
Construction activity is surging. During the first nine months of 2018, the total number of residential construction licenses issued rose by 37.9% to 88,596 from a year earlier, according to the Ministry of Interior.
Rents, rental yields: amazingly low yields in Tapei at 1.57%
Taipei apartment costs are at $7,112 per sq. m.
Taiwan: city centre apartment, buying price, monthly rent (120 sq. m)
Buying price
Rate per month
Yield
Taipei
$853,440
$1,117
1.57%
Recent news. Taiwan's economy grew 2.3% in Q3 2018 from a year earlier, down from y-o-y expansions of 3.29% in Q2 2018, 3.04% in Q1 2018 and 3.28% in Q4 2017, amidst a slowdown in the trade sector and weaker private consumption, according to the Directorate General of Budget, Accounting and Statistics (DGBAS). Economic growth is expected at 2.7% this year and 2.4% in 2019, according to the IMF.