Nationwide house prices up by a meager 0.5% during the year to Q2 2022
Norway's housing market continues to slow rapidly. The inflation-adjusted nationwide house price index rose by a miniscule 0.5% in Q2 2022 from a year earlier, a sharp slowdown from a y-o-y growth of 9.74% in Q2 2021. Quarter-on-quarter, house prices increased 1.55% during the latest quarter.
Real house prices rose by an average of 4.7% annually in the past two years. But in the three years prior, the housing market had been more or less steady, with house prices rising by a meager 0.95% in 2019, and falling by 1.05% in 2018 and 0.6% in 2018, after the implementation of stricter mortgage rules on January 1, 2017, which were focused on restraining house prices in Oslo.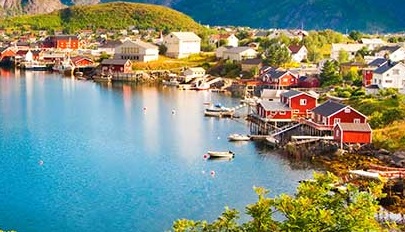 Demand is now falling, construction activity remains weak.
In the first half of 2022, residential property sales in Norway fell by 8.9% to 41,275 units from a year earlier, in contrast to y-o-y increases of 6.8% in 2021 and 3.6% in 2020, according to Statistics Norway.
Construction activity remains weak. In 2021, dwelling starts rose by a miniscule 0.7% y-o-y to 30,126 units while completions dropped 2.6% to 28,398 units.
Rents, rental yields: rental yields are low at 3.13%
Oslo apartment costs are expensive at around €8,162 per sq. m.
Norway: typical city centre apartment buying price, monthly rent (120 sq. m)
Buying price
Rate per month
Yield
Oslo
€ 979,440
€ 2,556
3.13%
Recent news: In August 2022, the Norges Bank raised its key rate by 50 basis points to 1.75%, its fifth consecutive rate hikes since September 2021 when the key rate was 0%, in an effort to curb rapidly rising inflation.
Norway's economy grew by 3.9% in Q2 2022 from a year earlier, its fifth straight quarter of y-o-y expansion, according to Statistics Norway. On a quarterly basis, the economy grew slightly by 0.7% in Q2 2022, following a 0.9% q-o-q contraction in Q1, amidst supply chain disruptions and the adverse impact of the Ukraine crisis.
The International Monetary Fund (IMF) expects the Norwegian economy to expand by 4% this year, following a 3.9% growth in 2021 and a 0.7% contraction in 2020.