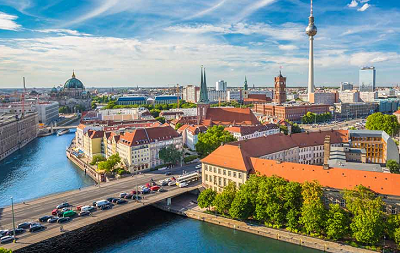 For the third consecutive year, Berlin takes the first place in the ranking of best European cities for real estate investment in the yearly survey by PricewaterhouseCoopers "Emerging Trends in Real estate 2017". In the same survey Spain major cities come in the middle of the ranking (Madrid 9th and Barcelona 16th) while Paris is on the 17thplace with a stable outlook.
London is downgraded from 15th to 27th position in regards of low capital gain perspectives and of course the Brexit expected impact in terms of employment and budget cost. Moscow is closing the ranking (30th position) due to instable political situation, economic recession and rouble depreciation.
Berlin gained the best investment, development, rental and capital growth scores for real estate investors and is now firmly established as a leading city in European real estate landscape.
Since several years Berlin real estate market came on the radars of European and world investors, attracted by strong capital gain potential. In addition to the low mortgage interest rates, the appreciation of Berlin property prices of around 10% each year is based on very strong and long-term fundamentals
Attractive property prices
The city has the lowest real estate prices amongst European capitals as Berlin property prices are 2-3 times less expensive than in Paris and up to 5 times less expensive than in London for comparable central locations. The city of Berlin undergoes a property development boom with thousands of new build apartments in prime locations. One of the most sought after new development areas is Mitte that has a large potential for new development thanks to the available land plots on the former wall zone. One of the largest property development in Mitte is the Europacity project that is currently built just next to city central station and close to the Spree banks.
Economic development
Berlin undergoes a strong economic momentum with flourishing indicators in different sectors like tourism that doubled in volume in 10 years from 15 million overnight stays in 2006 to 31 million overnight stays in 2016. Berlin is also becoming a global start-up hub with the establishment of leading start-up and tech companies like Zalando. Berlin start- ups raised ca.€2.4 billion in 2015 in venture capital, more than Stockholm or London. In 2016 the start-up fund raising in Berlin reached €3.7bn.
Friendly property tax regulation
The investors benefit from tax advantages for income rental like the possibility of amortization of the property purchase costs from 2% to 2,5% depending on the property construction date. In addition to the property management costs, the mortgage interest payments are written-off from the rental income, which makes the scheme of buying an investment property in Berlin with a mortgage financing in Germany highly advantageous.
Also, the property tax in Berlin is quite low compared to other European capitals, for example a 50 square meters apartment in a central location would have an annual property ownership tax of ca. 150€.
However, the main tax advantage for a private investor is definitely the capital gain tax relief after 10 years of property holding period.
City attractivity and housing shortage
Berlin has become a multicultural cosmopolitan city where people from all the world want to relocate, work and live. Berlin was even ranked as the third best city in the world to live-in by Monocle magazine quality of life survey 2017. The booming tech sector attracts young and professional people from all the world (40% of start-up employees are foreign nationals). This growing attractivity of the city has generated a high demographic growth forecast with ca. 45 000 new comers in the city each year. This results in a low vacancy rate (1,5%), a structural shortage of housing supply versus demand and a continuous increase of rental prices.
Along with record low household ownership rate of less than 20 % of Berliners, the fundamentals of Berlin real estate market are stronger than ever and the supply shortage will represent the main long-term investment driver for real estate in the upcoming years.