Brazil's high inflation makes it appear that house prices continue to rise. But it's an illusion. In July 2021, Brazil's FIPEZAP house price index rose by 5.13% from a year earlier, its biggest y-o-y nominal increase since April 2015. However when adjusted for inflation, nationwide house prices were actually down by 3.57%.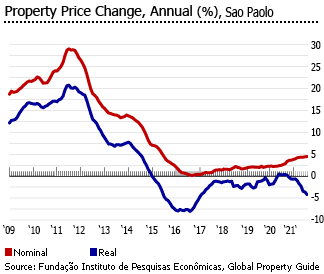 In August 2021, nationwide inflation surged to 9.68%, the highest reading since February 2016, as the reopening of the economy, coupled with global supply issues, weaker currency and severe drought, pushed up consumer prices. In August 2021, the Central Bank of Brazil raised its benchmark Selic rate by 100 basis points to 5.25%, its fourth consecutive rate hike this year in an effort to rein in inflationary pressures.
The national figure in fact conceals large variations in local house price movements. During the year to July 2021:
In São Paulo, house prices rose by an average of 4.45%, the biggest y-o-y rise in six years. However when adjusted for inflation, prices actually declined 4.2%.
In Rio de Janeiro, house prices rose by a modest 2.62% but actually fell by 5.88% in real terms. Yet it is important to note that this is actually the city's best performance since June 2015.
In Brasilia, house prices rose by a huge 10.12%, which translates to a 1% increase when adjusted for inflation. It was the city's second best showing since in more than nine years.
After slowing last year, property demand has continued its recovery, propelled by the economic recovery which began in 2017.  In May 2021, residential sales in São Paulo reached 5,883 units, up 44.1% from the previous month and by a whopping 144.6% from a year earlier, according to a report released by Secovi-SP. In the first five months of 2021, new residential sales surged 66% y-o-y to 23,098 units.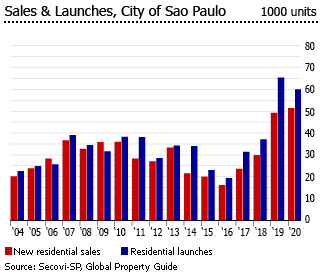 Obviously Covid has had a large impact.  In 2020, the Brazilian economy contracted by 4.1% from a year earlier, the biggest annual decline in activity since 1990.  However recently, the IMF upgraded its 2021 economic growth forecast for Brazil to 5.3%, from its initial projection of a 3.7% expansion.
Foreign individuals and nonresidents may invest in urban and rural properties in Brazil through direct ownership from abroad, or through resident companies or partnerships. To be able to buy a property, a tax registration number from the Cadastro de Pessoa Fisica (CPF) is required.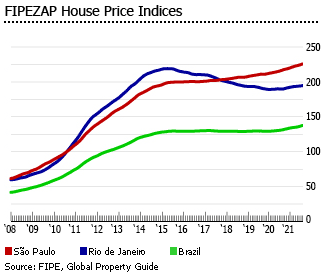 However there are restrictions on investments in rural properties. Foreign individuals who intend to migrate to Brazil may acquire rural properties directly from abroad only if they come to live in Brazil within three years from the date of acquisition. In addition, rural properties acquired by foreign companies must be destined for the implementation of agricultural, industrial or settlement projects and these activities must be related to the companies' purposes.
Local house price variations
During the year to July 2021, Vitória saw the highest nominal house price increase out of 16 large towns at 15.83% (6.23% inflation-adjusted), followed by Maceió (14.62%), Manaus (14.14%) and Curitiba (12.84%). Strong house price increases were also seen in Goiânia (10.84%), Florianópolis (10.7%), Brasilia (10.12%), João Pessoa (8.71%) and Recife (7.6%).
Modest to minimal house price rises were recorded in Porto Alegre (5.41%), Fortaleza (5.4%), São Paulo (4.45%), Salvador (4.05%), Campo Grande (3.41%), Rio de Janeiro (2.62%), and Belo Horizonte (2.51%).
However when adjusted for inflation, 9 out of the 16 large towns actually saw falling house prices during the year to July 2021.
HOUSE PRICE CHANGE (%)

 
2012-2017
2018-2020
July 2021 (y-o-y)
FipeZap HPI
23.02
3.67
5.13
São Paulo
27.60
6.13
4.45
Rio de Janeiro
14.37
-0.69
2.62
Belo Horizonte
30.56
3.69
2.51
Brasilia
-1.62
7.90
10.12
Salvador
23.34
4.73
4.05
Fortaleza
27.30
-5.55
5.40
Porto Alegre
26.28
2.72
5.41
Curitiba
48.84
5.22
12.84
Florianópolis
44.90
10.57
10.70
Vitória
45.50
11.30
15.83
Goiânia
-
5.56
10.84
João Pessoa
-
-0.35
8.71
Campo Grande
-
4.42
3.41
Maceió
-
8.48
14.62
Manaus
-
12.69
14.14
Recife
20.80
-1.91
7.60
Sources: FIPE, Global Property Guide
Looking back: the amazing Lula housing boom
House prices in São Paulo rose by an amazing 223.8% from January 2008 to June 2015 (106.3% inflation-adjusted), and in Rio de Janeiro by an even more spectacular 266.1% (133.3% inflation-adjusted).
Pro-market reforms under former President Lula da Silva greatly helped boost mortgage lending, which rose by at least 25% per year between 2007 and 2014. Plus, interest rates were progressively cut from 26% to 7.25% between 2003 and 2012. The rapid growth of the middle class was another important factor. All of these elements contributed to the house price boom.
The 2007 discovery of enormous oil fields deep beneath a layer of salt in the Atlantic seabed boosted the energy industry's demand for residential and office space. Demand continued to surge following the 2009 announcement that Rio de Janeiro would host the 2016 Olympic Games.
However in 2014, nominal house price rises slowed dramatically, ending the year with 6.7% growth (0.3% inflation-adjusted). After 2015 national house prices began to fall in real terms.
Property had by then become increasingly unaffordable due to the surge in house prices, leading many Brazilians to rent rather than own. "In the major cities young professionals were struggling to afford the kind of prices now being asked for properties in good areas," according to Colordarcy Investment.
The crisis and its aftermath – how Bolsonaro came to power
Brazil's decade-long troubles began with the global recession in 2008. To boost the economy, the Central Bank of Brazil slashed the benchmark SELIC rate from 13.75% in December 2008 to 8.75% by July 2009.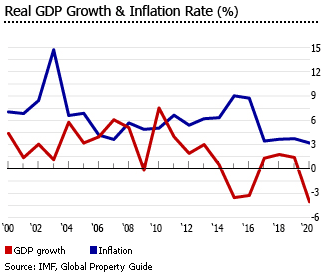 Brazil was swamped with consumer credit, and there was a surge in inflation. Even so economic growth fell to 1.9% in 2012, 3% in 2013, and 0.5% in 2014.
In June 2013 riots exploded, precipitated by a BRL0.20 (USD0.10) rise in public transport fares, and complaints about excessive spending on mega-sporting events. Brazil is not a poor country. But tax rates are extremely high, yet many Brazilians spend up to four hours per day in traffic jams, either in their cars or on crowded public transport. The protests were an outburst of popular frustration at corruption – a protest against an intolerable situation.
Alarmed at the inflation the central bank raised the benchmark interest rate nine times from 7.25% in March 2013 to 14.25% in 2015, the highest level for almost six years.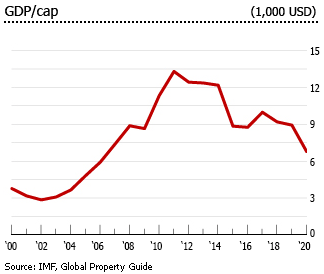 In 2015, mortgage lending slowed sharply, and in 2016 the ABECIP saw a 38.3% y-o-y decline, amidst the ongoing political turmoil in the country. The decline continued in 2017, with the real estate credit falling by 7.4% y-o-y.
A slump followed and the currency fell.  GDP per capita fell 31.1% between 2011 and 2018, to US$9,126, according to the IMF, though this was largely an artefact of the currency's decline – in fact real GDP fell by only 3.6% in 2015 and 3.5% in 2016. Then came a corruption scandal involving oil giant Petrobras and the country's largest engineering and construction firms. The investigation has implicated politicians, mostly from President Rousseff's Workers' Party.
Protests in the streets escalated, worsening the country's already ailing economy. In August 2016 Rousseff was removed from office and Michel Temer was sworn in as Brazil's new president. Corruption controversies led him to become even more unpopular, and after his term of office ended Temer was arrested in March 2019 on corruption and money laundering charges. Worse, the massive bribery scandal involving Brazilian construction giant Odebrecht exploded. Odebrecht was behind the construction of venues for the 2014 World Cup, the 2016 Olympics, the metro systems in Caracas, and other huge infrastructure projects.
The crisis helped right-wing candidate and retired army officer Jair Bolsonaro sweep to victory during the October 2018 presidential election on a populist, anticorruption platform.
Bolsonaro, a free marketeer, has very worrying anti-environmentalist and anti-human rights views. He has failed to deliver on most of his promises and has been widely criticized for his handling of the COVID-19 pandemic. Brazil has seen the second-highest coronavirus death toll in the world, with about 587,000 fatalities in mid-September 2021. In July 2021, tens of thousands of people took to the streets to protest amidst the recent allegations of corruption involving the purchase of vaccines by the government.
With Bolsonaro's slumping popularity in the build-up to elections in October 2022, former president Lula da Silva is poised to return to power. In a recent poll released by Quaest, Lula da Silva leads the presidential race with 55% of voting intentions, about 25% ahead of Bolsonaro who got 30%.
Real estate credit surging
After 2017 the economy came out of the post-2014 economic slump, and loans for real estate acquisition and construction began to rise again.  Real estate loans more than doubled to BRL 115.83 billion (US$22.1 billion) in the first seven months of 2021 from a year earlier, following strong growth of 57.5% in 2020, 37% in 2019 and 33% in 2018, according to the Brazilian Association of Real Estate Loans and Savings Companies (ABECIP).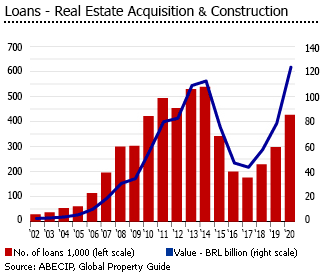 Outstanding home loans represent more than 10% of the country's gross domestic product, according to Hofinet.
Selic rate raised for fourth time this year
The downside of the economic recovery is another surge in inflation. Nationwide inflation rose to 9.68% in August 2021, the highest reading since February 2016, as the reopening of the economy, coupled with global supply issues, weaker currency and severe drought, pushed up prices. Inflation had averaged only 3.5% in 2017-2020, a sharp deceleration from an annual average of 7.1% in 2011-2016.
In August 2021, Banco Central do Brasil's (BCB) Monetary Policy Committee decided to raise the Selic rate by 100 basis points, the biggest in almost two decades, to 5.25%, in an effort to contain inflationary pressures. It was the fourth consecutive rate hike this year.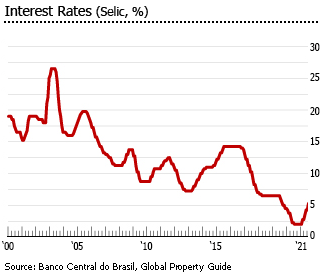 The continued rise in interest rates is expected to slow growth of housing demand during the remainder of the year.  The benchmark rate had been slashed several times last year to a record-low of 2% in August 2020 to cushion the economic repercussions brought by the pandemic. Now the direction of interest rates is upwards once again.
Rental yields are low to moderate
Gross rental yields - what you can earn from an apartment before tax and other expenses - have continued to move down in Brazil's big cities, and in most parts of Sao Paolo and Rio de Janeiro being a landlord generates a much less attractive return-on-investment than a few years ago.
In Rio de Janeiro, yields are quite low, ranging from 3% to 4%. In Sao Paolo, apartment yields are rather higher, between 4.7% and 6.1%, based on a research conducted by Global Property Guide.
Economy recovering, but unemployment remains high
Brazil's economy contracted by 4.1% during 2020, following an annual average growth of 1.5% in 2017-19. It was the biggest annual decline since 1990. But economic activity is now recovering strongly, with real GDP rising by 12.4% y-o-y in Q2 2021, the most on record, after the government began lifting some restrictions on non-essential businesses.  Recently, the IMF upgraded its 2021 economic growth forecast for Brazil to 5.3%, from its initial projection of a 3.7% expansion.
During the year to Q2 2021:
Industry rose sharply by 17.8%
Services rose by 10.8%
Fixed investment surged 32.9%
Household consumption rose by 10.8%
The recent improvements in vaccine rollouts are expected to boost Q3 activity.
In Q2 2021, nationwide unemployment stood at 14.1%, slightly down from the previous quarter's 14.7% but still up from the prior year's 13.3%. From an annual average of 7.7% in 2010-15, jobless rate rose to 12.3% in 2016-20.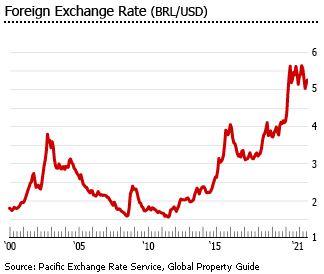 There were about 14.44 million unemployed people in Q2.
Since the onset of the pandemic last year, the Brazilian Real (BRL) has weakened sharply. In August 2021, the average monthly exchange rate stood at BRL 5.257 per US dollar, losing more than 23% of its value against the dollar from two years ago.
Case Verde e Amarela replaces Minha Casa Minha Vida housing program
The Minha Casa Minha Vida program, launched in March 2009, was one of the popular federal government programs introduced during former President Lula da Silva's 8-year term. Under the program, subsidized mortgage loans were extended to middle and lower income homebuyers through the state-owned bank, Caixa Economica Federal (CEF). The MCMV program has produced significantly more housing units than any other social housing program in Brazil, having delivered more than one million housing units for the poorest families in the country.
However after more than a decade, the federal government ended the Minha Casa Minha Vida program (My Home, My Life housing program) in late-2020 to implement the new Casa Verde e Amarela program (Green and Yellow House program, named in reference to the colors of Brazil's flag). While the new housing program retains its predecessor's regulations for the construction of new housing units, it adds avenues for land regularization and renovations for existing housing. The government plans to regularize up to 2 million homes and renovate more than 400,000 over the next four years.
The new Casa Verde e Amarela program offers subsidy to more than 1.5 million low-income families, guaranteeing affordable housing financing by year 2024. The new also program offers lower interest rates as compared to the MCMV program. For instance, families with a monthly income of at most BRL 2,000 (US$381) and live in the North or Northeast region will see a reduction of up to 0.5% in annual interest rates while those with a monthly income between BRL 2,000 (US$381) and BRL 2,600 (US$496) will have an interest rate reduction of 0.25%.
From four different categories under the MCMV program, the Casa Verde e Amarela program will have only three:
Range 1.5: families with monthly income of at most BRL 2,000 (US$381) – subsidy up to BRL 47,500 (US$9,055), interest rate of 4.5%
Range 2.0: families with monthly income of up to BRL 4,000 (US$762) – subsidy of up to BRL 29,000 (US$5,528), interest rate of 4.75%
 Range 3.0: families with monthly income from BRL 4,000 (US$762) to BRL 7,000 (US$1,334), interest rate of 7.66%
In the first category, families can benefit from reduced interest rates, subsidized housing unit, property reform, as well as land regularization.
Sources:
Brazil - More data and information