Luxembourg's residential property prices continue to rise, amidst stable demand and limited supply. During the year to Q2 2022, the average selling price for apartments rose by 9% (1.8% inflation-adjusted) to €8,995 (US$9,337) per square metre (sq. m), according to the STATEC Luxembourg, the country's national statistics agency.

On a quarterly basis, nationwide apartment prices increased 3.2% (0.6% inflation-adjusted) in Q2 2022.

"In the Luxembourg canton alone, the average price for a house was almost double the price of an equivalent property in the north. The supply side, although anticipating the demand expansion, was not able to keep up with it, causing upwards pressure on houses prices," said the European Mortgage Federation in its 2022 Hypostat report.

By property type:

Existing apartments' average acquisition price increased 8.2% (1% inflation-adjusted) y-o-y to €8,799 (US$9,161) per sq. m. in Q2 2022. Quarter-on-quarter, prices rose by 2.4% but declined slightly by 0.2% when adjusted for inflation.
New apartments' average price rose strongly by 9.6% (2.3% inflation-adjusted) y-o-y to €9,472 (US$9,857) per sq. m. over the same period. On a quarterly basis, prices increased 5.7% (3% inflation-adjusted).

Demand for residential properties is more or less steady. During 2021, the total number of apartment transactions was almost unchanged from a year ago, at 6,836 sales, based on figures from STATEC Luxembourg. Though, the value of sales actually increased 9.6% y-o-y to €4.46 billion (US$4.63 billion) last year. In the first half of 2022, the number of transactions fell by 4.5% while sales value increased 2.8%.

Aside from domestic demand, foreign homebuyers also buoy the housing market. Foreigners can freely buy property in Luxembourg.

Despite the healthy demand, residential construction activity remains weak. In H1 2022, the total number of dwellings with approved building permits fell by a huge 36.5% to 2,021 units as compared to the same period last year.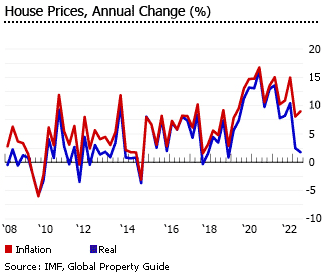 During 2021, Luxembourg's economy grew by 5.1% from a year earlier, a strong rebound from a 1.8% contraction in 2020 and far higher than the annual average growth rate of 2.6% in 2010-19. However, the economy is projected to slow again due to a decline in investment, in particular in construction, and a decrease in private consumption and exports. Based on the recent projections released by the European Commission, the economy will grow by just 1.5% during 2022. This is not far from the International Monetary Fund's estimate of a 1.6% expansion this year.