HCMC house prices were up 13.83% during the year to Q3 2020
Vietnam's property market remains fundamentally strong, buoyed by real owner-occupier demand which has been resilient despite the coronavirus pandemic. In Ho Chi Minh City, apartment prices surged 13.82% during the year to Q3 2020, in inflation-adjusted terms. Though quarter-on-quarter, house prices actually declined 6.72% in Q3 2020.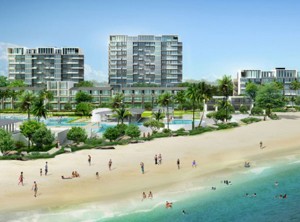 Demand and supply improving
Sales events are starting to pick up again recently after COVID-19 related social gathering and travel restrictions were eased. Sales totalled 4,975 units in Q3 2020, with the Vihomes Origami accounting for more than half of total sales, according to JLL Vietnam.
Likewise, supply in HCMC continued to improve, with official launches rising by 30% q-o-q to 4,968 units in Q3 2020.
Rents, rental yields: yields are moderately good at 5%
The average rent for apartments in HCMC was $1,214.
Vietnam: typical city centre apartment buying price, monthly rent (120 sq. m)
Buying price
Rate per month
Yield
Hanoi
$180,000
$1,315
5.50%
Ho Chi Minh City
$252,000
$1,214
4.45%
Recent news: The Vietnamese economy grew by 2.62% in Q3 2020 from a year earlier, an improvement from the previous quarter's miniscule growth of 0.39%, as economic activity is now gradually returning to normal, after loosening health safety measures to contain the spread of the virus, according to the country's General Statistics Office. Recently, the IMF forecasts that Vietnam's economic growth will slow to 1.6% this year, down from 2019's robust growth of 7%.