Nominal house prices up 27.5% in HCMC, 4.9% in Hanoi during the year to Q2 2020
In Ho Chi Minh City, apartment prices surged 27.5% in Q2 2019 from a year earlier, to an average of US$2,582 per sq. m, according to Jones Lang La Salle Vietnam. Likewise in Hanoi, the capital, the average price of apartments rose by 4.9% y-o-y to US$1,493 per sq. m. in Q2 2020.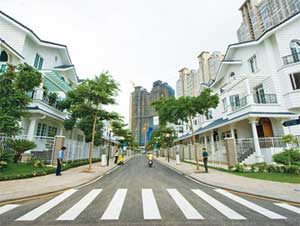 Demand and supply were falling
Due to the coronavirus pandemic and the subsequent restrictions imposed, housing activity were down during Q2 2020. In HCMC, apartment sales fell by 74% y-o-y in Q2 2020 while it dropped 43% in Hanoi, according to Savills Vietnam.
Likewise, supply plunged 64% y-o-y in HCMC and by 6% in Hanoi over the same period.
However, sales events are starting to pick up again recently after COVID-19 related social gathering and travel restrictions were eased.
Rents, rental yields: yields are moderately good at 5%
The average rent for apartments in HCMC was $1,214.
Vietnam: typical city centre apartment buying price, monthly rent (120 sq. m)
Buying price
Rate per month
Yield
Hanoi
$180,000
$1,315
5.50%
Ho Chi Minh City
$252,000
$1,214
4.45%
Recent news: The Vietnamese economy grew by a miniscule 0.36% in Q2 2020 from a year earlier, a sharp deceleration from the prior year's 6.73% growth, as economic activity was hampered by the coronavirus outbreak, according to the country's General Statistics Office. It was the slowest y-o-y expansion since the series began in 2000.
Recently, the IMF forecasts that Vietnam's economic growth will slow to 2.7% this year, down from 2019's robust growth of 7%. However, Prime Minister Nguyen Xuan Phuc still targets a growth above 5% this year.