House prices in Kiev were down 6.11% during the year to Q3 2022
Secondary market apartment prices in Kiev fell by 6.11% (inflation-adjusted) during the year to Q3 2022 with an average price of US$ 1,112 per square metre (sq. m.), following y-o-y contractions of 6.43% in Q2 2022, 5.67% in Q1 2022, 3.09% in Q4 2021, and 1.37% in Q3 2021. On a quarterly basis, real house prices fell by 0.79% in Q3 2022.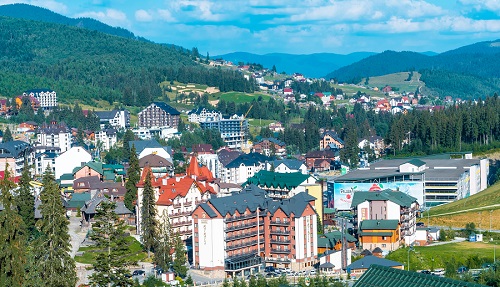 Gloomy outlook
Ukrainian house prices are expected to continue falling sharply in the medium term, amidst the ongoing Russia-Ukraine crisis. The war resulted to Europe's fastest-growing refugee crisis since World War II, with more than 6.7 million Ukrainians fleeing the country and a third of the population displaced.
Ukraine's house prices have been generally falling in the past eight years, particularly in 2014 because of hryvnia devaluation due to the Russian war. Currently, house prices are about 77% (inflation-adjusted) below their Q3 2008 peak of US$3,627 per sq. m, according to S&V Development.
Rents, rental yields: moderate yields in Kiev at 5.44%
Ukraine: city centre apartment buying price, monthly rent (2-BR apartments)
Buying price
Rate per month
Yield
Kiev
$61,029 - $281,670
$203 - $1,033
4% - 6.5%
Recent news. Ukraine's economy grew by 3.4% y-o-y in 2021, following a 3.8% contraction in 2020, thanks to robust agriculture and retail sectors. However, outlook is now very pessimistic, after Russia launched a military operation in Ukraine. Both the International Monetary Fund (IMF) and the World Bank project the Ukraine economy to plummet by 35% during 2022. Critical export routes via the country's Black Sea ports in Odessa and Mariupol have been interrupted. Odessa is under blockade by Russian naval forces while Mariupol has been devastated by Russian bombardment.
While there had been tensions between the two countries for a long time, the situation started to get out of control last year when Ukrainian President Volodymyr Zelensky urged the U.S. to let Ukraine join North Atlantic Treaty Organization (NATO). A NATO membership will guarantee Ukraine that the alliance will defend it against Russia and other adversaries. Yet this is not the first time that Russia-Ukraine tensions have reached a boiling point. In 2014, Russia invaded and subsequently annexed Crimea from Ukraine.