Inflation-adjusted house prices were up by 3.24% during the year to Q2 2022
The UK's housing market is showing signs of cooling, amidst slowing economic growth. Real house prices rose by a modest 3.24% y-o-y in Q2 2022, a sharp slowdown from the annual growth of 8.07% in Q2 2021. Quarter-on-quarter, real house prices increased slightly by 0.1% during the latest quarter.
Yet in nominal terms, UK house prices actually rose by a huge 11.43% during the year to Q2 2022, amidst soaring inflation. Nationwide inflation increased to 10.1% in July 2022 – the highest reading since February 1982.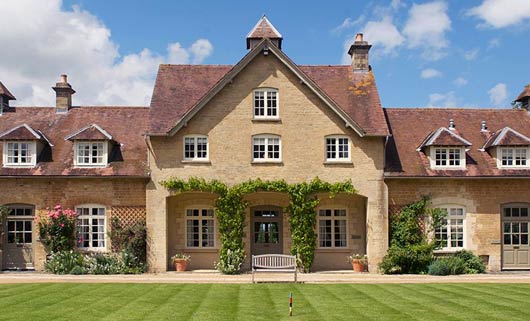 Demand and construction activity falling
Residential property transactions (seasonally-adjusted) in the UK fell by 26.8% y-o-y to 637,710 units in the first half of 2022, following a 42.4% growth during 2021, according to HM Revenue & Customs. In England, which accounts for more than three-fourths of all transactions, residential property sales dropped 30.3% to 501,430 units in H1 2022 from a year earlier.
Despite slowing demand, the UK's chronic housing shortage continues to drive the country's continued house price growth, aggravated by a decline in residential construction activity in the past two years due to coronavirus-related restrictions. The government aims to build 300,000 new homes every year but in 2021, there were only 216,490 new additional dwellings in England, down 11% from a year earlier, according to the Ministry of Housing, Communities & Local Government.
Rents, rental yields: London yields are poor, at around 2.6%
London apartment costs are very expensive, at €18,057 per sq.m.
UK: typical city centre apartment buying price, monthly rent (120 sq. m)
Buying price
Rate per month
Yield
London (Prime Central
$2,166,840
$4,715
2.61%
Recent news. The UK economy grew by a modest 2.9% in Q2 2022 from a year earlier, a sharp slowdown from the previous quarter's 8.7% year-on-year expansion. In fact, on a quarterly basis, the economy contracted slightly by 0.1% during Q2 2022, according to the Office for National Statistics (ONS), mainly due to falling household consumption caused by elevated inflation and higher interest rates.
Economic growth is projected at a modest 3.2% this year, following a strong growth of 7.4% in 2021 and a historic plunge of 9.3% in 2020, according to the International Monetary Fund (IMF).
In August 2022, the Bank of England (BoE) raised its key rate by another 50 basis points to 1.75%, its sixth consecutive rate hike since December 2021, in an effort to meet its inflation target of 2%. It is now the highest level since December 2008.