Inflation-adjusted house prices were down by 0.58% y-o-y in 2019
House prices in UK are still rising, though not in inflation-adjusted terms. The average UK house price rose slightly by 0.82% (but actually dropped 0.58% when adjusted for inflation) to £215,925 (US$ 279,380) in 2019 from a year earlier, based on the figures from Nationwide. Last year was actually the country's weakest performance since 2012. Quarter-on-quarter, real house prices were down slightly by 0.59% during the latest quarter.
London remains the worst-performing region during 2019, with house prices falling by 1.85% (-3.21% inflation-adjusted), followed by Outer South East (-1.01%). Some high-end London districts have experienced significant price-falls.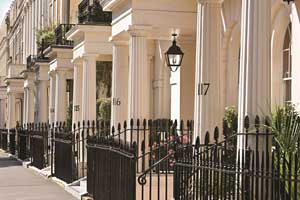 Demand continues to fall
Nationwide residential property transactions of £40,000 or above fell by 1.4% to 1,174,240 units in 2019 from a year earlier, following declines of 2.3% in 2018 and 1.2% in 2017, according to the HM Revenue & Customs. Demand is expected to remain weak this year, as buyers take a "wait-and-see" approach amidst volatile political and economic environment post-Brexit deal.
Residential construction activity is mixed. During the first three quarters of 2019, dwelling starts fell by 7.8% y-o-y to 121,380 units while completions rose by 11.7% to 130,070 units, according to the Ministry of Housing, Communities & Local Government.
Rents, rental yields: London yields are poor, at around 2.6%
London apartment costs are very expensive, at €18,057 per sq.m.
UK: typical city centre apartment buying price, monthly rent (120 sq. m)
Buying price
Rate per month
Yield
London (Prime Central
$2,166,840
$4,715
2.61%
Recent news. The UK economy grew by 1.4% in 2019 from a year earlier, marginally higher than the 1.3% growth recorded in 2018, according to the Office for National Statistics (ONS). The Bank of England (BoE) projects growth of just 0.8% this year, before gradually improving to about 1.5% in 2021. In January 2020, the BoE held its key rate unchanged at 0.75%, after raising it by 25 basis points in August 2018. It was the highest level since February 2009.
On January 31, 2020, the UK officially left the European Union (EU), after a referendum vote less than four years earlier. Though, the country continues with its current trading arrangements until the end of 2020.