Real house prices up 7.47% y-o-y in Q2 2022
The Netherlands' house price boom continues unabated, buoyed by record low interest rates, and with supply unable to keep up with strong demand. The average purchase price of all dwellings continues to increase by 7.47% during the year to Q2 2022, following y-o-y increases of 8.9% in Q1 2022, 13.83% in Q4 2021, 15.33% in Q3, 12.29% in Q2 and 9.22% in Q1. On a quarterly basis, house prices increased 2.75% during the latest quarter.
Home sales falling amidst supply shortages
In the first seven months of 2022, the number of dwellings sold fell by 22.2% y-o-y to 107,722 units, following a 4% decline in 2021 and 7.7% growth in 2020, according to Statistics Netherlands (CBS).
The Dutch housing market remains tight. According to realtors' association NVM, a potential homebuyer typically chooses between fewer than two residential properties and there is frequent outbidding – signs of market tightness. In the second quarter of 2022, 80% of all homes sold went for more than the asking price.
In Q2 2022, there were about 25,332 homes available for sale, up by 42% from a year earlier, according to NVM. However, the housing shortage in the Netherlands persists, with an estimated shortfall of about 200,000 units this year.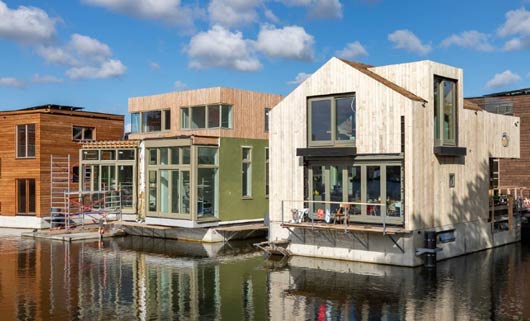 Rents, rental yields: attractive yields for a developed economy at 3.7% to 6.4%
Amsterdam apartment costs are around €6,900 per sq. m.
Netherlands: typical city centre apartment buying price, monthly rent (120 sq. m)
Buying price
Rate per month
Yield
Amsterdam
€ 828,240
€ 2,569
3.72%
The Hague
€ 438,360
€ 2,050
5.61%
Recent news: The Dutch economy grew by 5.3% in Q2 2022 from a year earlier, following y-o-y expansions of 6.7% in Q1 2022 and 6.2% in Q4 2021, buoyed by strong housing consumption, investments and net exports, according to the CBS. On a quarterly basis, the economy expanded by 2.6 in Q2 2022.
Despite this, the European Commission has recently downgraded again its 2022 growth projections for the Netherlands to a modest 3%, from its earlier estimate of 3.3%, due to surging inflation, exacerbated by the war in Ukraine. The Dutch economy grew by 5% during 2021, following a 3.8% contraction in 2020, mainly driven by a strong rebound in household consumption and exports, as well as public consumption and investments.