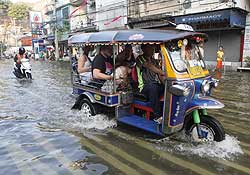 Trend: house prices rose by 3.58% y-o-y in 2018
Nationwide house prices rose by 3.58% during 2018, a slight improvement from the prior year's 3.16% growth. House prices increased by a miniscule 0.1% q-o-q in Q4 2018.
Analysis: Demand and supply are both rising
During the first eleven months of 2018, nationwide land and building transactions rose by 8.3% y-o-y to about THB 1.01 billion (US$ 32.51 billion), according to the Bank of Thailand (BoT). Likewise, property credit outstanding also increased 7.2% to THB 2.9 trillion (US$ 93.13 billion) from the same period last year.
Residential construction activity is surging. Nationwide condominium registrations rose sharply by 36.4% to 94,544 units in the first eleven months of 2018 from a year earlier, according to BoT.
Rents, rental yields: yields are good in Bangkok at 8.05%
Bangkok apartment costs are moderate, at around $3,638 per sq. m.
Thailand: city centre apartment, buying price, monthly rent (120 sq. m)
Buying price
Rate per month
Yield
Bangkok
$436,560
$1,837
8.05%
Recent news. Thailand's economy expanded by 4.1% in 2018 from a year earlier, the fastest pace in six years, thanks to stronger domestic demand, according to the National Economic and Social Development Board. In 2019, the economic growth is expected between 3.5% and 4.5%.