House prices up 5.69% y-o-y in Q1 2020
Nationwide house prices rose by 5.69% in Q1 2020 from a year earlier, an improvement from the previous year's 2.21% increase and the biggest growth since Q1 2018. House prices increased 3.13% q-o-q during the latest quarter.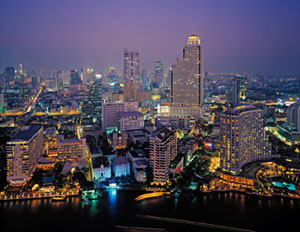 Demand and supply rising
In Q1 2020, the total amount of property credit outstanding was up 5% y-o-y to THB 3.15 trillion (US$ 99.33 billion), following an annual rise of 5.2% in 2019, according to the Bank of Thailand (BoT).
Likewise, residential construction activity is now surging. Nationwide condominium registrations rose sharply by 47.6% to 22,202 units in Q1 2020 compared to a year earlier, according to the BoT. In Bangkok Metropolis, condo registrations surged 122.3% y-o-y to 15,395 units over the same period.
Rents, rental yields: yields are good in Bangkok at 8.05%
Bangkok apartment costs are moderate, at around $3,638 per sq. m.
Thailand.: city centre apartment, buying price, monthly rent (120 sq. m)
Buying price
Rate per month
Yield
Bangkok
$ 436,560
$ 1,837
8.05%
Recent news. Thailand's economy contracted by 1.8% in Q1 2020 from a year earlier, the deepest decline since Q4 2011 – pushing the country into recession, as the pandemic hit domestic activity and tourism. As such, the National Economic and Social Development Council (NESDC) recently slashed its forecast for 2020 to a contraction of 5% to 6%, from its earlier projection of a growth of 1.5% to 2.5%.
In May 2020, the Bank of Thailand cut its benchmark rate by 25 basis points to a record low of 0.5%, the third consecutive rate cut this year in an effort to minimize the economic repercussions from the coronavirus pandemic.