House prices up 8.16% y-o-y in Q2 2020
Nationwide house prices rose strongly by 8.16% in Q2 2020 from a year earlier, a sharp improvement from the previous year's 2.44% increase and the biggest growth since Q3 2013. House prices increased 2.38% q-o-q during the latest quarter.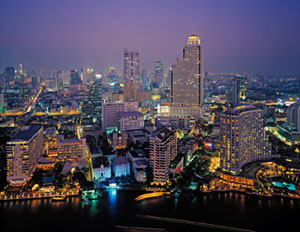 Demand and supply rising
In May 2020, the total amount of property credit outstanding was up 6.1% y-o-y to THB 3.22 trillion (US$ 102.39 billion), following an annual rise of 5.2% in 2019, according to the Bank of Thailand (BoT).
Likewise, residential construction activity is now surging. Nationwide condominium registrations rose sharply by 33.6% to 32,443 units in the first five months of 2020 compared to a year earlier, according to BoT. In Bangkok Metropolis, condo registrations surged almost 80% y-o-y to 21,792 units over the same period.
Rents, rental yields: yields are good in Bangkok at 8.05%
Bangkok apartment costs are moderate, at around $3,638 per sq. m.
Thailand.: city centre apartment, buying price, monthly rent (120 sq. m)
Buying price
Rate per month
Yield
Bangkok
$ 436,560
$ 1,837
8.05%
Recent news. Thailand's economy contracted by a whopping 12.2% in Q2 2020 from a year earlier, following a 2% decline in Q1, as the COVID-19 pandemic hit domestic activity and tourism. It was the biggest contraction since the 1998 Asian Financial Crisis. As such, the National Economic and Social Development Council (NESDC) recently slashed its 2020 economic forecast to a contraction of 7.3% to 7.8%, from an earlier estimate of a 5% to 6% decline.
In August 2020, the Bank of Thailand left its benchmark rate unchanged at a record low of 0.5%, following three consecutive rate cuts this year, in an effort to minimize the economic repercussions from the coronavirus pandemic.