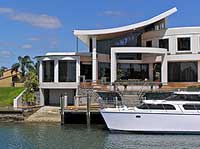 Stricter lending restrictions could reduce borrowing power of Australian home buyers by as much as 35% - pricing a large number of people out of the housing markets, according to UBS Group AG analysts.
The result could be a steep price correction at a time when the major markets in Australia, including Sydney and Melbourne, are already experiencing a slowdown.
The housing boom in Australia owes a lot to easy availability of credit to homebuyers. To make it easier for borrowers to meet lending standards, lenders have relied on unrealistically low estimates of homebuyers' living expenses. This has artificially increased the loan-to-income ratio, enabling a large number of people to buy homes which they would not otherwise have been able to afford, had the banks followed the underwriting norms strictly.
But the Central Bank of Australia is now forcing banks to follow underwriting norms strictly and has imposed many new restrictions to safeguard the mortgage industry in case the interest rates rise. It will reduce borrowing power of a large part of the population in Australia.
Banks have already started falling in line with the new restrictions. According to Bloomberg, Westpac Banking Corp. said it would now require a more detailed breakdown of borrowers' spending and existing debts.
"Commonwealth Bank of Australia now captures 11 categories of expenses from would-be borrowers. National Australia Bank Ltd. last year started automatically declining mortgage applications with higher loan-to-income ratios. Australia & New Zealand Banking Group Ltd. in December "significantly increased" the number of questions about spending to mortgage applicants, and will start to do the same of credit cards and personal loans," noted a report in Bloomberg.