House prices up by a miniscule 0.7% y-o-y in Q3 2020
Singapore's real house prices rose by 0.7% during the year to Q3 2020, following annual rises of 1.74% in Q2, and 2.4% in Q1. On a quarterly basis, house prices increased slightly by 0.18% during the latest quarter.
Nationwide house prices rose by 12% (inflation-adjusted) from 2016 to 2019, after falling by almost 10% in the three previous years.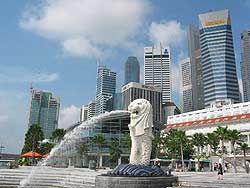 Demand rising again; supply is steady
In Q3 2020, total home sales, which include new sales, sub-sales and resales, surged 22.3% y-o-y to 7,047 units, following a plunge of 44.1% in the previous quarter, according to the Urban Redevelopment Authority (URA). Despite the sharp improvement in Q3, total homes sales in the first nine months of 2020 were down by 2% y-o-y to 13,980 units, after falling by 13.5% in 2019 and 11.5% in 2018.
There was a 6.2% vacancy rate in Singapore in Q3 2020, sharply up from 5.4% the previous quarter, with a total of 375,156 housing units available in Singapore (up only 0.1% from the previous quarter) of which 351,985 units are occupied, while the remaining 23,171 units are available, according to URA.
Rents, rental yields: yields are poor in Singapore at 3.3%
Singapore apartment costs are high, at around $14,373 per sq. m.
Singapore: typical city centre apartment buying price, monthly rent (120 sq. m)
Buying price
Rate per month
Yield
Singapore
$1,724,760
$4,736
3.30%
Recent news. Singapore's economy shrank by 5.8% year-on-year in Q3 2020, following a massive contraction of 13.3% in Q2 and another 0.3% in Q1, as the coronavirus crisis took a huge toll. On a seasonally-adjusted quarterly basis, the economy grew by 9.2% in Q3, the highest growth on record, after a 13.2% slump in the previous quarter.
The Ministry of Trade and Industry (MTI) expects the economy to contract by about 6% to 6.5% this year, before bouncing back with around 4% to 6% growth in 2021.