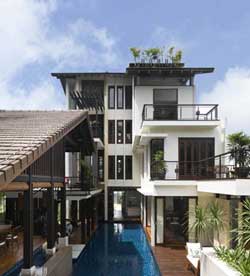 Another round of tighter property measures had been put in place by Singapore, which has been the seventh time since 2011.
Deputy Prime Minister and Minister for Finance Mr. Tharman Shanmugaratnam says in an issued statement that the new measures will avoid a more serious correction in prices, especially at a time of low interest rates and the current market trends.
"The new property measures will ensure that housing will remain affordable to Singaporeans," notes National Development Minister Khaw Boon Wan as he estimates the completion of private and public housing that would add some 200,000 units in the medium term.
Property analysts point out that the measures will have significant impact on Singaporeans acquiring their first home. Concessions are, however, given to married couples with at least one Singaporean spouse selling their first home for a second property.
These new ABSDs and loan rules are significant, but they are temporary. They are being imposed to cool the market now, and will be reviewed in future depending on market conditions.

Mr. Shanmugaratnam adds that the new rules will be temporary and subject to review upon prevailing market trends.
The full list of measures released in a joint statement by the Ministry of Finance, Ministry of National Development, the Monetary Authority of Singapore and Ministry of Trade and Finance.
Measures Applicable to all Residential Property

The following measures will take effect on 12 January 2013:

a) Additional Buyer's Stamp Duty (ABSD) rates will be:

i) Raised between five and seven percentage points across the board.
ii) Imposed on Permanent Residents (PRs) purchasing their first residential property and on Singaporeans purchasing their second residential property.

b) Loan-to-Value limits on housing loans granted by financial institutions1 will be tightened for individuals who already have at least one outstanding loan, as well as to non-individuals such as companies.

c) Besides tighter Loan-to-Value limits, the minimum cash down payment for individuals applying for a second or subsequent housing loan will also be raised from 10% to 25%.

The measures listed above will not impact most Singaporeans buying their first home. Some concessions will also be extended to selected groups of buyers, such as married couples with at least one Singaporean spouse who are purchasing their second property and will sell their first residential property.

Measures Specific to Public Housing

The Government is also introducing measures to further moderate the demand for HDB flats, instil greater financial prudence among buyers, and require owner occupation by PR buyers. The following measures will take effect on 12 January 2013:

a) Tighter eligibility for loans to buy HDB flats:

i) MAS will cap the Mortgage Servicing Ratio (MSR) for housing loans granted by financial institutions at 30% of a borrower's gross monthly income.

ii) For loans granted by HDB, the cap on the MSR will be lowered from 40% to 35%.

b) PRs who own a HDB flat will be disallowed from subletting their whole flat.

c) PRs who own a HDB flat must sell their flat within six months of purchasing a private residential property in Singapore.

An additional measure will take effect on 1 July 2013 to tighten the terms for granting HDB loans and the use of CPF funds for the purchase of HDB flats with remaining leases of less than 60 years.

Measures for Executive Condominium Developments

The Government will introduce measures specific to new EC developments to ensure that ECs continue to serve as an affordable housing option for middle-income Singaporean families.

The following measures will take effect on 12 January 2013:

a) The maximum strata floor area of new EC units will be capped at 160 square metres.

b) Sales of new dual-key EC units will be restricted to multi-generational families only.

c) Developers of future EC sale sites from the Government Land Sales programme will only be allowed to launch units for sale 15 months from the date of award of the sites or after the physical completion of foundation works, whichever is earlier.

d) Private enclosed spaces and private roof terraces will be treated as gross floor area (GFA). The GFA of such spaces in non-landed residential developments, including ECs, will be counted as part of the 'bonus' GFA of a residential development and subject to payment of charges. This is in line with the treatment of balconies under URA's current guidelines. Details of this measure are at www.ura.gov.sg/circulars/text/dc13-01.htm.