House prices were up 9.48% y-o-y in Q1 2022
Romania's housing market is growing strongly again, amidst improving economic conditions. The average selling price of apartments in Romania rose by 9.48% in Q1 2022 from a year earlier, a sharp turnaround from a y-o-y decline of 3.28% in Q1 2021. On a quarterly basis, Romanian real house prices fell by 0.6% in Q1 2022.
Real house prices increased by more than 40% from 2015 to 2021, which is equivalent to an average growth of 6.7% annually. Romania's strong performance in recent years (with an exception of 2020 where real prices rose by less than 1%) is a rebound from previous dramatic falls. From 2007 to 2014, house prices plunged by almost 70%. It was only in 2015 that the housing market began to recover.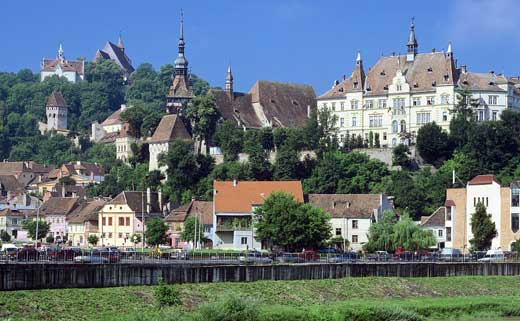 Demand is rising; residential construction recovers strongly
In Q1 2022, the total number of properties sold nationwide rose by 12.8% y-o-y to 72,123 units, following annual growth of 15.6% during 2021 and 11.6% in 2020, according to the National Agency for Cadastre and Land Registration (NACLR).
Residential construction is rising strongly again. In 2021, the total number of residential building permits in Romania surged 24.1% y-o-y to 51,287, following a 2.9% decline in 2020, according to the National Institute of Statistics (INS). Likewise, the area of residential building permits issued increased 15.3% y-o-y to 12.09 million sq. m. over the same period, after falling by 4.4% last year.
Rents, rental yields: good yields at 6.07%
Bucharest apartment costs are low, at around €1,591 per sq. m.
Romania: typical city centre apartment buying price, monthly rent (120 sq. m)
Buying price
Rate per month
Yield
Bucharest
€ 190,920
€ 966
6.07%
Recent news: Romania's economy expanded by 6.5% year-on-year in Q1 2022, accelerating sharply from 2.4% growth the previous quarter, amidst an easing of Covid-19 measures, based on flash estimate released by INS. During 2021, the economy grew by 5.9%, a rebound from a 3.7% contraction in 2020.
Despite this, the World Bank has recently revised downwards its 2022 growth forecast for Romania to 1.9%, from its initial estimate of 4.3% growth, amidst heightened risks brought by increased inflationary pressures, supply disruptions, and the Ukraine crisis.