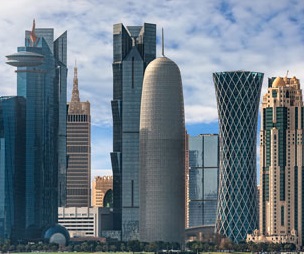 Trend: Qatar's house price fell 2.24% y-o-y in 2018
Qatar's housing market remains depressed, amidst a sharp economic slowdown and the adverse impact of the diplomatic crisis. The nationwide real estate price index dropped 2.24% during 2018, after last year's 10.42% y-o-y decline. Property prices fell slightly by 0.22% q-o-q during the latest quarter.
Analysis: demand is rising again.
Nationwide real estate transactions reached QAR 17 billion (US$4.67 billion) in the first nine months of 2018, up 14% from a year earlier, according to consulting firm ValuStrat.
A new draft law for foreign real estate ownership is expected to buoy property demand in Qatar, as well as increase foreign direct investment.
Rents, rental yields: no yields data is available in Qatar.
Recent news. The Qatari economy was estimated to have expanded by a modest 2.4% last year, from annual average growth of 2.1% in 2016-17, 4.2% during 2012-15, and 15.7% in 2008-11, according to the International Monetary Fund (IMF).
The quarrel between Qatar and the Saudi-dominated Gulf is worrying. Qatar's politics are more liberal, and this irritates the Saudis, who want to control the region on the model of their highly repressive regime. To date, there is no sign that either side will compromise. In fact in surprise move in December 2018, Qatar ended its nearly 60-year membership of the Organisation of the Petroleum Exporting Countries (OPEC) – the oil cartel dominated by Saudi Arabia.