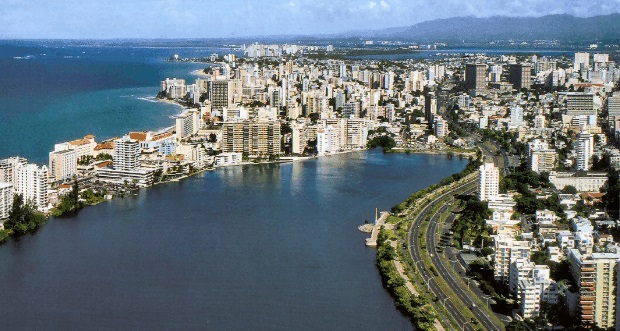 Trend: house prices up 3.88% y-o-y in Q2 2018
Puerto Rico's seasonally-adjusted (and inflation-adjusted) purchase-only house price index increased modestly by 3.88% during the year to Q2 2018, a sharp slowdown from y-o-y rises of 7.68% in Q1 2018 and 9.56% in Q4 2017 (which were rebounds from annual declines of 7.57% in Q3 2017 and 10.68% in Q2 2017). Quarter-on-quarter, house prices dropped 6% during the latest quarter.
The rebound in house prices is surprising given the country's economic woes, high unemployment, massive emigration, and a near-catastrophic national debt crisis and credit rating downgrades.
Analysis: Puerto Rico's latest economic downturn has lingered longer than any previous depression.
GDP has contracted every year from 2005 to 2017, except 2012 when the economy grew by a miniscule 0.03%, based on figures from the IMF.
Puerto Rico has lost about 20% of its jobs since 2007. The population has shrunk by about 10%. The poverty rate is now at 45%. Public health and retirement systems are now insolvent. Puerto Rico filed for bankruptcy protection in May 2017, unable to pay its massive debt or provide its citizens effective services.
The housing market has suffered tremendously. After huge annual house price increases in the early 2000s, the housing market came crashing down in 2008. Prices have dropped 39% in real terms from 2007 to Q2 2017.
Rents, rental yields: no yields data available for Puerto Rico.
Recent news. After a sharp contraction of 7.7% in 2017, Puerto Rico's economy is expected to shrink further by 3.6% this year and by 1.2% in 2019, according to the IMF.