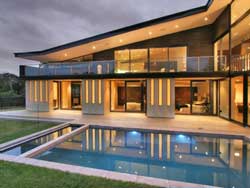 The deadly earthquakes that wrecked havoc on Christchurch City in New Zealand has altered the outlook on property development in the entire country as developers and government authorities cautiously proceed with projects.
Reports from New Zealand's property valuations company Quotable Value Limited (QV) said the property industry is keeping a positive yet cautious outlook in terms of prices given the population in the area continues to grow in spite a weak building activity.
In Auckland, property values are likely to increase primarily due to the lack of new listings for quality properties, thus, keeping supply below demand, QV said.
The report added that in Christchurch, the reconstruction of the city and new property developments are still dependent on "the re-zoning of properties to red or green, decisions on the nature and timing of CBD redevelopment, and of course any further significant earthquake events."
Values in Hamilton, Tauranga are likely to stay fairly stable, and whether values continue to rise in Wellington and Dunedin is difficult to pick.
"The property markets in the provincial and rural areas are heavily dependent on the strength of the local economies in those areas. A strong rural sector typically has a positive impact on the property values in towns supporting those areas, likewise the coming or going of large local industries can have a significant impact," the report said.
It further indicated that while business and consumer confidence seems to be on the rise, there is still some concern about the financial situation in Europe, and what may happen to the New Zealand economy if events there take a turn for the worse.
Quotable Value Limited (QV) is New Zealand's largest valuation and property information company. It operates from 22 offices throughout New Zealand and has subsidiary companies in three states of Australia.
2011 Residential Property Values
New Zealand residential property values continued to gradually increase in 2011, rising 2.4% over the past twelve months, according to the latest QV index.
Values in Auckland were 4.3% better than a year earlier and underpinned the nationwide gains as a lack of new listings and good housing for sale stoking demand for quality properties, the valuations company said.
"Despite national values moving upwards during the year, the property market continued to be characterised by lower than-normal sales volumes," said research director Jonno Ingerson.
He noted that first home buyers return to the market in 2011, encouraged by low interest rates.
Overall the property market spent much of last year in decline as households used record low interest rates to focus on repaying debt rather than take out a new mortgage, keeping a damp on the number of properties sold and encouraging owners to hold off selling.
Additional source: ibtimes.com