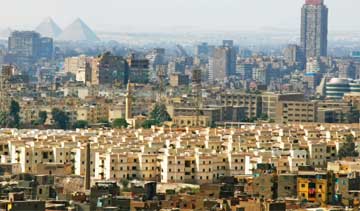 Egypt has been trying hard to put the confidence back to its economy since the revolution that ousted Hosni Mubarak, but investors are still demanding more from current government authorities.
The painstaking transition from the ousted regime of Mr Mubarak had been slow and concrete changes are yet to be seen in no less than six months, said Credit Suisse director for investment banking, Michael Katounas during the CityScape Real Estate Summit in Cairo early this week.
Mr Katounas said that although the unique fundamentals of Egypt remain, the perception of peace and stability are still yet to be seen.
He noted that only after perceived or real risks associated to the political climate calm down will long term investments pour in. He estimated that this may occur by the first quarter of 2013.
Karim Helal, board member of CI Capital Holding, noted that Egypt is also competing against Turkey and Eastern Europe in terms of seeking investments and the country needs to resolve its prevailing laws on contracts.
Egypt has been mired in the revocation of real estate contracts because some properties were severely undervalued due to the previous government's corruption.
Daniel Broby, chief investment officer of Silk Invest added that the new government must do away with negotiated settlements instead of going through court or arbitration that gives the wrong impression on transparency.
Egypt's Housing Minister Fathy El-Baradei said in an earlier forum but still part of the CityScape Real Estate Summit that there is indeed a slowdown in terms of property contruction and sales in 2011, but assured that prices had not changed.
Egypt's ruling military council, who resumed power after Mr. Mubarak's ouster, has been criticized for mismanagement and a slow transition process that so far has further eroded the country's economic growth and potential.
Source: Daily Egypt News