Prices of 3-bedroom condominium units in Makati CBD down 16.11% during 2020
The Philippines' housing market is now struggling, amidst coronavirus-induced economic downturn. The average price of 3-bedroom condominium units in Makati CBD plummeted by 16.11% during 2020, far worse than the previous year's 1.03% fall. In fact it was the worst performance since 1998. Quarter-on-quarter, house prices in the CBD fell by 8.7% in Q4 2020.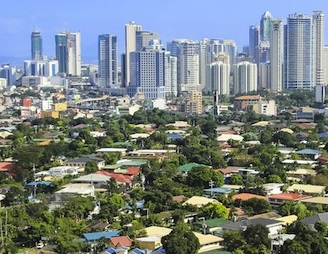 House price boom
The Philippines experienced a house price boom from 2010 to 2018, with Makati CBD prices rising by more than 132% (76% inflation-adjusted) due to strong demand and rapid economic growth. But with a slowing domestic economy, coupled with the US-China trade war, the housing market slowed sharply last year, with real house prices falling by 1%. Worse, the coronavirus pandemic has derailed a much-awaited housing recovery last year.
Rents, rental yields; good yields at 6.13%
Metro Manila apartment costs are moderate, at around $3,952 per sq. m.
Philippines: typical city centre apartment buying price, monthly rent (120 sq. m)
Buying price
Rate per month
Yield
Metro Manila
$474,240
$2,422
6.13%
Recent news: The Philippine economy shrank by a huge 9.5% in 2020 from a year earlier, its biggest contraction since the Philippine Statistics Authority (PSA) started collecting data in 1946, as the COVID-19 pandemic crippled consumer spending and business activity. The economy grew strongly by an average of 6.4% annually from 2010 to 2019.
The IMF expects the Philippine economy recover this year, with a projected real GDP growth of 6.6%.
The Philippines has the second highest number of COVID-19 cases and deaths in the Southeast Asian region.