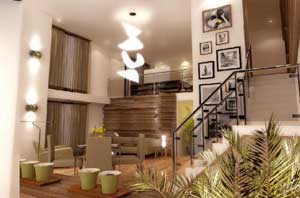 The continuing growth of the Philippine property market towards 2013 will heavily rely on overseas and domestic workers taking advantage of low interest rates and the brimming projects left and right.
Real estate services firms CBRE Philippines and Colliers Philippines said in separate reports that there no signs of slowing down for the local real estate sector with commitments for office and residential pieces of property already coming in the next two to four years.
While benchmark interest rates remain low at 5.25%, buyers comprised of middle-income households and families with relatives working overseas are drawn to the competitive residential prices offered by real estate developers during pre-selling stages, CBRE executive director-general for global research and consultancy Victor Asuncion noted.
Other Various indicators cited by CBRE Philippines cited in a press briefing include the very tight vacancy rates of commercial spaces in key cities Quezon City, Alabang, Fort Bonifacio in Taguig, Ortigas, and Makati City.
CBRE said that the lowest vacancy rate is being experienced in Quezon City with 0.46% and Alabang with 0.61%. Fort Bonifacio has 2.18% vacancy rate, Ortigas with 7.54% and Makati with 5.83%.
Colliers Philippines, on the other hand, cited the increasing land values that it estimated to grow an average 4 to 5% until year-end in urban cities Makati and Ortigas, but singling out the 20% jump in land values in the Fort Bonifacio mixed commercial and residential development in Taguig City.
"Land in Fort Bonifacio grew 20% YoY to PHP192,575 per sq m. The same is seen to breach the PHP200,000 per sq m level by next quarter. Despite the limited availability of lots, secondary market prices may drive average accommodation values to break the PHP20,000 per sq m level in the next 12 months," Colliers Philippines said in a research and forecast paper for the second quarter of 2012.
Joey Rodovan, CBRE Philippines vice chairman, said in press briefing Monday that there is pipeline of new projects good for four years.
In the residential markets, CBRE mentioned that condominium sales in Davao, Iloilo, and Cebu are now in step with Manila's rates and prices.