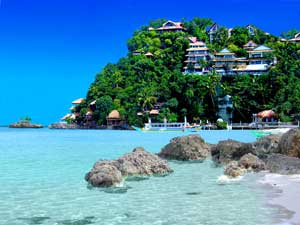 Properties in the Philippines are still considered undervalued compared to that of other Southeast Asian countries, Indonesia and Thailand.
Thus, of late Philippine real estate had drawn more property buyers from China and Hong Kong, who would want to capitalise on this considerable scope for capital growth, notes property developer Mr. Marco Biggiogero, who invested in a new residential resort development in Boracay Island, 345 kilometres, south of Manila.

"The Philippines is currently priced significantly below Thailand and Indonesia so there is considerable scope for capital growth. This represents great value," he tells the South China Morning Post
Mr. Biggiogero is explaining the recent growth among Chinese mainland and Hong Kong investors drawn to Philippine properties especially those in prominent addresses in the Makati business district.
Luxurious residential properties in Makati City led by the newly constructed Raffles Residences built by Ayala Land Inc. were gobbled up by Hong Kong and other mainland Chinese investors, according to Colliers International Philippines associate director Mr. Julius Guevarra.
The Global Property Guide Research notes that that aside from the stringent property measures in China and Hong Kong, Philippine real estate presents better yields for rental properties hitting within the range 6 to 8% a year, while prices are on a gradual growth based mainly on inflation and not on market speculation.
The Philippines is one of the few countries in Asia with decent economic growth amidst stable economic fundamentals such as very low interest rates.
Instead of imposing capital controls, the central bank of the Philippines went for low interest rates in deterring inflows.
"We plan to reference real-estate exposure to adjusted capital of banks," Bangko Sentral ng Pilipinas Governor Amando Tetangco Central bank governor Amando Tetangco says in an emailed statement to Bloomberg.