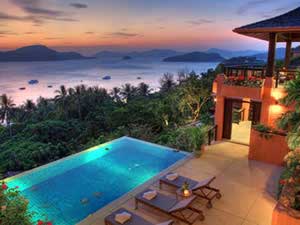 Thailand has become an international tourist hot spot catering for backpackers and luxury travellers and everyone in-between. Some travel there once in a lifetime, others go every year and some even manage to buy property there. Many others want to but it isn't easy.
Because foreigners are prohibited to own land in Thailand, what other options are offered to partake of this lucrative market?
Marry a Thai

One route is to marry a Thai national or to have someone you really trust, like an adult Thai son or daughter buy the property in their name. The property remains in the Thai national's name so the pitfalls of that system are obvious.
In theory, a foreigner married to a Thai national may as a statutory heir with approval of the Minister of Interior inherit land. This must be done in strict accordance with any of the numerous land acts and property ownership laws and the inheritor must dispose of the land within one year of acquisition.
Buy a condo
You can buy a condominium in Thailand. Units in a condominium registered under the Thailand Condominium Act can be foreign owned for up to 49% of the units in floor space that is not more than 49% of the total floor area of all apartment units added together in a condominium building can be foreign owned, the remaining 51% must be owned by Thai national.

Buy through a company
Until the new government took over in the recent coup, foreigners could take possession of houses and the land under them using a "shell company". Though not technically legal, the government, anxious to encourage investment in Thailand, turned a blind eye.
The new government came into power and decided to put a stop to the practice.
They are now in the process of revising the old Foreign Business Act. For now Thai lawyers are recommending that their foreign clients steer clear of trying to form companies in order to purchase property.
Invest 40 million Baht into Thailand and buy for residential purposes only
In theory foreign individuals can own land up to 1 rai (1600 square meters) for residential purposes only. This needs to be processed through the Board of Investment, which requires a 40 million baht (about US $1.2million) investment into Thailand in specified assets or government bonds beneficial to the Thai economy. This ownership is not transferable by inheritance and therefore limited to the life of the foreigner granted the right to own land under this exception.
Purchase condos on Leasehold
Land can be purchased by foreigners on a 30-year leasehold, with an option to extend the lease for further 30-year periods. Possession of the land is assured by virtue of the fact that the property occupies the land. The lessor cannot seize the property upon expiration of the lease, as the property is separate from the land. The lessee cannot also freely sell his leasehold during the term of the lease (it is not an asset) but only assign his contract right with the consent and cooperation of the registered owner of the condominium unit, and as a contract right a lease is not automatically transferable by inheritance.
 Leasehold of condos in Thailand is NOT governed by the Condominium Act but by the chapter Hire of Property. Thai property law does not recognize lease as a real property right but as a hire of property contract. Leasehold in Thailand is in essence a normal tenancy contract with a (prepaid) fixed term not exceeding 30 years.