Nationwide house prices up 0.95% during 2019
After almost eight years of uninterrupted growth, Norway's housing market has been more or less steady in the past three years. The inflation-adjusted nationwide house price index rose slightly by 0.95% in 2019 from a year earlier, after y-o-y declines of 1.05% in 2018 and 0.6% in 2017. Though quarter-on-quarter, house prices fell by 2.44% in Q4 2019.
This can be partly attributed to the implementation of stricter mortgage rules on January 1, 2017, which were focused on restraining house prices in Oslo.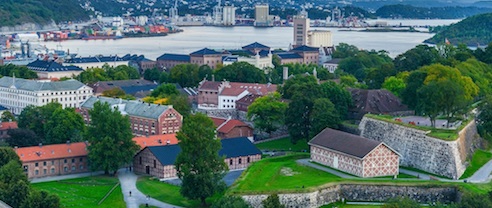 Demand rising, but construction remains weak. Residential property sales in Norway rose by 4.6% to 65,214 units in the first three quarters of 2019, compared to the same period in 2018, according to Statistics Norway. In Oslo, sales soared by 23.5%. Despite this, construction remains weak. Dwelling completions fell by 5.4% y-o-y in the first eleven months of 2019 while starts rose by 3.7%, according to Statistics Norway.
The Norges Bank kept the key rate at 1.5% in January 2020, following a 25-basis point hike in September 2019, noting that underlying inflation remains close to target.
Rents, rental yields: rental yields are low at 3.13%
Oslo apartment costs are expensive at around €8,162 per sq. m.
Norway: typical city centre apartment buying price, monthly rent (120 sq. m)
Buying price
Rate per month
Yield
Oslo
€ 979,440
€ 2,556
3.13%
Recent news: In 2019, Norway's mainland GDP, which excludes the volatile oil and shipping sectors, was estimated to have expanded by 2.5%, following 2.5% in 2018, and 2.4% in 2017, according to Norges Bank.
Slower growth ahead is expected - GDP growth is likely to slow to 2% in 2020 and to 1.7% in 2021, according to Organisation for Economic Cooperation and Development (OECD). Statistics Norway forecasts 2.4% growth in 2020 and 1.9% in 2021.