House prices were up 16.77% during 2020
New Zealand's house price growth continues to accelerate, buoyed by ultra-low interest rates, as well as limited housing supply. Median house prices rose by 16.77% (inflation-adjusted) during 2020, an acceleration from a y-o-y expansion of 10.28% in 2019. On a quarterly basis, real house prices increased strongly by 7.62% in Q4 2020.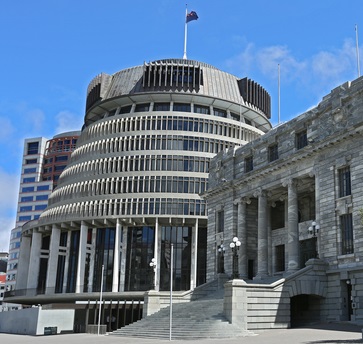 Demand surging, supply falling
Despite the pandemic and the subsequent lockdowns, demand remains very strong. Property sales in New Zealand surged 36.6% to 8,935 units during the year to December 2020, according to the REINZ. In Auckland, the number of properties sold soared 66% y-o-y to 3,219 units over the same period.
The limited supply of homes is putting further pressure on prices. In December 2020, the number of properties available for sale fell by 29.1% y-o-y to 12,932 units – the lowest level of inventory since records began, according to REINZ.
Worse, growth in construction activity is slowing, with the number of new dwelling consents rising by less than 3% y-o-y in the first eleven months of 2020, a sharp slowdown from an annual average growth of 14% in the past eight years, according to Statistics New Zealand.
Rents, rental yields: Good yields at 5.48%
Apartment costs in Auckland are around $7,209 per sq. m.
New Zealand: typical city centre apartment buying price, monthly rent (120 sq. m)
Buying price
Rate per month
Yield
Auckland
$412,571
$1,885
5.48%
Recent news: New Zealand's economy is estimated to have contracted by 6.1% in 2020, according to the International Monetary Fund (IMF), as the effect of lockdowns and travel restrictions associated with the COVID-19 pandemic hits. This is in contrast to its robust economic performance during the past decade, with growth of 2.2% in 2019, 3.2% in 2018, 3.8% in 2017, 4.2% in 2016, 4.1% in 2015 and 3.2% in 2014.
The economy is expected to recover this year, with a growth forecast of 4.4%, according to IMF forecasts.
In February 2021, the Reserve Bank of New Zealand (RBNZ) kept its Official Cash Rate (OCR) unchanged after cutting it by 75 basis points in March 2020 to a historic low of 0.25% in emergency decision after the outlook for the economy had deteriorated significantly as a result of the impacts of the coronavirus outbreak.