House prices were up 5.82% y-o-y in Q3 2019
New Zealand's house prices are rising strongly again, as the impact of the ban on non-resident foreign homebuyers wanes. Median house prices surged 10.28% (inflation-adjusted) during 2019, a sharp turnaround from the prior year's 0.1% decline. In a quarterly basis, real house prices increased 4.86% in Q4 2019.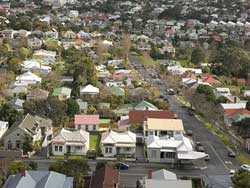 Demand rising, supply falling
Despite the absence of foreign homebuyers, domestic demand remains very strong. Property sales in New Zealand rose by 12.3% to 6,285 units during the year to December 2019, according to the Real Estate Institute of New Zealand (REINZ). In Auckland, the number of properties sold surged 31.7% y-o-y to 1,860 units in December 2019. For New Zealand excluding Auckland, property sales increased 5.8% y-o-y to 4,425 units over the same period.
Nationwide, the number of days-on-market fell by four days to 31 days in December 2019 from a year ago, according to the REINZ.
The number of properties available for sale in New Zealand fell by 24.5% to 18,230 units in December 2019 from a year earlier – the lowest level of inventory since records began.
Rents, rental yields: Good yields at 5.48%
Apartment costs in Auckland are around $7,209 per sq. m.
New Zealand: typical city centre apartment buying price, monthly rent (120 sq. m)
Buying price
Rate per month
Yield
Auckland
$412,571
$1,885
5.48%
Recent news: New Zealand's economy expanded by 2.5% in 2019, according to the International Monetary Fund (IMF). For the last six years the economy's performance has been robust, with growth of 2.8% in 2018, 2.6% in 2017, 4.2% in 2016, 4% in 2015 and 3.1% in 2014. The economy is projected to grow further by 2.7% this year and by another 2.6% in 2021, based on IMF projections.
The Reserve Bank of New Zealand (RBNZ) recently decided to keep the Official Cash Rate (OCR) unchanged from the historic low of 1%, following two rate cuts last year (25 basis points in May 2019 and 50 basis points in August 2019). That's because while employment is already near its maximum sustainable level, inflation remains below the central bank's 2% target, said the RBNZ.