Real house prices were down 18.13% during 2022
New Zealand's housing market has experienced a sharp turnaround, amidst falling demand caused by rising borrowing costs. Median house prices dropped by a whopping 18.13% (inflation-adjusted) in 2022 from a year earlier, in sharp contrast to a year-on-year growth of 14.02% in the previous year. In fact, it is now its worst performance in recent history.
On a quarterly basis, real house prices dropped 4% in Q4 2022.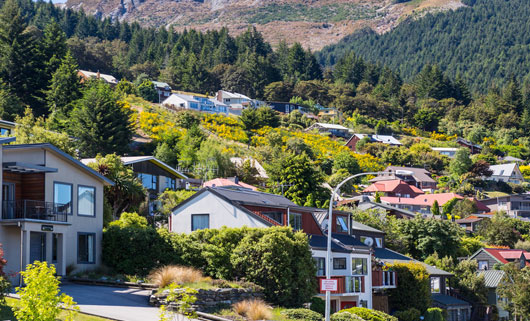 Demand is falling sharply
In January 2023, residential property sales across New Zealand plunged 27% year-on-year to 2,759 units, amidst the combined effects of rising interest rates, high inflation, the recent changes to the Credit Contracts and Consumer Finance Act (CCCFA) lending rules, as well as global economic and geopolitical uncertainty, according to the Real Estate Institute of New Zealand (REINZ).
Regions that saw the biggest annual decline in sales in January 2023 included Taranaki (-37.3%), Bay of Plenty (-37%), Northland (-36.3%), Waikato (-32.3%), Gisborne (-31.8%), Auckland (-29.9%), and Southland (-29%).
Inventory is also falling. In January 2023, new residential listings fell by 16% to 6,646 units from a year earlier. Over the same period, the median number of days to sell a property was 53, longer by 16 days as compared to January 2022.
The total number of properties available for sale nationally was 27,732 units in January 2023, a sharp increase of 39.4% from a year ago.
Rents, rental yields: Poor to moderate rental yields at 2.43% to 5.72%
Apartment costs in Auckland are around $7,209 per sq. m.
New Zealand: city centre apartment buying price, monthly rent (2-BR apartment)
Buying price
Rate per month
Yield
Auckland
$421,114
$1,259
3.59%
Wellington
$385,131
$1,417
4.41%
Dunedin
$278,663
$1,003
4.32%
Christchurch
$356,131
$1,081
3.64%
Recent news: New Zealand's economy expanded by a modest 2.3% during 2022, a slowdown from a growth of 5.6% seen in 2021, as rising interest rates and high inflation weigh on private consumption. Prior to the pandemic, the economy has been growing robustly in the past decade, registering an annual average growth of almost 3% from 2010 to 2019. The International Monetary Fund (IMF) expects the NZ economy to grow by just 1.9% this year.
In February 2023, the Reserve Bank of New Zealand (RBNZ) raised its Official Cash Rate (OCR) further by 50 basis points to 4.75%, its tenth consecutive rate hike since October 2021 and now the highest level in almost 15 years, in an effort to rein in inflationary pressures.