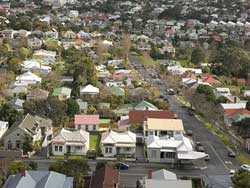 Trend: house prices up 3.93% y-o-y in Q3 2018
New Zealand's house prices are rising again, despite the introduction of new lending restrictions in October last year and worsening affordability.
Median house prices rose by 3.93% (inflation-adjusted) during the year to Q3 2018, from almost stable prices in the previous year. However in a quarterly basis, house prices fell by 1.59% in Q3 2018.
Analysis: Demand is rising strongly
The number of dwellings sold in New Zealand increased 15.5% y-o-y to 6,791 units in October 2018, in contrast with an annual decline of 18.1% in 2017, according to the Real Estate Institute of New Zealand (REINZ). In Auckland, dwelling sales soared 15.2% over the same period. 'Days to sale' rose by one day to 35 days y-o-y in October 2018.
The number of properties available for sale also rose by 5.6% y-o-y to 25,673 units in October 2018.
Rents, rental yields: Good yields at 5.48%
Apartment costs in Auckland are around $7,209 per sq. m.
New Zealand: city centre apartment, buying price, monthly rent (120 sq. m)
Buying price
Rate per month
Yield
Auckland
$ 412,571
$ 1,885
5.48%
Recent news: New Zealand's economy is expected to expand by 3.1% this year and by another 3% in 2019, following growths of 3% in 2017, 4.2% in both 2015 and 2016, and 3.2% in 2014, according to the IMF. Recently, the Reserve Bank of New Zealand (RBNZ) left the official cash rate (OCR) unchanged at a record low of 1.75% in November 2018, in an effort to promote sustainable employment and maintain low and stable inflation.