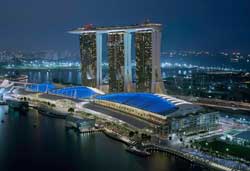 Singapore's cooling measures last month are likely to hit its housing market more severely than the 2010-to-early-2013 cooling measures, according to developers.
The Singaporean government raised Additional Buyer's Stamp Duty (ABSD) rates and tightened loan-to-value (LTV) limits on residential property purchases in an effort to "cool the property market and keep price increases in line with economic fundamentals".
Following cooling measures were introduced:
The ABSD has been raised by 5% for citizens and permanent residents (PRs) buying second and subsequent homes, and by 10% for entities.
Full ABSD remission will continue for joint purchases of the first residential property by married couples with at least one spouse who is a Singapore citizen.
Married couples with at least one Singapore citizen spouse who jointly purchase a second home together can continue to apply for an ABSD refund, as long as they sell their first home within six months after the date of purchase of the second property, or by the issue date of the Temporary Occupation Permit or Certificate of Statutory Completion of the second property - whichever is earlier.
An additional ABSD of 5%, non-remittable under the Remission Rules, has been introduced for developers purchasing residential properties for housing development.
For purchases jointly made by two or more parties of different profiles, the highest applicable ABSD rate will apply.
LTV limits will be tightened by 5% for all housing loans granted by financial institutions. Borrowers will now only be able to borrow 75% (earlier 80%), or 55% (earlier 60%) if the loan tenure is more than 30 years or extends past age 65.
The cooling measures have come at a time when the housing markets are rebounding in Singapore. Private home prices rose to their highest point in four years in the April to June quarter. Analysts predict that prices could soon recover to 2013 peak levels.
"There is a large supply of units coming on stream and interest rates are going up," said Lawrence Wong, Minister for National Development. "We want to avoid a severe correction later, which can have more destabilising consequences. Hence we are acting now to maintain a stable and sustainable property market."
"I think prices will also certainly be affected and we have already seen that in some of the newer projects that were recently launched (in the market)," said Sherman Kwek , group chief executive of City Developments Ltd (CDL) "If you ask me for a personal opinion, I think they are probably launching at maybe 10 to 15% below what they could have launched."