House prices rose by 4.78% y-o-y in Q2 2019
Mexico's housing market continues to strengthen with the nationwide house price index rising by 4.78% during the year to Q2 2019, the biggest increase since Q2 2016. House prices increased 2.31% q-o-q during the latest quarter.
For a decade Mexico's housing market has hardly moved. In 2009, house prices rose 0.77% (inflation-adjusted), in 2010 it fell 0.59%, in 2011 + 2.37%, in 2012 -1.15%, in 2013 + 0.39%, in 2014 + 0.84%, in 2015 + 4.36%, in 2016 + 4.07%, and in 2017 +0.73%, all inflation-adjusted. In 2018, house prices increased robustly by 4.32%.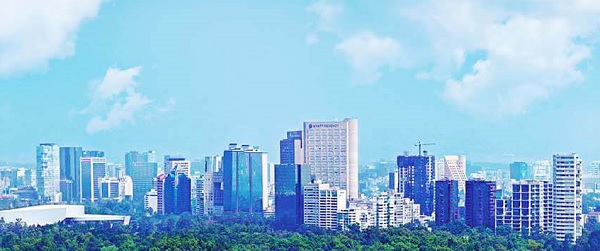 Luxury market buoyed by both foreign and domestic demand. Mexico's real estate market has been buoyed by strong demand in resort communities, according to the International Consortium of Real Estate Associations (ICREA). American and Canadian buyers are returning to Mexico, after a several-year slump, thanks to low oil prices and the strong US dollar, pushing home values up.
Mexico's rising middle class continues to boost the housing market. The country's middle class was estimated to account for almost half of the total households, at 14.6 million. They are expected to continue growing, with about 3.8 million more households projected to move into the middle class by 2030.
Rents, rental yields: moderate yields at 4.9% to 5.4%
Mexico City apartment costs are reasonable at around $3,000 per sq. m.
Mexico: typical city centre apartment buying price, monthly rent (120 sq. m)
Buying price
Rate per month
Yield
Mexico City
$350,000
$1,500
5.2%
Recent news. In August 2019, the central bank Banco de Mexico (Banxico) cut its key rate by 25 basis points to 8%, the first rate cut since June 2014, amidst slowing inflation and sluggish economic growth.
The Mexican economy is expected to expand by 1.5% this year – the lowest growth since 2013.
It shrank by 0.8% in Q2 2019 from a year earlier, following y-o-y growth of 1.2% in Q1 2019 and 1.7% in Q4 2018. On a quarterly basis, the economy posted zero economic growth. Newly-elected President Andres Manuel Lopez Obrador, widely known as AMLO, has alarmed investors since taking office on December 1, 2018 by vowing to transform the country's "neoliberal" economic model and terminating a new US$13-billion airport for Mexico City that was already one-third complete.